Bodog Poker will roll out a software update in 2019
Bodog Poker will roll out a software update in 2019
The PaiWangLuo Poker Network, the parent company of Bodog Poker, Ignition Casino, and Bovada, is preparing a software update to improve the user experience when playing at the tables. We had access to a sneak preview and in this article, we share all the novelties.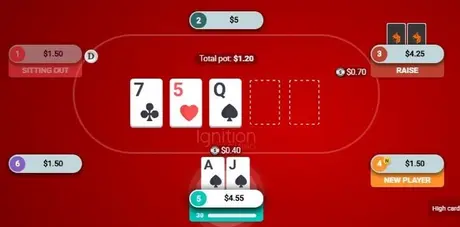 Bodog Poker: the softest US-facing poker network
Bodog Poker is perhaps the largest US-facing poker room which has embraced the "anti-reg" policy from its very beginning. With over 20 years of experience in the gambling industry, it has become a symbol for different reasons:
It's currently the largest US-facing network in terms of traffic;
It was one of the first networks in adopting the anti-reg policy:

All tables are anonymous;
HUDs are restricted (not strictly forbidden);
Random seating and no waiting lists;

Guarantees a total of $6MUSD every month in MTTs;
It has all modern poker formats, including Jackpot SnG and Fast Poker;
Multi-tabling is limited to 4 spots;
The network develops its own software, which embraces all network policies.
Bodog Poker new software going live on April 9, 2019
Bodog Poker has always kept the recreational user experience in mind, and almost all novelties that will be introduced next month are focused on it. There will be no major changes in the gameplay and no new formats will be introduced, the changes are mainly esthetics and focused on the tables' design, and it will have no significant impact on grinders experience.
New player indicator:
All new players joining an active table will have a badge clearly indicating it.
Table readability:
All information displayed at the table is more readable, including:
Pot size (both side and main pot):
Player status (active, inactive, folded);
All-in percentage
New deck designs, including 4-colour deck
Redesigned hand replayer:
Now the cards of the opponents who mucked their hand won't be visible from the hand replayer, such information will only be available through the hand history.
Player notes:
Color coding is being removed, it will be more difficult now to tag fishes at the tables.
Notifications center:
A new collapsible panel with all recent information about the games will be available next to the tables; also, casino minigames will be embedded.
Mobile client improvements:
Main menu and betting sliders are improved, making them easier to use.
The new software also promises to load the tables faster
From which countries can I play at Bodog Poker?
PaiWangLuo uses different skins in order to accept players from different countries; although the list is not very large now, it has almost duplicated since last year, with the launching of Bodog Poker India, Bodog Poker Latin-America, and the Australian players.
| Country / Skin | Bodog88 | Bodog Poker | Ignition Casino | Bodog Poker Latin-America | Bovada |
| --- | --- | --- | --- | --- | --- |
| China | X | | | | |
| Thailand | X | | | | |
| Malaysia | X | | | | |
| South Korea | X | | | | |
| Vietnam | X | | | | |
| Indonesia | X | | | | |
| Japan | X | | | | |
| Australia | X | | X | | |
| India | X | | | | |
| USA | | | X | | X |
| Canada | | X | | | |
| Brazil | | | | X | |
| Argentina | | | | X | |
| Bolivia | | | | X | |
| Chile | | | | X | |
Conclusion
Without a doubt, the new software that will be available for Bodog Poker players next month will improve the recreational player's experience. The grinders will also enjoy the new tables' design because the information is easier to understand; the network is sticking to its vision: offering a great product for amateur players while protecting the ecosystem and attracting the casino gamblers to their poker room.
Stay tuned on our Telegram channel for more EV+ news