USDT Poker – Best Tether Poker Sites (2023 Update)
USDT Poker – Best Tether Poker Sites (2023 Update)
So-called stablecoins have become an essential ally for modern online poker players worldwide. Discover the best poker sites that accept deposits and withdrawals via USDT in our updated guide.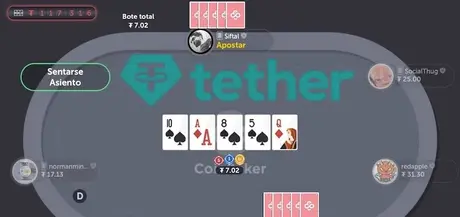 A couple of years ago, traditional wallets such as Skrill or Neteller, bank transfers, and cards were the only methods to deposit and withdraw from online poker rooms. However, cryptocurrencies created a new era, and today we have many rooms accepting crypto coins such as Tether USDT or Bitcoin to play.
This article reveals all the secrets to playing poker with USDT safely and profitably.
| Rank | Poker Room | Welcome bonus | Rakeback | Protocols | Fees |
| --- | --- | --- | --- | --- | --- |
| ⭐ Best Tether USDT poker site | | 200% up to $2000 | 35%+ | ERC-20, TRC-20 | Yes |
| ✅ Best 100% cryptoroom | | 100% hasta ₮1100 | 33% + VIP | ERC-20 | Yes |
| ✅ Best US-friendly site | | 100% up to $2000 | Up to 60% + VIP | ERC-20 | No |
| ✅Softest games | | 100% hasta $1000 | VIP | ERC-20 | No |
Best poker sites accepting USDT
Below we present the best and most reliable Tether USDT-friendly poker rooms:
RedStar Poker
RedStar Poker is the only room in the iPoker Network that accepts cryptocurrencies for deposits and withdrawals and is the only one in our list compatible with the most economical protocol (TRC20). 
Keep in mind that Red Star charges commissions for withdrawing via cryptos. Here you play in euros, with games up to NL/PLO5k.
CoinPoker
CoinPoker is a 100% cryptocurrency room that has grown a lot in recent years, and today, it is possible to find games even at the highest stakes, in addition to rakeback and profitable promotions.
Remember that this room does not support transactions from centralized wallets (e.g., Binance); you must have private ones to deposit. In addition to this, you must assume commissions for transactions made in Tether USDT.
BetOnline
BetOnline belongs to the American Chico Poker Network and is recognized for being cryptocurrency-friendly. In addition to having enough traffic to grind at all limits from NL/PLO10 to NL/PLO1k, the tables are very soft, thanks to the presence of sports betting fans.
We emphasize that BOL does not charge any commission for playing poker with USDT and that payments are sent at the speed of light.
Americas Cardroom
Americas Cardroom is the flagship room of the US-friendly Winning Poker Network, a leader in the American market and responsible for a massive volume of crypto transactions via Tether or Bitcoin. In this room, you will find games up to nosebleeds in all formats and tournaments with millions of dollars guaranteed.
ACR does not charge commissions, and transactions are usually processed within hours.
Tether poker sites vs Fiat poker sites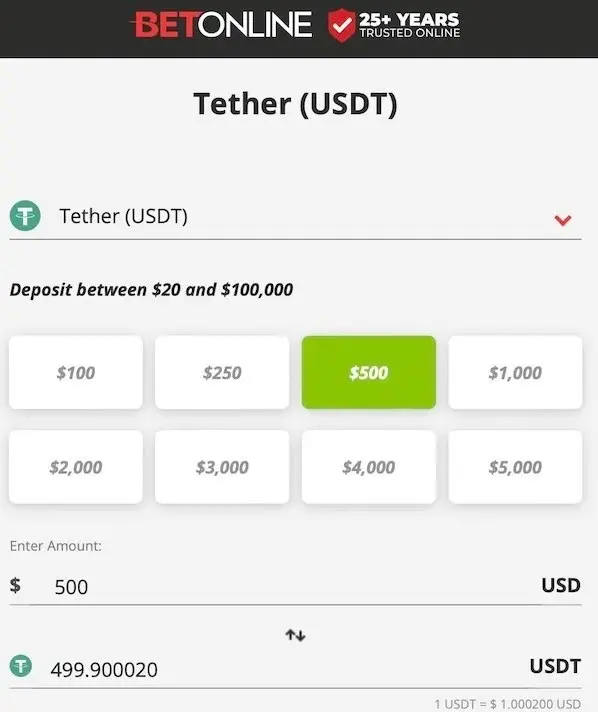 We highlight the following positive aspects of playing poker with Tether USDT:
Anonymity
Transactions between cryptocurrency users are 100% traceable because they are registered on the blockchain; however, they are usually anonymous because the only data necessary to make the transaction is the USDT address, which resembles an Egyptian hieroglyph.
However, remember that licensed poker rooms will require their customers to verify their identity, so if you want to play anonymous poker, you should choose a 100% cryptocurrency room.
Global availability
Crucial for poker players, especially those who live in countries with gambling restrictions (in which it is not feasible to use cards or banks to fund your account). It is possible to make transactions through Tether USDT virtually from any country.
Stability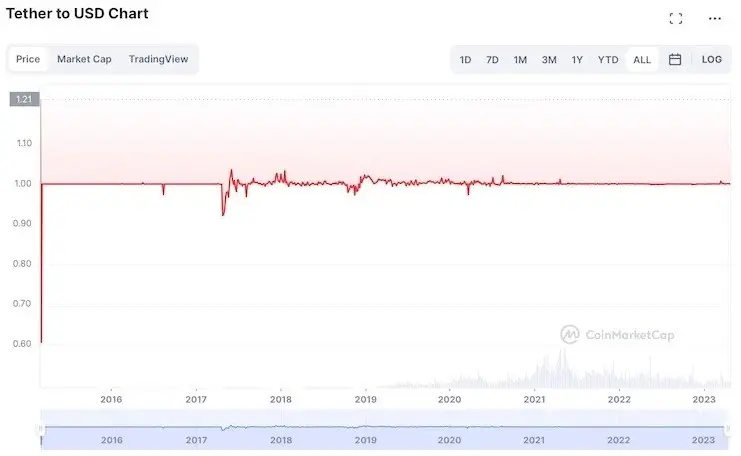 Tether USDT is a stablecoin pegged to the US dollar. Although it has had some moments when it has lost parity, during almost a decade it happened only in isolated events of short duration.
Low commissions
Through protocols such as Tron TRC20, it is possible to send even thousands of dollars paying commissions of as little as $1, something impossible to think of with fiat money. This has lowered the costs for players and poker rooms that accept USDT.
Fast payments
While a regular bank transfer can take several business days, sending USDT or any other cryptocurrency takes seconds.
In the same way, we recommend you pay special attention to the following details that can become disadvantages:
Controversies
Tether is the largest stablecoin on the market, and it has not reached this position without controversy. In theory, each unit of Tether is backed by real dollars. However, the company has struggled to demonstrate this with transparency.
Centralization
In the same way, many cryptocurrency fans highlight that this crypto coin is issued and controlled by a single company; that is, it is centralized, against the principle of using cryptos.
Protocols
ERC20? TRC20? OMNI? These unpronounceable acronyms are of the utmost importance if you use Tether USDT, which injects a somewhat unnecessary degree of complexity that can even result in loss of funds.
How do we select the best USDT poker room?
Regarding cryptocurrencies like Tether USDT, reliability is crucial in recommending a room to our players. However, it is not the only one, and we also take into account the following aspects:
Fees: Ideally, no additional fees must be charged for depositing or withdrawing via Tether

Traffic: Nothing worse than depositing with your stablecoin to find empty tables. We make sure that you can play any game you want.

Software: You can play on your computer or your mobile device seamlessly.

Background: In line with the reliability of the room, we only recommend poker sites that have already stood the test of time.
Can I trust Tether poker sites?
You can trust the sites we mention in our list, which have already been verified by our team of experts. We recommend you double your research when playing in rooms that process payments with Tether USDT because, unfortunately, the anonymity and the ease of making payments with cryptocurrencies are also an invitation to scammers.
Other stablecoins

Tether USDT is not the only stablecoin on the market, although it is the most popular one. Others that try to follow the fiat reserve currency include USDC (USD Coin), Binance USD (BUSD), or DAI. We do not highlight any as better. However, we remember that it is important to diversify to mitigate risks in the crypto world and in the world of investments.
Some stablecoins like USDC are accepted by leading rooms like GGPoker.
Conclusion
Playing poker with Tether USDT will become increasingly popular in the coming years. The penetration of cryptocurrencies, particularly stablecoins, has allowed many players to join rooms that many years ago had different restrictions.
The crypto market and poker have a close relationship, and players have been adopting this payment method as their own, which has greatly helped the expansion of crypto poker and has allowed us to compile the list of the best poker rooms Tether USDT.
Disclaimer
Although most online poker players consider this a mind sport, some bettors may feel symptoms of compulsive gambling. If you have a gambling problem, seek professional help and discuss it with your close friends and family.
Cryptocurrencies are risky investments. We recommend you Do Your Own Research (DYOR) if you decide to alternate your poker games with investments in Tether USDT or Bitcoin. Use only trusted crypto-partners.
Benefits of our affiliate service:
Top rakeback deals
Private promotions
Professional support seven days a week
Contact our manager to get yourself a deal.