J88 Poker: the best side poker room with Chinese players
J88 Poker: the best side poker room with Chinese players
Author
Vargoso
Published
7/4/2019
Updated
9/20/2021
When it comes to playing poker against wealthy Chinese amateurs, the first thing that comes to mind is GG Network (PokerOK) and Asian apps like FirePoker. But, for over a year and a half the independent site, J88 Poker has been working with Chinese traffic. In this article, we share details about the poker room, its benefits and why is an EV+ decision joining this summer.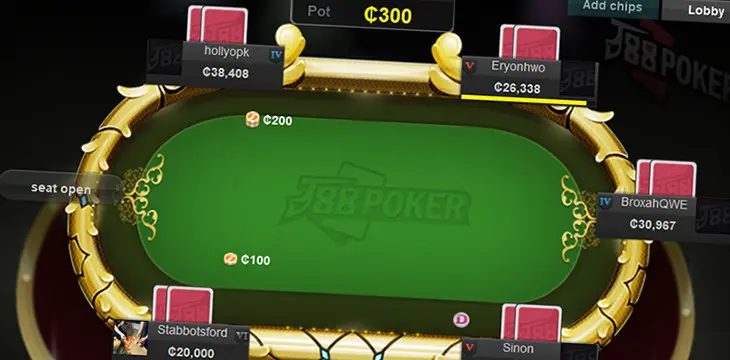 J88 Poker: features, traffic, bonuses
Despite being a new project with relatively small traffic (during peak time, the total number of connections can reach 300-350), J88 Poker can be considered as an actively developing poker room. One of the main challenges that Chinese poker sites face is how to play with real money without breaking the local laws. J88 Poker fixed the problem establishing an internal currency (Crystals), making the games officially for play money. The truth is that players can exchange Crystals for real money (100 crystals = $1) and Worldpokerdeals helps its players swapping to Skrill and Neteller.
Same as all others, J88 Poker has been designed as a traditional poker room:
Standard rake structure of 5%;
Regular loyalty program, the more rake the player makes, the more rakeback he gets.
The maximum rakeback deal is 50%, which needs $3,000 in rake. In exclusive, all Worldpokerdeals players receive VIP-club level 3 lifetime, which equals a minimum 35% rakeback (100 VIP points = $1 rake):
| Level | VIP Points | Rakeback(%) |
| --- | --- | --- |
| White | 0 | 20 |
| Yellow | 3,000 | 30 |
| Green | 8,800 | 35 |
| Blue | 30,000 | 40 |
| Red | 50,000 | 43 |
| Black | 100,000 | 45 |
| Gold | 300,000 | 50 |
To attract recreative players, J88 Poker has a Bad Beat Jackpot that rewards players for losing with a full house or better. As the requirements are not that high, the jackpot is won several times during the month. Right now, it's fixed to $3,000.
In its short life, J88 Poker has added several formats to its lobby: 6+ Hold'em, Golden Dragon Hold'em, SnG tournaments, etc. Also, the site sponsors its own live series (J88 Fantastic Poker Tour) that have already been played in Taiwan, and a new one is scheduled for autumn in the Philippines. The marketing strategy also includes a team pro, that plays not also in Asian festivals but the European too.
About 30 tables are visible in the lobby during peak time (Chinese nights), and as one Crystal equals 1 cent, there is no need to make any rate conversion (₵5 / ₵10 is NL10, and so on). The highest stakes played are NL400 and PLO200, plus some 6+ Hold'em tables but only in micros (top NL20).
| Stake | Tables |
| --- | --- |
| NL10 | 7 |
| NL20 | 6 |
| NL50 | 5 |
| NL100 | 5 |
| NL200 | 3 |
| NL400 | 3 |
Conclusion
We consider J88 Poker an excellent side room to add a few soft tables with Chinese players and good rakeback. It can be combined with GG Network or even Microgaming which also boosts Asian traffic with an excellent deal from Worldpokerdeals. Please contact us to find out all the details about oUr J88 Poker deal.
Stay tuned on our Telegram channel for more EV+ news.
Review
Private clubs, rake stats, free hand histories, secret offers and more
Gambling industry news and insides, ratings of best poker rooms, bonuses, races and rakeback. The most undiscovered and fishy rooms of internet. Consulting and players' support. Working since 2013.
2013–2023. All rights reserved