Less rake is better? PokerStars reduces rake in India
Less rake is better? PokerStars reduces rake in India
The rake structure is one of the cornerstones of any poker room. It can be a reason to join or not a certain site. Therefore, any change in this area will always draw the players' attention. In this article, we discuss the rather severe reduction that PokerStars made to rake and caps in the Indian reservation.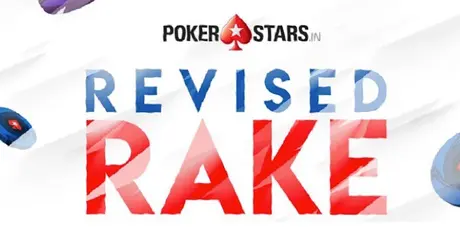 PokerStars.IN reduced rake in cash games
On all regulated markets, poker rooms have additional costs related to organizational and legal aspects in their operation, so rake is usually higher in private reservations compared to general pools, where it's often 5%. Until recently, PokerStars.IN charged a 5,15% rake in all stakes up to ₹50/₹100 (approximately NL142$). The two main competitors of PokerStars in India, Adda52 and Spartan Poker, also had a standard rake structure, similar to PokerStars.
In a move to improve its market position, PokerStars India recently implemented a global reduction in rake in almost all cash games; the new rake structure is as follows:
| Stake | Rake |
| --- | --- |
| ₹0.5/₹1 | 5.00% |
| ₹1/₹2 | 4.75% |
| ₹2/₹5 | 4.50% |
| ₹5/₹10 | 4.25% |
| ₹10/₹25 | 4.00% |
| ₹25/₹50 | 3.50% |
| ₹50/₹100 | 3.50% |
| ₹100/₹200 | 2.50% |
| ₹250/₹500 | 2.00% |
| ₹500/₹1,000 | 2.00% |
The most benefited players were those playing ₹50/₹100 and ₹100/₹200 for which the rake was reduced by 32%. Cap sizes also decreased by 30%. With those changes, PokerStars.IN is ahead of its competitors in terms of commissions. Moreover, the Indian reservation has a more favorable structure compared to the global PokerStars:
| Stakes | PokerStars.com | PokerStars.in |
| --- | --- | --- |
| NL10$-25$ | 4,50% | 4%-4,25% |
| NL50$-700$ | 5% | 2%-3,5% |
That is, even considering the 30% profit tax, Indian players pay less rake at NL600–700 tables than global players. Of course, the traffic is very different in each reservation compared to the worldwide pool.
Why should PokerStars.com reduce rake?
The only way PokerStars can compensate for its zero rakeback program is to reduce the rake at the tables, although for now, only Indian players will benefit from this. PokerStars commented on the rake reduction that they want to create "the best experience for our players."
Usually, PokerStars initially tests some of its new features in private pools like India or Italia, so it cannot be discarded yet that the global pool somehow benefits from this. 
It's important to note that although PokerStars offers almost no rakeback, 1% of rake reduction at NL10 equals 20% rakeback to players, and all players benefit from it, not only the high-volume ones. Of course, it's complex to sell the reduction to amateurs, but it can draw the attention of regs.
With a table cap of four, it will also be a challenge to benefit from rake reduction, and maybe only playing for profit will become much more comfortable.
Summary
Almost all of PokerStars' latest moves have been in favor of amateurs: from limiting multi-tabling to reducing rakeback. This is why it's so interesting to see a change that benefits regs. It remains to be confirmed is this is only a local measure to reduce the effects of the high government tax (30%) or a test to reduce rake globally.
Stay tuned on our Telegram channel for more EV+ news.