PokerStars has updated Stars Rewards: there is still no rakeback
PokerStars has updated Stars Rewards: there is still no rakeback
Author
Vargoso
Published
5/15/2021
Updated
5/15/2021
PokerStars hade made significant changes to the structure of Stars Rewards prizes dropping from chests. What is the room trying to achieve by this, and what other methods is using to attract players? We will discuss today.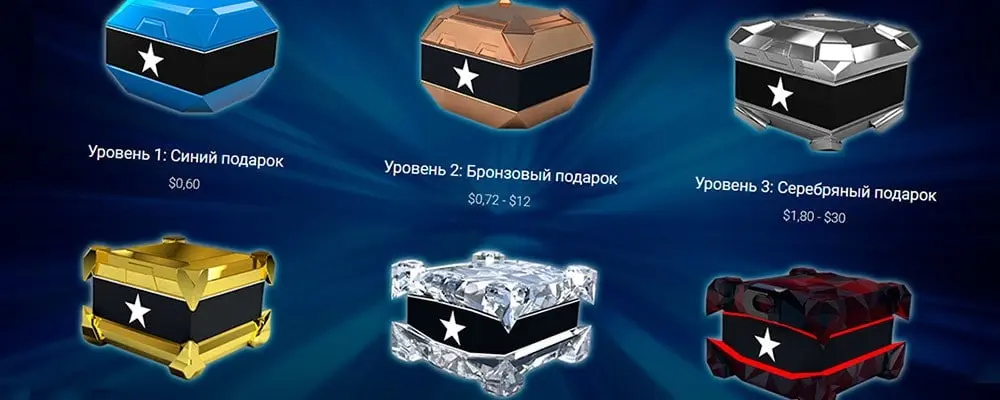 PokerStars vs. Variance
For almost 4 years of its existence, the infamous PokerStars chests have changed more than once. The largest "improvement" took place in March 2019: first in the reservations and after that rolled out globally. This spring, Stars Rewards underwent a significant overhaul almost simultaneously in all regions.
In total, there 3 main novelties in the Stars loyalty system:
The blue chests (the cheapest ones) will now always drop a 60 cent prize instead of 50. That, in theory, should please "micro-limiters" and fans who play irregularly in the room. In fact, for most audiences, this equals a 20% increase, which does not prevent PokerStars from slightly increasing the number of points required to get the chest. After all, this indicator is purely individual.
For all chests, the number of prize levels was reduced from seven to six simply by removing the minimum payout on each of them. Hence, the prizes also increase by about the same 20%.
Prize drop chances have changed as follows:
Black*
Probability (per 1000 games)
Before
Now
Before
Now
$35
200
$42
$42
400
110
$49
$49
200
310
$70
$70
100
530
$210
$210
65
34
$350
$350
25
15
$700
$700
10
1
Other "cheaper" chests have not changed their payouts.
PokerStars have reduced the variance in Stars Rewards: the third payout level has a 5.3 times more chance of dropping out than before the update, but now it's even more challenging to get other prizes — players will see 10 times less often the maximum bonus! The average expected value of each chest and the estimated rakeback remains unchanged.
That is, having switched to a random program of rewarding players in 2017, PokerStars has been trying to smooth out the consequences of this approach in all subsequent years following PokerStars.in example with a fixed bonus in certain chests which deprives Stars Rewards of its original idea and turns the process of opening chess into a routine, without any surprises.
40% rakeback for elites
At the same time, PokerStars has introduced special individual bonuses that give 40% rakeback per month. For "ordinary mortals," it can be $20, but some massive regs have reported prizes of up to $8,000 for two months in a row:

It has not yet been possible to determine why such bonuses are being issued, but the fact that the room's policy on this matter has become more loyal has been confirmed by several grinders.
However, most players have long realized that PokerStars and a decent rakeback are incompatible things, and it's better to find a new poker room than to wait for a random individual bonus.
Reach out to get more information about the best rakeback deals on the market:
Telegram: @alexey_wpd
Skype: live:newbheartstoned
WhatsApp: +66658566798
Email: [email protected]
Stay tuned on our Telegram channel for more EV+ news
Review
Private clubs, rake stats, free hand histories, secret offers and more
Gambling industry news and insides, ratings of best poker rooms, bonuses, races and rakeback. The most undiscovered and fishy rooms of internet. Consulting and players' support. Working since 2013.
2013–2023. All rights reserved