PPPoker launched cash tables in All-in or Fold format
PPPoker launched cash tables in All-in or Fold format
The most famous poker application, PPPoker, has expanded the range of games. All-in or Fold (AoF) tables are now available. Details in our article.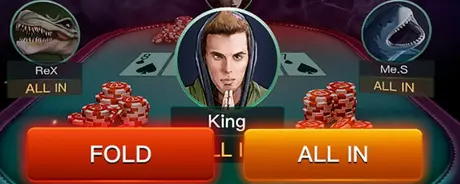 Features of All-in or Fold at PPPoker
PPPoker did not delight its players with such updates for over a year after the debut of the unique 3-1 Hold'em game. The only thing that the room focused on was turning 3-1 into a permanent format, not a test one.
The situation changed after the 3.5.33 update:
All-in or Fold tables are now available for PPPoker players in all major clubs.
These tables are not different from AoF in other rooms:
4-max tables
Buy-in: 8BB
Players can only go all-in or fold
The only common feature among all cash tables in poker applications is that they are only available for a specific time. In this case, for a few hours. 
Why All-in or Fold?
This year, two poker applications have already focused on this game format:
And now PPPoker has joined them. Why didn't this room create a new exclusive format but instead decided to focus on a game that GGNetwork dominates in traffic?
Most likely, the poker room made this move to become more appealing to casual players and avoid launching an entirely new format. Regs, in turn, can try to crush AoF by taking advantage of the fantastic direct rakeback that all PPPoker clubs provide to our players.
Advantages of our affiliate service:
Bankroll guarantee.
Help in choosing a club with the best traffic.
Transferring chips from club to club.
Player support seven days a week.
Up to 50% rakeback depending on the club.
Please contact our manager to get more information about the available clubs and an exclusive deal.