Rob Yong calls the biggest poker sites to limit re-entries
Rob Yong calls the biggest poker sites to limit re-entries
The online poker community is now discussing whether re-entries and phased tournaments are putting the entire industry at risk. partypoker ambassador Patrick Leonard took the lead, and now the biggest poker rooms are checking the convenience of modifying the current MTTs structure.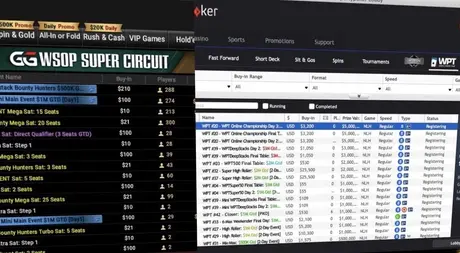 Re-entries and phased tournaments: the bone of contention
Yesterday, professional poker player Patrick "PadsPokerSquad" Leonard shared a long thread on Twitter talking about the high risk that is now attacking the online poker industry due to the boom that started with quarantines and is slowly ending now.
According to Leonard, the most popular tournaments are constantly overlying, and he is "95% sure that a huge financial crash is coming". Online poker rooms that are suffering overlays can either focus on quality and reduce their offer, or have unlimited re-entries to 10BB, a terrible option says Leonard.

Nevertheless, GGNetwork is currently hosting the WSOP Super Circuit Online Series and partypoker announced its biggest tournament series ever for July.
Leonard also appealed to brand ambassadors, reminding them that they represent the interests of the players and not only the poker room. Then, he called for a poker union (similar to the #Good4Poker movement by Phil Nagy) to save the industry.
Rob Yong backs Leonard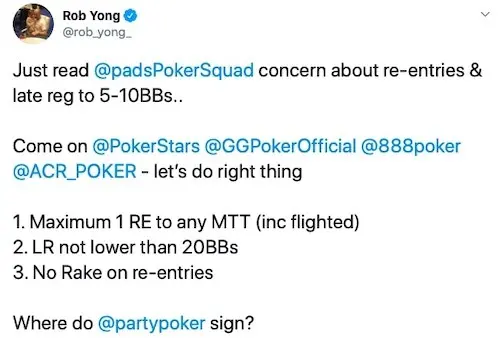 Rob Yong responded by inviting PokerStars, GGPoker Network, 888Poker, and Winning Poker Network to proceed as follows:
Limit all MTTs to 1 re-entry, including flighted events;
Late registration no less than 20BBs;
No rake on re-entries.
Yong clarified that partypoker does charge rake on re-entries, but they will agree to eliminate it immediately if other poker rooms jump in.
Only GGNetwork has referred to the topic but did not respond to Yong, but to Leonard, saying that they believe the GGMasters freezeout format is ideal and will limit re-entries in the future.
A thread was created on the popular 2+2 forums, and opinions are diverse, from attacking stables for being the real problem for online poker, to agreeing with Leonard and back his views.
It's clear that the mini-boom that online poker experienced recently "forced" the bigger sites to boost their offer and host millionaire tournament series; but, the word "mini" shouldn't be forgotten, and as soon as the quarantines on the most important markets are lifted, everything will return to "normal."
Most likely, Yong's call remains unanswered by PokerStars and 888Poker, but what WPN says remains to be seen because GGPoker has already stated that they have plans for the future.
Also read — What will happen to online poker after quarantine?
Contact us to get more information and start playing now with the best rakeback deals:
Telegram: @alexey_wpd
Skype: live:newbheartstoned
WhatsApp: +66658566798
Email: [email protected]
Stay tuned on our Telegram channel for more EV+ news