Download SpinCoin - Positional H2N HUD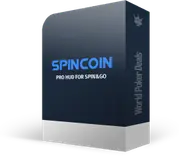 HUDs and Popups
Download SpinCoin - Positional H2N HUD
SpinCoin is another high-quality addition for Hand2Note users.
What is SpinCoin?
SpinCoin is two HUDs in one – independent for 3max and HU, which include a huge number of stats with detailed layouts by sizing and ranges, both during the game and after for game analysis (via pop up).
This HUD is designed exclusively for Spin&Go players, which is characterized by dynamism.  This means that statistics on your opponents will constantly change based on their position at the table, the size of the stack and will also be automatically displayed in vs Hero mode.
During the game, HUD automatically switches from 3-max to HU, this feature allows the use of SpinCoin for HU SNG players.
In addition, heat maps, charts, Nash Charts, etc. are available.  Also, it is necessary to note the framework allocation of the necessary stat for an effective stack in the hand, which makes easier the search in the pop-up.
Despite a large amount of data, the HUD works quickly without overloading your computer or laptop.
Price
Limit $3 – $30.
Limit $7 – $60.
Limit $15 – $85.
Limit $15 – $110.
All stakes – $135.
Help setting up SpinCoin:
Or write to our manager: