Blockchain Poker Review
Independent
| | |
| --- | --- |
| Bonus | Not available |
| Rakeback | up to 50% |
Woo - hoo! Players from United States are accepted!
Characteristics

| | |
| --- | --- |
| Room type | Licensed |
| Payments | |
| Platforms | |
Key facts
Cryptopoker room
No deposit bonus
Up to 50% rakeback
Heads-up games
Bitcoin tables
Soft lineups
Our ratings

| | |
| --- | --- |
| Reliability | 3.0 |
| Bonuses and promotions | 3.0 |
| Game selection | 3.0 |
| Casual players | 5.0 |
| Convenience of the software | 3.0 |
| Deposits and withdrawals | 3.0 |
Blockchain Poker Review
Author
Rodion Longa
Updated
1/3/2023
You won't be surprised after hearing that Blockchain Poker is a cryptopoker site. What drew our attention is that they opened their doors in 2016 but haven't become any popular on the market. Now several HU games are played throughout the day, and it's possible to play without risking any money. The site has been operating for four years and keep a changelog with all the new features added month after month, proving the commitment of the team behind the project.
Now let's review Blockchain Poker from a player and affiliate perspective, including the most crucial details:
Is Blockchain Poker safe?
How to deposit and withdraw?
What is the current traffic?
How to play for free?
Blockchain Poker rakeback
Blockchain Poker divides its rewards program for amateurs and regs:
Amateurs: a no-deposit promotion with 100 free satoshis (50 for BTC) per cryptocurrency, with a unique feature: the free bankroll can be reloaded as many times as the player needs. For BCH and BSV, you'll need to wait only two minutes to reload free chips and 30 minutes for BTC.
Please note that 100 satoshis are barely one cent, so although you can get lucky and boost your bank, you will most likely need to deposit to request a withdrawal.
Regs: a traditional rakeback program with variable returns according to the rake paid at the tables. You can get from 1% RB (100 chips for 100k points) to 50% cashback (100M chips for 200M points). It's not clear what is the formula used to calculate points.
Note: there are "three" rakeback schedules as you get points for each cryptocurrency used to play, although the structure (from 1% to 50%) is the same.
| Reward | Cost |
| --- | --- |
| 100 Chips (1% rakeback) | 100K Points |
| 500 Chips (2% rakeback) | 250K Points |
| 1,500 Chips (3% rakeback) | 500K Points |
| 10k Chips (4% rakeback) | 2,500K Points |
| 50k Chips (5% rakeback) | 10M Points |
| 250k Chips (10% rakeback) | 25M Points |
| 750k Chips (15% rakeback) | 50M Points |
| 3,000k Chips (20% rakeback) | 150M Points |
| 7,500k Chips (25% rakeback) | 300M Points |
| 18M Chips (30% rakeback) | 600M Points |
| 40M Chips (40% rakeback) | 1,000M Points |
| 100M Chips (50% rakeback) | 2,000M Points |
Besides rakeback and free money, Blockchain Poker hosts hourly freeroll tournaments with up to 25k chips guaranteed.
After studying the Blockchain Poker rewards program, we can conclude that it's generous enough, and it may work to attract casual players to the tables. The rakeback program can give a decent reward for regs, although you'll probably need to grind hard to get more than 30% rakeback. The site lacks of a regular welcome bonus (FDB).
Rake structure
Block Chain Poker charges one of the lowest fees on the market, 2% on average, at all active games. At the lowest stake (1/2), games are uncapped. Again, there are three rake schedules, one per cryptocurrency, although all chips have a different value.
Overall, the rake structure is friendly. It's supported by the fact that operating a crypto-poker room is cheaper than a regular site. The uncapped rake at the lowest stake is uncommon for a regular, but players are freerolling the site at those stakes.
However, the caps draw our attention. Up to 1k/2k, the cap is set at 20bb, much higher than a regular site. From there, the maximum rake begins to fall until 0,19bb at the highest stake available.
Games and traffic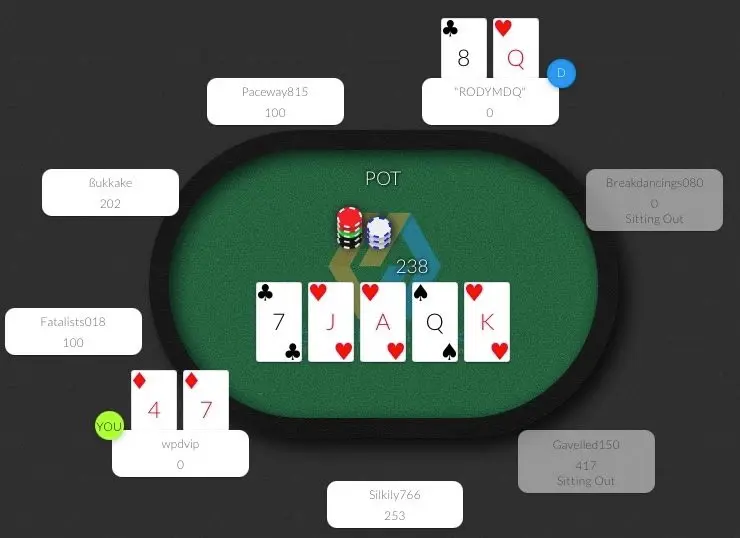 The higher active stakes correspond to BTC tables, 25k/50k (roughly NL1k in late 2020), and BCH 2,500k / 5,000k (NL1,5k). The Bitcoin SV lobby is usually empty. All games below 100k/200k blinds are micro-stakes.
60% of the traffic corresponds to BCH tables, and the rest are BTC games. Besides heads-up matches, players can find up to 10 active games in 6-max and 9-max formats, mostly micro limits.
At the lowest stakes is common to see crazy hands from players trying to build up a bankroll from the 100 free satoshis (some newcomers play all-in or fold style).
Blockchain Poker hosts hourly freerolls that are played by less than 100 players, but besides that, there are almost no events in the schedule, except for some weekend tournaments with 5M chips guaranteed for 500k.
We consider the Blockchain Poker traffic standard for a cryptopoker room, and our only recommendation is to double-check the stakes by clicking under the table name (top-right part). The "k" in the end dramatically changes the chip value.
Banking options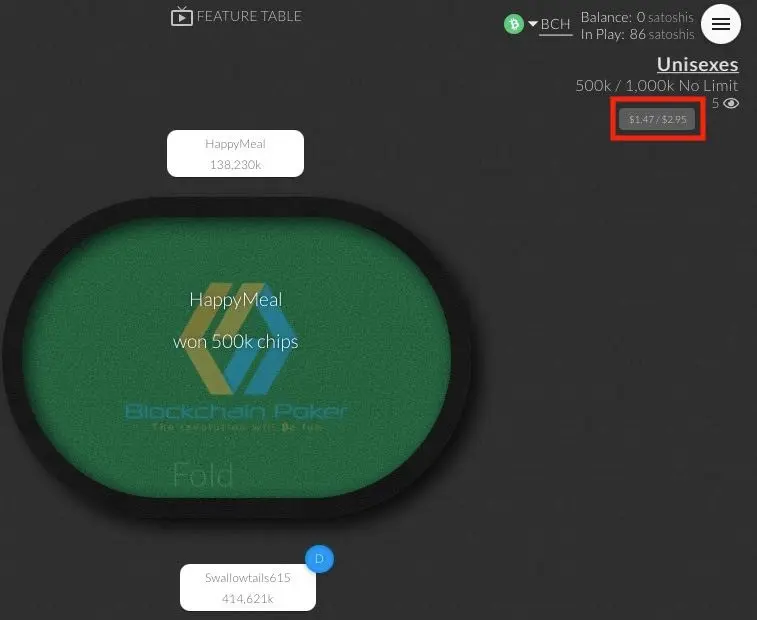 The cashier can be accessed directly from the drop-down menu, where you will find two options:
Deposit
You can deposit to Blockchain Poker using one of three cryptocurrencies:
Bitcoin Cash (BCH)
Bitcoin SV (BSV)
Bitcoin (BTC)
After choosing a payment method, a unique address and QR will generate automatically. You'll need to send a balance there, and after this, the money will be credited to your account, usually in less than 30 minutes.
Suppose you want to calculate the current chip rate in USD. In that case, you need to check the current value of the cryptocurrency on a site like Coinmarketcap and divide it by 100,000,000. Alternatively, you can open a table and click over the stake.
There is an option to do an internal shift when depositing (deposit in BCH and receive BTC, either with a variable rate or a fixed rate). Blockchain has partnered with Paxful and other exchanges to ease the deposit and withdrawal process, and they strive for the adoption of Bitcoin Cash (BCH) due to its lower fees and higher reliability.
However, you should be aware that once the deposit is made, you won't be able to use the balance in a different table (for example, you cannot join a BTC table after depositing BCH). The same applies to withdrawals.
Blockchain Poker withdraw
Here you can request withdrawals, the minimum amount is 100,000, and all you need to do is paste your address (Bitcoin Cash, Bitcoin SV, or Bitcoin BTC), and the money will hit your wallet almost immediately.
Attention! Withdrawals are free when using Bitcoin Cash or Bitcoin SV!
Reliability and trustworthiness
About the fairness of the games, BlockchainPoker states they use "OpenSSL's RAND_bytes to generate random numbers from a CSPRNG," a term impossible to understand for poker players, which means they use an algorithm as a random number generator, although this has not been verified by external companies.
Please note that, as with all cryptopoker sites, Blockchain Poker does not hold a gambling license, nor will they do in the short-term. Nevertheless, we found no issues or unsolved complaints, and payments seem to be processed fast. We highlight the team's commitment to the project to improve their product. 
The site also admits they limit the games to one PC per household, although they don't have any protection against VPNs. We highlight the transparency in this matter, although it's a red flag because colluders and multi-accounting are undoubtedly affecting the games.
Customer service
You can reach the Blockchain Poker support via e-mail, or request assistance via a form. All our questions were solved in less than 24 hours. However, their BitcoinTalk thread opened in 2018, was active through 2019, but this year, their representative didn't post many updates.
If you want to interact with other players and representatives of the room, we recommend joining the Telegram group (@blockchaindotpoker).
Roadmap
Blockchain has a public roadmap (like WPN and GGPoker) with a clear path to the future. According to the Blockchain.Poker roadmap, in 2021, they will:
Implement display of current total pot size.
Add additional charts for personal statistics.
Add support for 2-factor authentication.
Add basic daily/weekly challenges.
Implement table waitlists.
Add option to export hand history.
Allow players to transfer chips directly to friends (outside of play).
Blockchain poker software review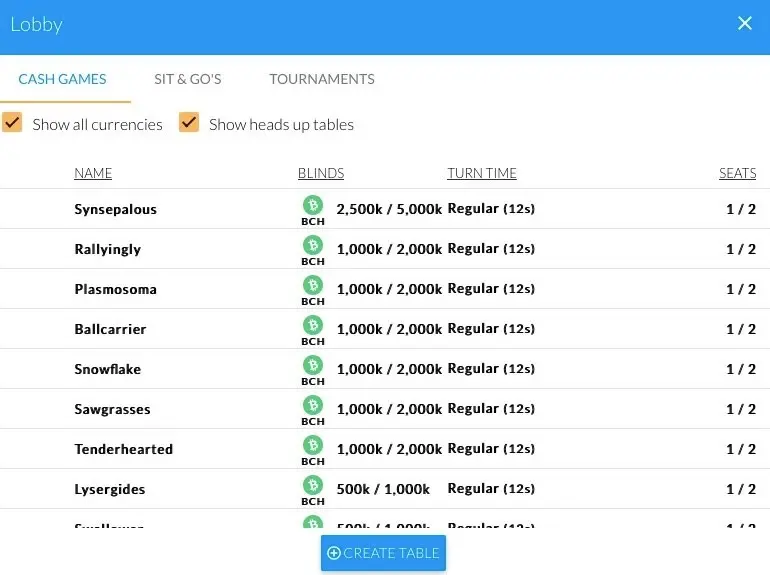 Blockchain Poker features a no-download client that works across any modern web-browser in any operating system. As soon as you open the website, it creates a new account or reminds you and asks you to log in. If you log out, the client will remember you and ask you to set a password, crucial if you want to keep playing on the site.
The client is different from all other poker software. A table is always shown in the center, and the lobby is a small and plain window with a list of games. At the left, the hand history is shown.
Tables open in a new window, and we found no limits to multi-tabling. 
When you pass the mouse over a chip or a stake, the USD value is revealed, an important feature when playing directly with cryptocurrencies. Players can change their nickname as many times as they want, even while playing a hand.
Mobile players are also welcome to Blockchain Poker, although only one table can be played simultaneously. The chips and cards tend to overlap, especially on smaller screens.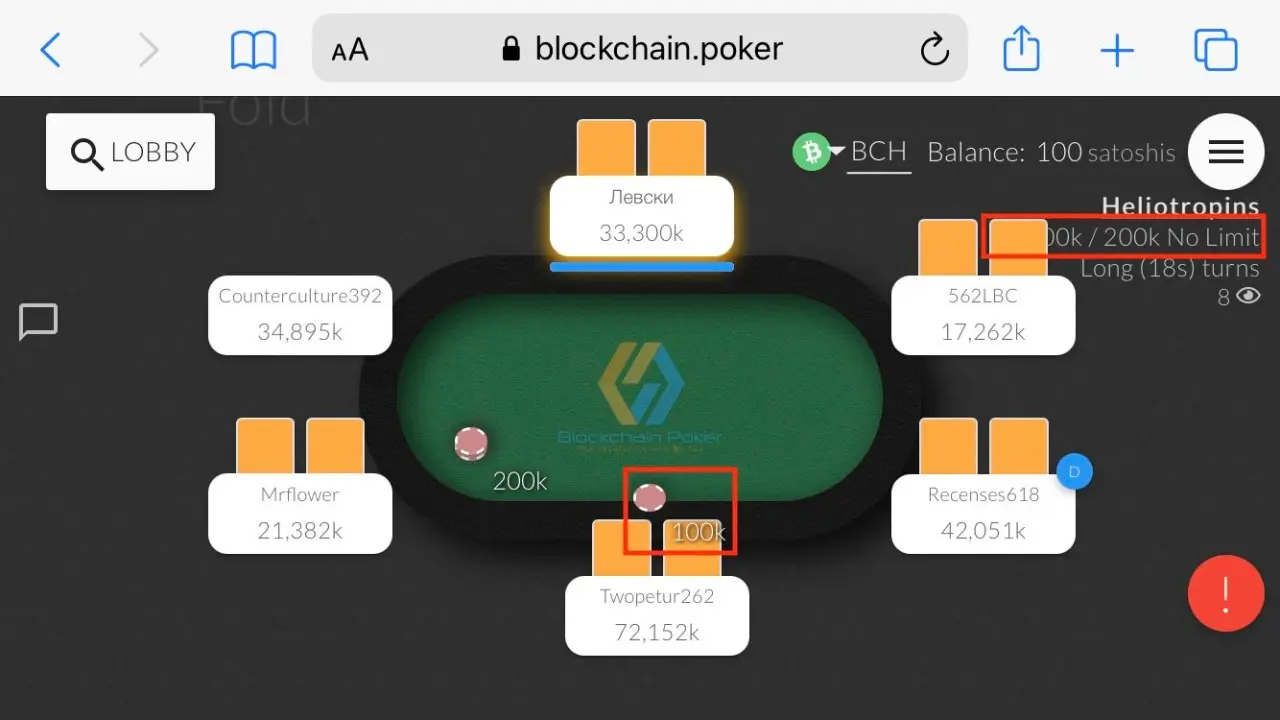 The client is very simple but functional. However, it can be improved to avoid overlapping of elements, to add more grinder functions.
Blockchain Poker HUD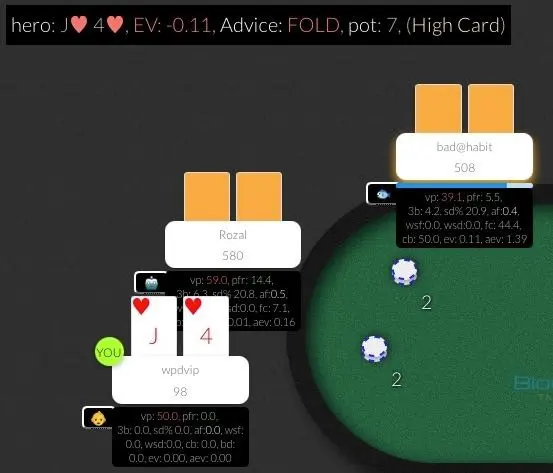 Although unlikely, we found and tested a HUD that works at the tables. Software aids are fine as long as they don't actually play on the player's behalf. The HUD is developed by a third-party company not affiliated to Blockchain Poker.
The heads-up display shows basic data like VPIP, PFR, 3bet, WSD, etc. However, there is a red flag with the HUD as it hints to the player what he should do (sort of real-time assistance) in the preflop stage. It also tags the players according to the identified gaming style, and it can identify previously used nicknames.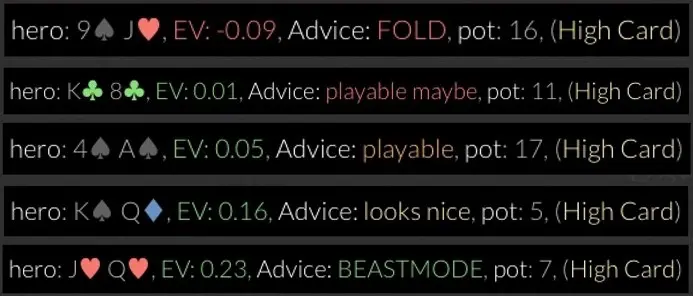 We tested the advice feature and found different suggestions on how to play preflop:
JQ suited: recommends all-in preflop
KQ off-suited: looks nice
A4 suited: playable
K8 suited: playable maybe
J4 suited, 9J off-suited, other bad starting hands: FOLD
The poker room is working on adding an option to download hand histories in 2021.
Pros and cons
We highlight the following features of the poker room:
Crazy action at low stakes
Unlimited no deposit bonuses
Heads-up games
The dark side of the room:
Possible collusion and multi-accounting
HUD with preflop assistance
Low traffic
In our opinion, we consider that Blockchain Poker is doing an excellent job in promoting poker to crypto-enthusiasts. However, the time has proved that both markets (poker and cryptos) don't correlate that much, which is perhaps the main reason for the lack of traffic. Giving away free chips (even cents) has always been a successful strategy to draw the attention of casual players.
Why play with us?
Worldpokerdeals is a leading affiliate with almost a decade of experience on the market. We are recognized for our top-notch customer service to provide comprehensive solutions to grinders.
Reach our team to get more information about Blockchain Poker:
FAQ
✅ What are the Blockchain Poker restricted countries?
✅ Why can't I deposit with Skrill or Neteller?
✅ How to join and play at Blockchain Poker?
✅ Is Blockchain Poker anonymous?
✅ Is Blockchain Poker legit?
✅ Can I play Blockchain poker with friends?
✅ Is it possible to deposit with something other than cryptocurrencies?
Review
Private clubs, rake stats, free hand histories, secret offers and more
Gambling industry news and insides, ratings of best poker rooms, bonuses, races and rakeback. The most undiscovered and fishy rooms of internet. Consulting and players' support. Working since 2013.
2013–2023. All rights reserved