Independent
| | |
| --- | --- |
| Bonus | 100% up to ₮1,100 |
| Rakeback | 33% |
Characteristics

| | |
| --- | --- |
| Room type | Crypto |
| License | Not required |
| Payments | |
| Platforms | |
Key facts
Leading cryptopoker room
Fast cashouts
Heads-up tables
High stakes games up to $5k/$10k
Soft field
MTT with overlays and freerolls
Our ratings

| | |
| --- | --- |
| Reliability | 5.0 |
| Game selection | 4.2 |
| Bonuses and promotions | 4.9 |
| Casual players | 4.5 |
| Deposits and withdrawals | 4.5 |
| Convenience of the software | 4.0 |
CoinPoker review
CoinPoker is the world's largest cryptocurrency poker site, which offers games in USDT, although it also has its own currency - CHP (which is used only for rake and rakeback). The poker room was launched at the beginning of 2018 and is backed by Tony G. It is operated by the company Precise IG Solutions B.V and has a Curaçao eGaming license.
Over time, Coinpoker established itself as the market's leading crypto poker site, having the best traffic in addition to different exclusive features:
100% cryptocurrency. Games in USDT, deposits and withdrawals in other cryptos such as BTC, BNB, and ETH, among others.
Wide range of games including NLH, PLO, PLO5, Action Games, Tournaments, Spin&Go, and casino
7-max, 4-max, and HU tables from micro limits up to ₮10,000/₮20,000. Tournaments up to ₮5,000 and Spins up to ₮100.
Does not require KYC.
In this comprehensive review, we will study the most relevant aspects of the poker room, seeking to answer the most crucial question: Is it safe to play at CoinPoker?
Promotions: first deposit bonus and rakeback.
How does the CoinPoker RNG work?
What is the best CoinPoker bonus code?
All about software, including HUD and hand histories.
Deposits and withdrawals with cryptocurrencies.
CoinPoker rakeback
The CoinPoker rakeback program is very transparent: if you have a CHP balance at the cashier, it will be used to pay the rake at the tables. By fulfilling this condition, you will receive a 33% weekly rakeback to your account every Monday.
Play any game on CoinPoker with USDT.
You have CHP at the cashier.
50% of the rake paid in USDT will be converted into CHP; this is deducted from the player's balance, and the corresponding USDT is refunded.
Pro Tip: Remember to have enough balance in CHP to pay all the rake.
CoinPoker rake structure
The rake on cash tables is 5% (caps from $0.3 to $25). MTT Tournaments: 8%, Cosmic Spins: 5%.
CoinPoker calls the rake "Community Contributions," promising that there is no commercial incentive behind these charges and that 100% is reinvested in the players, deducting only a small percentage to cover administrative expenses.
Coinpoker cash games rake structure

| Stakes | Rake | 2 players | 3 or 4 players | 5, 6 or 7 players |
| --- | --- | --- | --- | --- |
| ₮100/₮200 | 5% | ₮12.00 | ₮16.00 | ₮25.00 |
| ₮50/₮100 | 5% | ₮6.00 | ₮10.00 | ₮15.00 |
| ₮25/₮50 | 5% | ₮5.00 | ₮7.50 | ₮12.00 |
| ₮10/₮20 | 5% | ₮3.00 | ₮6.00 | ₮10.00 |
| ₮5/₮10 | 5% | ₮2.50 | ₮5.00 | ₮7.50 |
| ₮2.50/₮5.00 | 5% | ₮1.50 | ₮2.75 | ₮5.00 |
| ₮1/₮2 | 5% | ₮1.25 | ₮1.75 | ₮3.00 |
| ₮0.50/₮1.00 | 5% | ₮1.00 | ₮1.50 | ₮2.50 |
| ₮0.25/₮0.50 | 5% | ₮0.75 | ₮1.25 | ₮2.25 |
| ₮0.10/₮0.25 | 5% | ₮0.50 | ₮1.00 | ₮1.75 |
| ₮0.05/₮0.10 | 5% | ₮0.30 | ₮0.50 | ₮0.75 |
| ₮0.02/₮0.05 | 5% | ₮0.30 | ₮0.30 | ₮0.30 |
Coinpoker cash games rake structure
4-max tables rake structure

| Stakes | Rake | 2 – 4 players |
| --- | --- | --- |
| ₮2.50/₮5.00 | 5% | ₮2.75 |
| ₮1/₮2 | 5% | ₮2.25 |
| ₮0.50/₮1.00 | 5% | ₮1.75 |
| ₮0.25/₮0.50 | 5% | ₮1.25 |
| ₮0.10/₮0.25 | 5% | ₮1.00 |
| ₮0.05/₮0.10 | 5% | ₮0.50 |
| ₮0.02/₮0.05 | 5% | ₮0.30 |
4-max tables rake structure
The rake on CoinPoker is one of the lowest in the industry, thanks to the lower limits (caps) than other rooms. Spin&Go and MTT tournaments also rank as the lowest on the market.
Coinpoker welcome bonus
CoinPoker welcomes its new players with three 100% welcome bonuses, which add up to ₮1,100. Valid for the first three deposits:
100% up to ₮100
100% up to ₮300
100% up to ₮700
You can only have one active bonus and 60 days to wager each. 
Payments are made in 10% increments, equivalent to 50% rakeback (2x Playthrough). For example, you release ₮10 for every ₮20 rake paid during the first stage.
Promotions
The Coinpoker bonus system consists of several permanent promotions: rakeback, rake races for all MTT and cash games stakes, Bad Beat Jackpot, and the traditional welcome bonus.
Leaderboards
There are three regular leaderboards:
₮10,000 Weekly cash games leaderboard (for NLH and PLO, the best players win ₮1000 and ₮750, respectively. The Top 50 receive an award.
₮15,000 monthly tournament leaderboard.
Spin&Go daily leaderboard with ₮500 added.
Pro Tip: On all leaderboards, you will get 50% more points if you pay the rake in CHP.
Bad Beat Jackpot
The prize pool is shared on all cash tables with 2.5% of the total rake generated. To trigger it, players must lose with a strong hand: AAAKK (NLH), straight flush (PLO4), and straight flush to 7 on PLO5. Players share a portion of the jackpot depending on the stake.
| Conditions | Payment structure |
| --- | --- |
| The hand must go until the showdown | 50% for the loser of the hand |
| At least 3 players must receive cards | 20% for the winner of the hand |
| Only applies to the first board | 20% distributed among all participants of the hand |
| Both players must use their two hole cards | 10% administration fee |
Coinpoker referral program
If you have friends who play poker online, you can refer them to play at CoinPoker through the Worldpokerdeals affiliate program and earn a lifetime commission for the rake they generate. Our promotion includes: Competitive lifetime commissions; Detailed reports; On-time payments to multiple e-wallets.
We can conclude that the CoinPoker rewards program is generous to regular players, receiving high rakeback percentages by grinding hard, starting from a base of 33% which is already high. The only promotion designed for casual players is the Bad Beat Jackpot; this being an opportunity for improvement.
Coinpoker traffic and games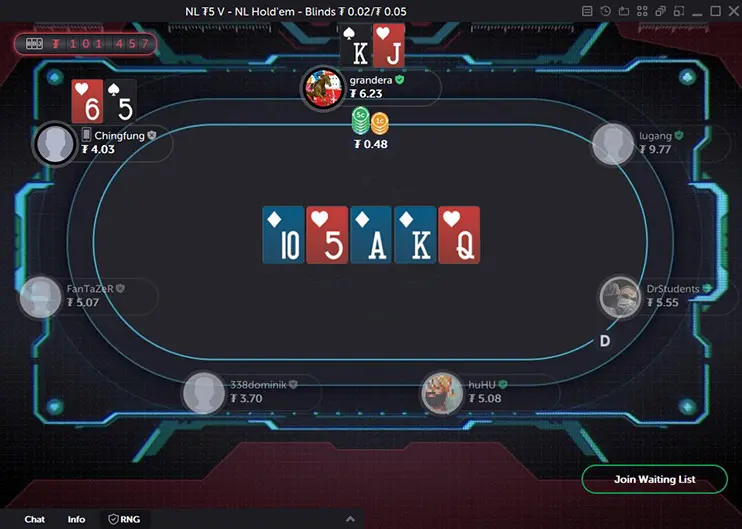 On average, more than 1,000 connections can be seen during the afternoons in Europe. Many of these players correspond to the actual number of cash game players. The number of Coinpoker users increases during peak hours and has grown exponentially over the years.
We miss the presence of regular SnG tournaments and fast-fold poker (Zoom).
CoinPoker offers the following poker formats:
Texas Hold'em
Omaha (including PLO5)
Action Games
MTTs
Cosmic Spins
Casino
Cash games
We can split the cash games traffic on CoinPoker like this:
NLH tables from ₮0.02/₮0.05 to ₮1,000/₮2,000.
PLO and PLO5 from ₮0.02/₮0.05 up ₮10,000/₮20,000 (PLO5 up ₮3,000/₮6,000.
Games with ante on HU, 4-max, and 7-max tables.
Action Games (all private cards are shown in the showdown), which includes private games with Tony G.
There is no limit to the number of free tables you can open, and the waiting lists work traditionally. Most of the free tables have an ante.
Tournaments
The CoinPoker tournament grid guarantees hundreds of thousands of dollars every month. In the schedule, you will find NHL, PLO, and PKO tournaments, as well as tournaments from freerolls to high rollers of ₮5,000. We highlight the following tournaments:
₮75,000 GTD PLO High Roller for ₮5,000
₮30,000 GTD Sunday Special for ₮200
₮20,000 GTD Sunday Special High Roller for ₮200
The cryptocurrency poker site organizes tournament series frequently, the most important being the Crypto Series of Online Poker (CSOP). The players sponsored by the room often have a bounty on their heads.
Cosmic Spins
CoinPoker named Cosmic pins its version of the popular lottery-type Sit&Go 3-max hyper turbo, called Spin&Go in poker slang.
There are eight stakes available from ₮0.25 to ₮100, and the maximum prize is 1,000 x the buy-in of each level (for example, in the ₮100 Spin, the maximum prize is ₮100,000). We miss the million-dollar promotions offered by other rooms.
All spins start with 500 chips (25 big blinds), and each level lasts two minutes. In the multipliers up to 20, the winner takes it all. From 50x to 1,000x, 80% is distributed to the winner and 10% to the other two players.
Reliability and trustworthiness
CoinPoker has been operating on the market for more than five years and has established itself as a reliable site. In 2023, it secured a gaming license from Curaçao eGaming.
However, the reliability of CoinPoker lies not only in its operating license but in other factors:
Reputation of the owners
Although CoinPoker is a private company, it is public knowledge that Antanas Gouga (Tony G) is one of the room's owners. In addition to playing poker many years ago in the highest games, Gouga was a Member of the European Parliament and an investor in various companies. Isabelle Mercier is also related to the company.
Among the security features of CoinPoker, we highlight:
100% decentralized RNG, verifiable by any player
The game integrity team monitors all games
A large community of players that supports the operation of the room
Responsible Gaming functions
Due to the above, we consider the crypto poker model offered by CoinPoker to be safe.
License
CoinPoker is perhaps the only cryptocurrency poker site with an operating license: Curaçao eGaming B2C-43467V95-1668JAZ, valid until 2024. The site has offices in Schottegatweg Oost Unit 1-9 Bon Bini Business Center, Willemstad, Curacao. Although this license is certainly not the most reliable on the market, we highlight that the room had the initiative to obtain it while still operating with cryptocurrencies.
RNG
The CoinPoker random number generator (RNG) is state-of-the-art, being the first to use the Blockchain cryptographic technology (KECCAK-256 hash function used in Ethereum). Any player can verify the source code or the randomness of the hands already played.
CHP token
CoinPoker designed its cryptocurrency, CHP, which operates on the Polygon platform using the ERC-20 protocol. Although the games in the room are played on the USDT stablecoin, the CHP still plays a vital role in the operation of the room since the rakeback program is activated only when the players have such tokens in their wallets.
The price of the CHP is variable and has reached a maximum price of $0.122.
Players can earn CHP using the CoinPoker client's native exchange (with a high fee of 5%) feature or on cryptocurrency exchanges like QuickSwap.
CoinPoker software
CoinPoker uses proprietary software with a cross-platform approach (available for Windows, macOS, Android, and iOS) and is well-designed in terms of graphics, speed, and functionality. The lobby presents all the tables in a list and allows access to observe the games without sitting down. 
There are filters for games, buy-in, or seated players. There are no limits to multitabling. In the cashier, you will find all the options to deposit and withdraw, as well as be able to check the progress of the bonuses, the P2P history, and exchange CHP.
The settings include everything you need to grind comfortably, auto-rebuy, display the stacks in big blinds, as well as allowing you to configure betting buttons.
There is no support for trackers, and hand converters are banned. The use of illegal software can lead to the blocking of the account with confiscation of funds.
The CoinPoker RNG is based on blockchain technology and guarantees the security of all games.
Mobile app
CoinPoker offers clients for the two leading mobile operating systems on the market: iOS (Apple) and Android. The download process is straightforward on Android (you just need to visit the room's official website and download the APK file to install it). iPhone users must install the application from the web and verify the developer (TG LAB UAB) by installing an additional profile. Although the process is simple, it would be ideal if the application were available in the App Store.
Regarding the gameplay, the mobile application is similar to club-based apps such as ClubGG or PPPoker, which allows players to play on up to 3 tables in portrait mode.
Payment options
All money transactions on CoinPoker are processed in different cryptocurrencies, so you must have a crypto wallet before playing in this room. In general, to deposit, you have to have a balance in the cryptocurrency of your preference and follow the instructions of the cashier.
If you want to deposit from an exchange like Binance, click "Deposit from Exchange."
To withdraw, you cannot use wallets from centralized exchanges (Binance, CoinBase, etc.); you must have a private wallet, such as the following:
Metamask (recommended option, integrated with the room to login)
MEW
Trust Wallet
Ledger
SafePal
Exodus
Enkrypt
| Method | |
| --- | --- |
| USDT (ERC-20 and Polygon) | 10 USDT |
| CHP | 10 USDT |
| ETH | 5 USDT |
| BTC | |
| MATIC | 0 |
| BNB | 0 |
Withdrawals are processed between 2 and 48 hours, and the site does not charge deposit fees, but it does charge fees that can be very high depending on the selected currency and the amounts to be withdrawn.
| Withdrawals + P2P Transfers | Fee (%)* |
| --- | --- |
| Up to 99,999 | 0 |
| 100 | 10% |
| 250 | 15% |
| 500 | 20% |
| 1,000,000 | 30% |
*Monthly withdrawals (30-day period) up to 99,999 USDT will have the withdrawal fee according to the payment method. Higher amounts will be subject to charges of up to 30%
The CoinPoker cashier allows you to transfer to other players (P2P). Please note that these balances will be subject to additional checks and game requirements to be withdrawn.
Account verification (KYC)
CoinPoker does not make document verifications (KYC) to its customers, even to withdraw money. This is part of the room's policy, and the only information needed to play is to verify a phone number.
Customer service
CoinPoker's customer service works quite well. You can contact them via email ([email protected] ), internal messaging platform, and Telegram; the latter is one of the best resources because the room and the community lend themselves to solving doubts.
Attention! If you use the Telegram channel to get support, we recommend you be very careful because there have been reported scams of people posing as administrators.
Pro Tip: If you need help on basic topics of the room, visit the Telegram channel. A quick search can lead you to the answer you are looking for. If you have a complex question, we recommend using email.
Pros and cons of playing at CoinPoker
| We highlight the following aspects of the room: | The dark side of the room: |
| --- | --- |
| Games in USDT to avoid volatility | Very high withdrawal fees for high-rollers |
| High and transparent rakeback | Rakeback can only be received by having CHP in the account |
| Traffic at all levels and formats | Withdrawals only to private wallets (no CEX) |
| State-of-the-art software | |
| WPD private rakeback deal | |
CoinPoker fits three types of players who use crypto: Cryptocurrency fans who want to play online poker; Cash games players looking for games with low rake; PLO5 players of any limit; MTT Grinders interested in tournaments with good guaranteed prizes.
Benefits of our affiliate service
Worldpokerdeals has been a market leader in high-quality affiliate services for professional poker players for many years. We guarantee the best rakeback deals and deals for our customers, and we have strong connections with the best online poker sites to solve any kind of problem.
Frequently asked questions (FAQ)
✅ Is CoinPoker available in the United States?
✅ Does CoinPoker have a license?
✅ What currency is used at CoinPoker?
✅ Can I trust CoinPoker?
✅ How much is the CoinPoker cryptocurrency worth?
✅ How do I withdraw money from CoinPoker?
✅ How do I verify my wallet on CoinPoker?
✅ Does CoinPoker have freerolls?
✅ Are there any HUDs and hand histories?
✅ What are the banned countries on CoinPoker?