Independent
| | |
| --- | --- |
| Bonus | Not available |
| Rakeback | up to 50% |
Characteristics

| | |
| --- | --- |
| Room type | Licensed |
| License | Not required |
| Payments | |
| Platforms | |
Key facts
Bitcoin Poker sites
Fast cashouts
Account verification not needed
PLO and NLHE HU action
Chinese poker
Lowest rake in industry
Our ratings

| | |
| --- | --- |
| Reliability | 4.0 |
| Game selection | 4.6 |
| Bonuses and promotions | 4.5 |
| Casual players | 4.0 |
| Deposits and withdrawals | 4.5 |
| Convenience of the software | 4.0 |
SwC Poker Review
SwC, formerly Seals With Clubs, it's one of the biggest and oldest Bitcoin poker rooms on the market. In 2018, SwC relaunched with the program Bitcoin Poker 3.0, adding new games and promotions, and bringing a brand-new gaming client. The chip rate was also changed to 1uBTC (1,000,000 chips = 1BTC).
In 2020, SwC Poker stands up as one of the best Bitcoin poker sites for crypto enthusiasts to play online poker directly with BTC.
SwC Poker krill rewards program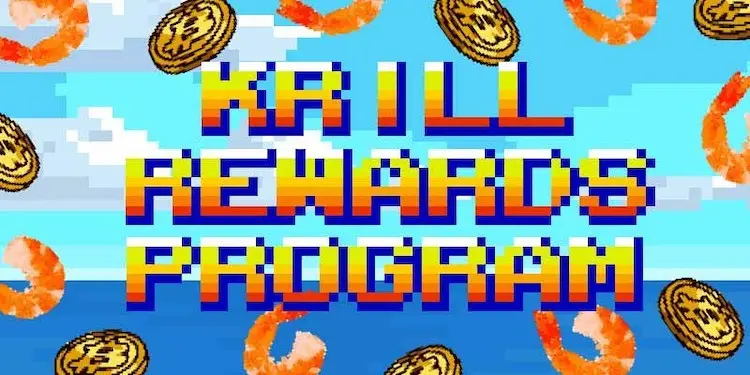 After registering at SwC Poker with the bonus code Bobo4ka, grinders receive Krill for every hand they play in the site, according to the following formula:
Cash games: √(rake) * 0.4 / (players dealt in)
Tournaments: √(entry fee) * 0.4
Krill can be exchanged for cash (rakeback), and access to freeroll tournaments. Points don't expire. All players get an equal amount of Krill, regardless of how they played or how much they contributed to the pot. In tournaments, only early registrants receive Krill.
The Krill VIP program is divided into 16 levels with 5% to 50% rakeback, and extra bonuses for the first levels like freerolls and changing the avatar.
| Krill Amount | Title | Reward |
| --- | --- | --- |
| 1 | New Seal | 5% Rakeback, Access to Chat |
| 50 | Baby Seal | 5% Rakeback, Access to Freerolls |
| 500 | Floundering Seal | 8% Rakeback, Choice of Avatar & Chat Color |
| 1,25 | Young Seal | 10% Rakeback |
| 2,5 | Daring Seal | 12% Rakeback |
| 5 | Adult Seal | 14% Rakeback |
| 10 | Tricky Seal | 17% Rakeback |
| 20 | Journeyman Seal | 20% Rakeback |
| 50 | Sly Seal | 24% Rakeback |
| 100 | Cunning Seal | 28% Rakeback |
| 200 | Boss Seal | 33% Rakeback |
| 500 | Shrewd Seal | 38% Rakeback |
| 1,000,000 | Baller Seal | 42% Rakeback |
| 2,000,000 | Sage Seal | 45% Rakeback |
| 5,000,000 | Iconic Seal | 47% Rakeback |
The TOP10 during the week and TOP15 in the monthly with the most Krill earned per week will share a prize of 23,000 chips, and the best five players per month will get a bigger bonus of 80,000 chips. The winners of each competition get 10,000 and 30,000 chips, respectively, a powerful rakeback boost.
According to the leaderboard history, the winner of the weekly leaderboard winner needs more than 6,000 Krill and more than 30,000 points for the monthly one.
Bad Beat Jackpot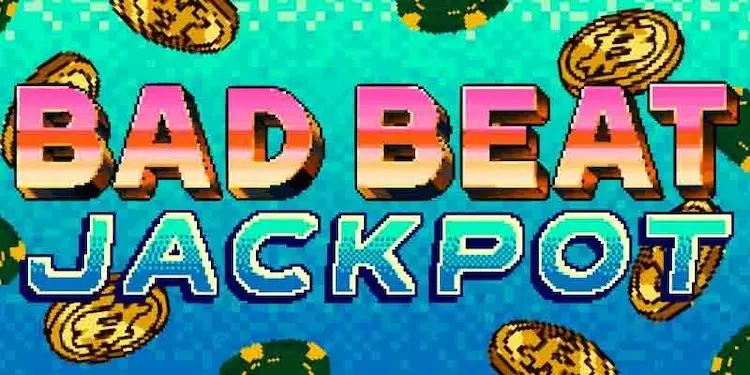 20% of the regular rake (no extra fee is charged for the BBJ) feeds a Bad Beat Jackpot at some unique SwC Poker tables. When a player losses with AAAKK or better, the bonus is triggered as follows:
Loser of the hand: 35%;
Winner of the hand: 20%;
All other players dealt at the table: 15%;
House fee: 10%.
Please note that both hole cards must be used to hit the Bad Beat Jackpot. SwC added 100,000 chips to the initial BBJ prize pool, and the current prize pool is over 300,000.
SwC Poker rake
SwC Poker has a no-drop, no-flop policy, meaning that no rake is charged if the games don't reach the flop.
The poker room charges one of the lowest rakes of the entire poker industry, with fees from 1% to 2,5% for cash games, with different caps according to the stake. No rake is charged at micro-stakes up to 0.10/.020.
| Limits | Rake | Cap (chips) 2 players | Cap (chips) 3 players | Cap (chips) 4+ players |
| --- | --- | --- | --- | --- |
| up to 0,10/0,20 | 0% | 0 | 0 | 0 |
| 1/2-5/10 | 5% | 12 | 25 | 55 |
| 10/20 | 5% | 23 | 30 | 75 |
| 25/50+ | 4,5% | 35 | 45 | 90 |
About tournaments, the rake is 2% or less for SnG, 5% for regular MTTs, and 6% for events with guaranteed prize pools.
SwC offers several benefits to players that represent rakeback after playing in the poker room. The only promotion missing is the traditional first deposit bonus, which is not available at the moment.
Contact us to know more information about the rakeback deal at SwC Poker:
Games and traffic
Although SwC Poker accepts players worldwide, we have identified a peak of traffic corresponding with the nights in America, probably because most of the Bitcoin poker fans live in the United States.
Hold'em, Omaha (including PLO5) games are played on the site. More than 300 connections can be spotted during these hours, and over 100 tables are available to play, with a special note: the preferred game in SwC is Heads-Up. About 70% of the action happens in HU games, and the games start at 0,02/0,04 up to 100,000/200,000.
Keep in mind that 1 chip = 1uBTC = 0,000001BTC. Jackpot tables are highlighted in the lobby at stakes from 25/50 to 1000/2000.
Tournaments (MTT) and SNG
Regular Sit&Go are offered from 25 to 1,000 buy-in in 5-max formats, and HU SnG are played at 25,000 and 50,000 stakes. There are also satellites for more significant events with buy-ins from 25 to 2,000.
The MTT grid includes daily freerolls events with small guaranteed prize of 2,000 chips, and the regular schedule includes several tournaments:
The Daily Crumb, 1k GTD for 50;
The Daily Crust, 2k GTD, 250 buy-in;
The Mini Deep, 6k GTD, 250 buy-in;
The Nightly 11-game, 6k GTD for 1,000;
The Late Night Smooth, 16kGTD, 2,000 buy-in;
Turbo Progressive KO, 6kGTD, 2,000 buy-in.
The Daily Deep, 20k GTD for 2,000.
On weekends, the grid adds extra events like the Saturday Special (20k GTD, 1,000 buy-in) and The Sunday Big (16k GTD, 2,000 buy-in, PLO5).
The most significant events played at SwC are "The BTCs," divided into three categories:
The Little BTC!, 50k GTD, 1,000 entry;
The Medium BTC!, 200k GTD, 5,000 buy-in;
The BIG BTC!, 750,000 GTD, 10,000 entry.
SwC Poker software review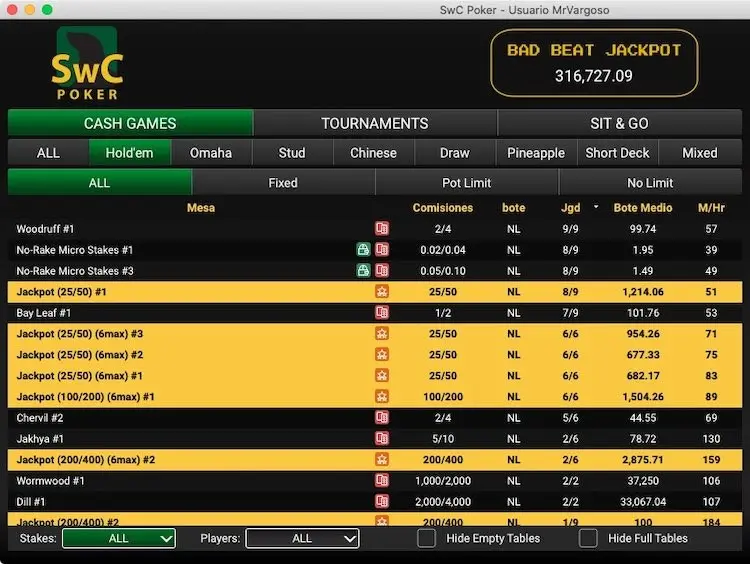 The poker room has native clients for:
Windows;
Mac OS;
Android.
iOS users (iPhone and iPad) can use the HTML5 client, which is also compatible with any modern web-browser.
SwC Poker uses a state-of-the-art client developed by EvenBet Gaming. The Random Number Generator has been tested by iTech Labs and Gaming Labs Certified, and the software is stable without lags.
The table list includes basic information like a stake, players, etc. Jackpot tables are highlighted in yellow. It's possible to check the tables before seating in, and there are waiting lists available.
The Bad Beat Jackpot prize pool is displayed at the top center part of the client, and the most right section shows the players' list and gives access to the cashier and user profile.
The table design is bright, and grinders can customize the appearance in the settings by changing the theme, card deck, etc.
In the main settings, there are options to display chip amounts in BB, enable hotkeys, and adapt the bet-slider according to the user needs. There are no limits to multitabling, and each game can be automatically arranged in cascade or tile.
Right beside the cashier, there is a general chat where all users talk about the game and exchange cryptos.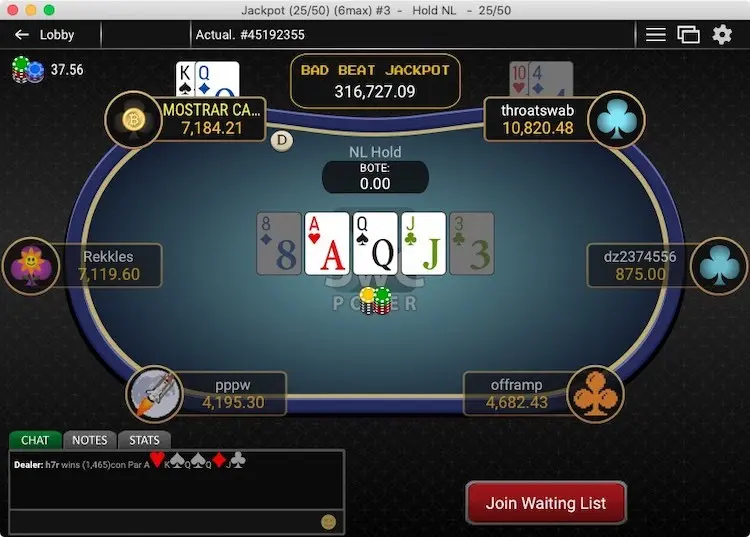 Is HUD Supported?
The official SwC representative commented at the Bitcoin Talk forum about their HUD policy:
"We will not police HUDs. We will not promote any either."
In short, HUDs are not prohibited, but the poker room doesn't encourage using real-time statistics at the tables. So far, there is no hand converter or tracking software that works with the SwC client.
Banking options
SwC is a Bitcoin poker room, and therefore it processes deposits and withdrawals using only this cryptocurrency.
1 chip = 1uBTC = 0,000001BTC;
1,000,000 chips = 1BTC.
To deposit, just visit the cashier section, click on deposit, and a BTC address will be generated automatically. After sending the balance from your Bitcoin wallet, the deposits are credited after one confirmation in the blockchain.
Please note that a new address is provided for each deposit.
To withdrawal, you need to enter your Bitcoin address and the amount in chips; the minimum withdrawal is 500 chips (500 uBTC), and your password. Usually, payments are processed within 24 hours.
There are P2P transfers available in the cashier. No fees are charged to deposits or withdrawals.
Is SwC Poker legit?
The brand Seals with Club (SwCPoker.EU), now SwC Poker, has been on the market for many years, and it can be called the first Bitcoin poker room because it was one of the first sites in processing payments via BTC. 
This means that the site has passed the test of time, which is crucial on the Internet. Of course, as with any unregulated site, we recommend our grinders to process constant withdrawals.
SwC Poker guarantees that player's funds are segregated and that several wallets are used for security reasons.
About Bitcoin poker sites
Bitcoin Poker is an old trend that was born with the crypto-boom a few years ago.
The idea behind it is simply: as Bitcoin is a decentralized currency that isn't backed by any country or bank, but by a global community of users and miners, it will allow open online poker rooms that accept players worldwide, included complex markets like the US.
In short, a Bitcoin poker room processes deposits and withdrawals in this and other cryptocurrencies, and the games are played in cryptos too and not regular currencies like American dollars.
The safety of the funds is the primary concern when it comes to crypto poker because these sites are unregulated and hold no gaming licenses. Nevertheless, massive crypto communities like Bitcoin Talk self-regulate the games, and any shady action of a BTC site is quickly reported and most likely solved. 
Bitcoin Poker in the US
Bitcoin Poker rooms are for definition, US-friendly online poker sites, mainly for two reasons:
Americans love to play online poker, but the industry is heavily regulated there;
Bitcoin payments are anonymous and can be shipped anywhere in the world.
Therefore, such sites have become a top-pick for US grinders, and even the peak of traffic in SwC Poker corresponds to the prime time in America.
Pros and Cons of playing at SwC
We highlight the following features of the poker room:
Low rake;
High rakeback;
Many HU games;
Fast withdrawals.
The dark side of the room:
Low traffic;
No first deposit bonus.
Advantages of playing with us
Worldpokerdeals is a leading poker affiliate with over eight years of experience providing top-notch customer service and guaranteeing the best rakeback deals. Our team has in-depth knowledge of the crypto industry, and this entitles us to give you a good piece of advice when it comes to Bitcoin Poker.
Our SwC Poker players get:
Professional customer service seven days a week;
Free money swaps (BTC and vice versa).
Reach us to get a rakeback deal and start playing: