Advanced Chico converter and HUD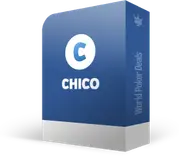 Hand converters
Advanced Chico converter and HUD
Hand converter for displaying HUD at the tables of the Chico network. Works with all popular trackers.
Advanced poker converter features
Advanced Chico converter is a poker utility for automatic real-time conversion of the hand histories of Chico network rooms (Tigergaming, BetOnline Poker, Sportsbetting) for enabling HUDat the tables.
Features:
Intuitive interface with all the necessary settings. 
Automatic updates and table search.
Support for the main trackers:  Holdem Manager 3, PokerTracker 4, and Hand2Note.
Monitoring of the current session (status of the converter, individual tables, hand log, access to HH files).
Observer mode.
Low system requirements (40MB hard disk space).
The program is installed like a normal application.
Basic options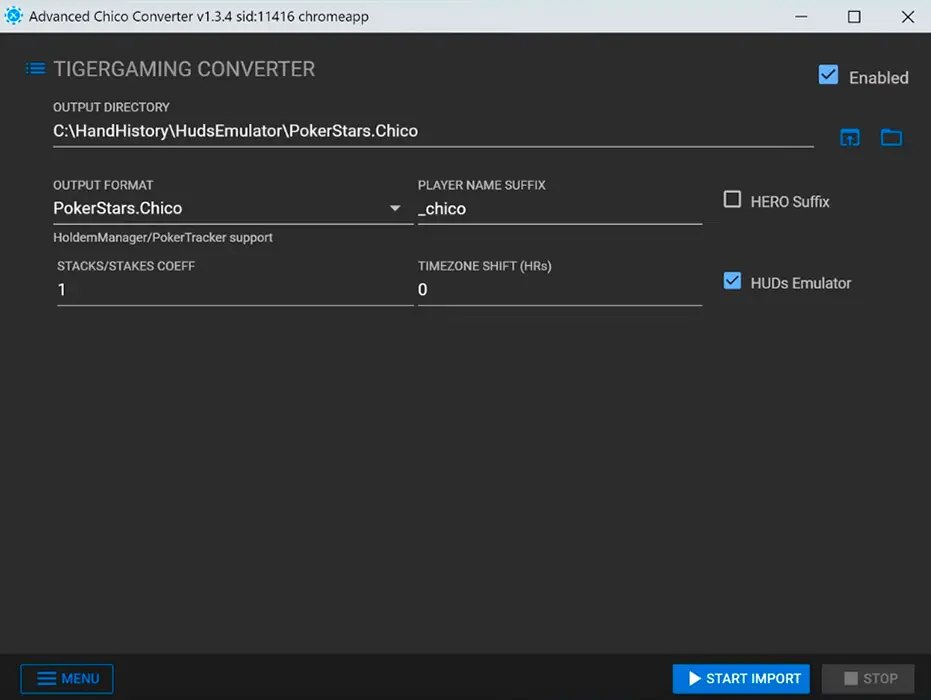 Output Directory – folder where the hand history will be saved.
Output Format – select the HH format. PokerStars format is used.
Player Name Suffix - a special suffix for players' nicknames, which allows you to avoid mixing hands played in different rooms.
Stack/Stakes Coeff – coefficient for changing the size of bets and stacks (used if the currency of the room is different from USD).
Timezone Shift – the difference between the local time and the hand time. This option is used to synchronize the converter with the tracker.
HUDs Emulator – an option to activate the HUD output to the room tables.
Setting up for Holdem Manager 3
Setting up for Poker Tracker 4
Setting up for Hand2Note
Cost of the program
Advanced Chico Converter has a trial version with no time limits. Its only difference from the full version of the program is in the anonymity of the players' nicknames.
The program license has a different cost depending on the validity period and the set of games:
Cash: Day – $1, A week –$5, Month – $10.
Tournaments: Day – $1, A week –$5, Month – $10.
Cash and tournaments: Day – $2, A week – $8, Month – $15.
The key binds the computer hardware. To get it after paying for the license, you need to send the Master Key to the developers, which is in the "License" menu section.
For payment or technical assistance, please contact the Advances Poker Support service:
Or reach our manager.  We keep connected daily: