KingsHands Chico Hand Converter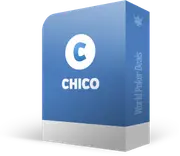 Hand converters
KingsHands Chico Hand Converter
KingsHands Chico is a hand converter for HUD PT4 and HM3 output at Chico Tigergaming, BetOnline and SportsBetting.
How KingsHands Chico converter works
In late 2020, the network released a list of prohibited software, which includes hand converters. Even though there are no cases of a ban for using the converter, we recommend that you take this with all caution. Using the converter is at your own risk!
The software converts the hand history into a format suitable for "reading" the Holdem Manager3 and PokerTracker4 trackers. Thus, it allows you to display HUD for cash tables.
Tournament support is partial: to display statistics at MTT tables, you must use "TableFinder"
Setting
The converter has several options that need to be set up:
"Hand history folder"- the route to the folder with the poker room client.
"Export to" - where hands will be saved after conversion.
HUD type.
Using prefix conversion – rename all players from "Playername" to "PREFIX_playername". It is necessary to ensure that the bases of players with the same nicknames in different rooms do not merge.
The search for folders with the hand history is carried out automatically. But the connection between the databases of the room and KingsHands Chico must be done manually:
 Open any table and go to the converter menu in "Program\Hand history database connection options".


Select the room to which you are connecting and click the "Connect to database", button, wait until the status changes to "database connected" (it may take up to 10 minutes). Then close this window.


Attention! For the converter to work correctly, the poker room client must be run as an administrator.
Setup video
Cost of the program
A one-year license costs 40 Euros. There is no trial period.
The key is generated for use after payment and sending the "HardwareID" data to the developers of the converter (available in the window that appears when the program is first launched) and e-mail.
For payment and technical assistance, please contact KingsHands Support:
skype: kings.hands
telegram: @kingshands
Or reach our manager. We are connected daily.