New Poker Movie Starring Russell Crowe Premiers Next Month
New Poker Movie Starring Russell Crowe Premiers Next Month
Author
Vargoso
Published
10/24/2022
Updated
10/24/2022
"Poker Face" is a revenge thriller about a tech billionaire's high stakes poker game.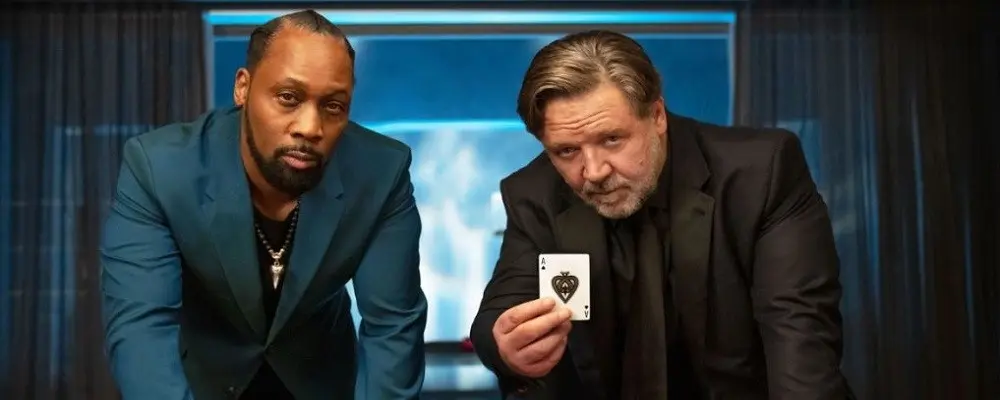 Poker Face Debuts in Theaters in the US on November 16th
This new poker movie is directed by and starring New Zealander movie star Russell Crow. The A-list actor has been in such hit movies as Gladiator (2000), for which he won an Academy Award, as well as Les Miserables (2012), Man of Steel (2013), and The Mummy (2017). As a director, he's credited with only one feature film so far, 2014's The Water Diviner, a historical drama which ultimately failed to make a profit at the box office.
For his second time in the director's chair, Crowe chose the topic of high stakes poker. He also plays the protagonist named Jake Foley, a tech billionaire who invites his wealthy friends to a private high stakes No Limit Hold'em cash game. However, as it soon turns out, there's a lot more at stake in this game than millions of dollars on the table: as you'll see in the trailer below, the host Jake announces that he has poisoned his guest, and a gang of thieves also breaks in. 
This revenge thriller also stars Elsa Pataky, rapper RZA, and Liam Hemsworth, the famed Thor actor Chris Hemsworth's younger brother. Poker fans will see a familiar face on the silver screen as well. Lynn Gilmartin has been hosting the coverage of the World Poker Tour since 2013, and won a €220 Women's Event for €5,890 at EPT Barcelona in 2015. She plays the character of Allison Foley in this movie.
Poker Face had its world premiere at the Rome Film Festival last month. It will be commercially released to theaters in the US next month, on November 16th. Early reviews have not been published about the movie. As of now, most likely based on the trailer alone, it holds a high 8.5 user rating on IMDB after 34 votes.
Famous Poker Movies of the Past
The best known (and probably most quoted) film among poker fans is Rounders from 1998. The drama starring Matt Damon and Edward Norton is even vicariously responsible for the poker boom of the early 2000's, as 2003 WSOP Main Event champion Chris Moneymaker got into poker after watching that movie.
However, Rounders was never a smash hit at the box office. 2006's Casino Royale, on the other hand, very much was. The spy movie in which James Bond plays a $10 million buy-in No Limit Hold'em tournament grossed over $600 million in ticket revenue. The latest big movie production about the great game of poker was Molly's Game in 2017. 
Reportedly, there has also been a film in the making about Phil Ivey's edge sorting case against the Borgata Casino in Atlantic City, New Jersey. However, the last piece of news about that project came in February 2020, before the pandemic, so it's unclear if it will ever actually see a release date.
Stay tuned on our  Telegram  channel for more EV+ news.
Review
Private clubs, rake stats, free hand histories, secret offers and more
Gambling industry news and insides, ratings of best poker rooms, bonuses, races and rakeback. The most undiscovered and fishy rooms of internet. Consulting and players' support. Working since 2013.
2013–2023. All rights reserved