GGNetwork Countries Guide: What Skin Can I Play? (2023 Update)
GGNetwork Countries Guide: What Skin Can I Play? (2023 Update)
Author
Vargoso
Published
3/15/2022
Updated
1/1/2023
GGPoker Network could be an example of how to run a successful business in a crowded industry such as Internet gambling. The network opened its doors back in 2014 and has since risen from nowhere to the TOP1 of the online poker industry. One of its secrets is to serve different markets with different skins.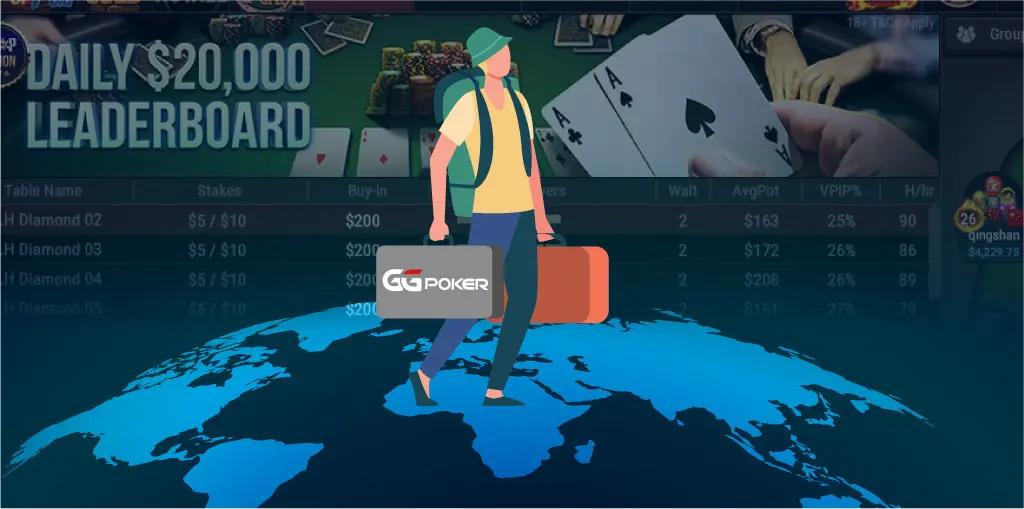 GG Poker Network: Where to Roll?
If you play online poker, it is unlikely that in 2022 you haven't heard about the GG Network. The once Asian site now hosts WSOP Online and is clashing for the first place with The Stars Group. According to Jean-Christophe Antoine, one of the GGNetwork secrets is to convoke the biggest online operators to compete with the largest poker companies in their respective markets. In other words, to serve different markets across different skins.
Although GGPoker doesn't share an official exclusive countries list, if you can't find your country during the registration process, most likely, you won't be able to play. Banned countries are mostly related to economical/political instability or gambling restrictions.
Recall that like every licensed poker room, GG Poker restricts underage gambling (usually 18 years old, but some jurisdictions may have higher age limits). Also, account verification is needed for deposits and withdrawals; usually, sending a copy of an ID and a proof of address is enough to play.
GGPoker restricted countries include:
Afghanistan

Armenia

Australia

Bosnia and Herzegovina

Bulgaria

Colombia

Cuba

Curaçao

Czech Republic

Denmark

France

Iran

Isle of Man

Italy

Moldova

Mongolia

Philippines

Portugal

South Korea

Spain

Sweden

Switzerland

Ukraine

United States of America

Zimbabwe
On the other hand, the following countries are welcome to GGPoker tables:
Andorra

Argentina

Austria

Belgium

Brazil

Canada

Croatia

Germany

Greece

Gibraltar

Hungary

Indonesia

Ireland

Japan

Malaysia

Malta

Mexico

Monaco

Norway

Panama

Philippines

Poland

Romania

Russia

Slovakia

Slovenia

Thailand

The Netherlands

United Arab Emirates

United Kingdom

Vietnam
Please note that some countries are available only through unique skins.
GG Poker Network Europe
After conquering Asia, GGPoker Network focused on the old continent. The results have been impressive: after starting the expansion plan, traffic at GGPoker increased exponentially. Hundreds of European players can be spotted during the peak time in that region.
In 2022 GGPoker runs several local domains to serve regulated markets; each subdomain features translations into the local language (Finnish, Portuguese, Polish, etc.)
GGPoker UK (Gambling Commission license);

GGPoker EU (global ".com site, MGA license);

GGPoker FI (Malta license)

GGPoker PL (Curacao license);

GGPoker HU (Curacao license);

GGPoker BE-NL (Kansspel Commissie license);

GGPoker NL (Kansspelautoriteit license, official sponsor of several football clubs).
Other regulated markets like Estonia or Latvia are served by OlyBet, while Russians and surrounding countries play at GGPokerOK. BetKings targets all markets, combining its bookmaker with an online poker room.
The flagship skin, GGPoker, provides access across many other European countries on the list.
GGPoker Network United Kingdom
NSUS Limited holds a Casino license from 2017 and a Gambling Software license from 2018 from the United Kingdom Gambling Commission, one of the most important steps for their global expansion.
Unfortunately for local players, the UKGC has tightened the regulation, so locals have several issues processing deposits/withdrawals, especially if they don't have funds from non-gambling activities. Nevertheless, GGPoker Network being legal in the UK is a massive pro.
Joining GGPoker UK is an EV+ decision anytime. However, you must be ready to prove your income or financial position by sending documents.
GGNetwork Asia
GGPoker was born in Asia. And although it can now be considered a global poker network, Asia remains one of the most important markets. Therefore, it's logical that some specific skins serve Asian countries. 
Natural8 is perhaps the best-known Asian facing skin of GGNetwork and is targeted at specific countries such as Malaysia, Manila, Singapore, Vietnam, or the Asian giants: India and China.
Players living in Western Asia (Israel, Turkey) are welcome to join Good Game via 7XL Poker, an Israeli GGpoker local skin that offers friendly payment methods for them.
GGNetwork US
GG Poker has America on its plans. However, online poker in the United States is going through a complicated process of legalization that takes years, and it's creating fenced bourses, which goes against the interest of GGNetwork. Nevertheless, after they partnered with WSOP in 2020, US grinders began to see the "double G" in many live and online events, including the unique ClubGG app, catered for US residents.
Heading to the south, Felipe "Mojave" Ramos, a Brazilian poker player and a Portuguese version, confirms the network's interest in South America.
Be aware that without a substantial change in the US regulation, if GGPoker launches in the US, it won't share traffic with the other allowed countries.
Prospects
GGNetwork wants to be the TOP1 poker site in the world. Actually, they already held this position briefly in 2021. We can see where GGPoker wants to develop further by checking their local teams: Brazil, China, Poland, Ukraine.
Also, most likely, the network will apply for local licenses in any eligible country like Switzerland, and 100% will keep taking steps to enter into the United States.
FAQ
✅ Can I use VPN for GGPoker?
We don't recommend using any VPN or proxy as this would consist of a transgression to terms and conditions. If any GGNetwork skin doesn't work in your country, we recommend reaching our team for advice on where to roll.
Beware of GG Poker agents offering accounts in restricted countries.
✅ Is GGPoker legal in the United States?
Unfortunately, GG Poker doesn't work in the US. Nevertheless, the network seems highly interested in this market as they recently launched ClubGG App hosting WSOP satellites and other local events. Also, in February 2021, NSUS Group was granted an Interactive Gaming Manufacturer license by the Pennsylvania Gaming Control Board.
✅ Where can I play GGPoker?
As we said above, GGPoker welcomes players from many European, Asian, and American countries. Unfortunately, some jurisdictions are not welcome, including the United States, France, Spain, Colombia. A quick tip for any player: if you cannot see your country in the registration list, you probably won't be able to create an account.
✅ Where is GGPoker legal?
GGNetwork holds several licenses in countries like the United Kingdom, Malta, Isle of Man, Curacao, etc. However, not all countries have regulated online poker, so, for example, GG doesn't need a Canadian license to operate there, but the site is legal and safe for Canadians
✅ Where is GGPoker based?
Parent company NSUS is headquartered in Toronto (Canada). They also have offices in Dublin (Ireland), Malta, South Korea, among other regions in which the network is developing.
Please reach our team to get a profitable deal for your jurisdiction. Our GGPoker players get:
Private promotions and tournament tickets in our Telegram channel;

Professional support on all issues seven days a week.
Telegram: wpd-support
Skype: wpd-support-skype
Email: [email protected]
WhatsApp: +905430740558
Stay tuned on our Telegram channel for more EV+ news.
Review
Private clubs, rake stats, free hand histories, secret offers and more
Gambling industry news and insides, ratings of best poker rooms, bonuses, races and rakeback. The most undiscovered and fishy rooms of internet. Consulting and players' support. Working since 2013.
2013–2023. All rights reserved