Statname — state of the art poker statistics
Statname — state of the art poker statistics
Any regular player wants to have as much information as possible about their rivals at the table. Besides trackers, some sites can provide such data in larger volumes. In this article, we will talk about the advantages of one of them — Statname.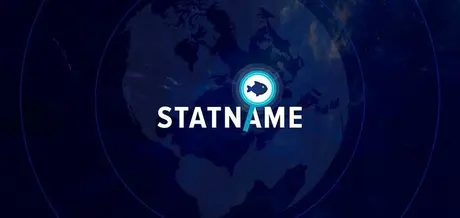 We all know that the more information on our opponents at the tables, the more right decisions we can make during the game, thereby maximizing profit and avoiding unnecessary losses.
In most cases, grinders use trackers, but those also have some restrictions, mainly related to the volume of the database or room constraints. Statname is a friendlier service to get stats for any nickname at the NLH or PLO tables.
What are the advantages of Statname compared to similar services?
Room coverage — not only PokerStars is supported, but also GGNetwork, iPoker, Chico, WPN, and 888Poker.
Player scope — the site features a massive database of over 4.5 billion hands since 2013 and more than 7 million nicknames.
Stakes — starting from $0.01/$0.02 to nosebleeds.
Speed — nicknames are shown within seconds. An extension has been developed for Google Chrome users.
Integration with poker software — works with most tools that can copy nicknames: iPoker Tools, Stars Caption, 888Caption, and others.
Flexible pricing policy — search up NL/PLO25 is free. For higher stakes, the monthly subscription starts at $10.5.
Support — fast customer service in English
In the Top Players section, you can get data about the players who won or lost the most in different rooms for a certain period for free.
Statname interface
After completing the registration procedure on the site and logging in with your email and password, the main window opens, consisting of the following elements:
Top menu:

It allows you to search for player statistics by entering a nickname into the search bar.
Sidebar: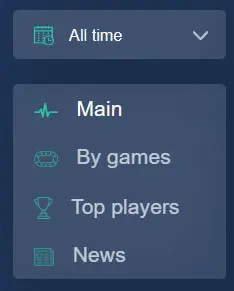 Features multiple lines. The most important is the top one that enables filters to display information about opponents only for a certain period, stake, or table format.
Brief statistics on the player (under the nickname, it is indicated when he last played).

VPIP
PFR
3bet
bb/100
Total number of hands
Favorite limit
Total profit
Winning:

Two graphs of the distribution of winnings: by time and by the number of hands played.
Detailed stats: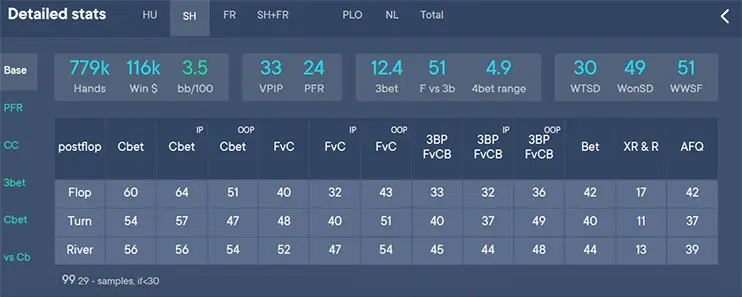 Shows over 20 player stats, considering the position, table size, and poker format.
Summary: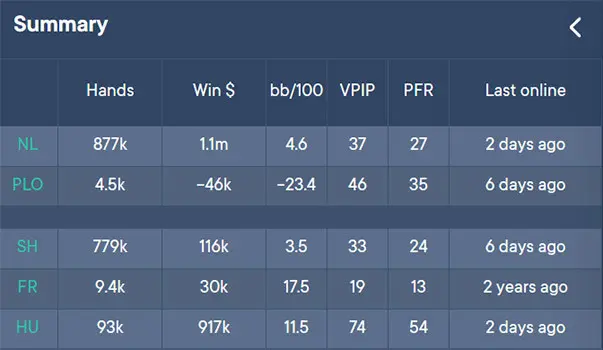 General information on the number of hands, winnings, bb/100, VPIP, PFR, and last time online.
Month results: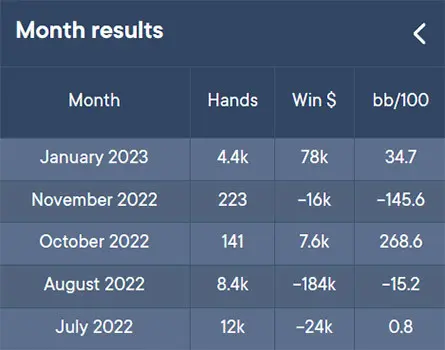 Conclusion
Statname gives an excellent opportunity for its users to boost their profits. Within a few seconds, you will be able to get a comprehensive breakdown of any villain. Thanks to the intuitive layout of the statistics, it takes a minimum of time to get all data.
Speed, convenience, and informativeness are the main advantages of the service. Its primary function is to reveal who is who at the table.
Hurry up to take advantage of this great opportunity to test the new poker statistics service Statname using this link.
Stay tuned on our Telegram channel for more EV+ news.