Big interview with Team PokerStars Pro Mikhail @innerpsy Shalamov about life, fights, drugs and cryptocurrencies.
Big interview with Team PokerStars Pro Mikhail @innerpsy Shalamov about life, fights, drugs and cryptocurrencies.
Whats up, guys! Our guest today is a Russian Team PokerStars Pro, a top Zoom NL500$ reg, a holder of 100% secret rakeback deal (#jokehashtag) and a controlling share of bonuses of all airlines in the world - Mikhail Shalamov aka "Innerpsy". Welcome to our imaginary studio and let's go!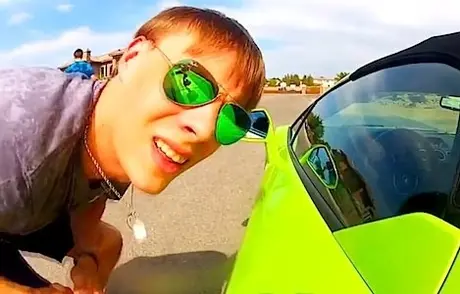 Question: Hey, Misha, at which desk were you sitting in highschool? Were you a toughie, a nerd or in some other group?
Answer: Actually, I was, in fact, simultaneously in these two castes. I graduated from school with a medal, but was never a nerd - studying was easy for me, so I always got time to badass.
Question: Lets play "Would You Rather" game  — would you rather hick once every 30 seconds for the rest of your life or sneeze every minute?
Answer: That's a tough one. I enjoy sneezing a lot, always do it aloud that sometimes makes my wife tilt. But I assume, sneezing will become boring fast so I go with hicking. It also can be masked much easier. (from editor: smart choice, man).
Question: Do you still have spare time in your schedule to study new niches, besides poker, or your time is fully booked?
Answer: Unfortunately, poker and Twitch streams take almost all of my time these days. I do believe though that it's a right approach in terms of any professional development to stay focused on your main thing. Rushing between niches usually means not succeeding in any. On the other hand I feel somewhat "missing out a thing" as I had a strong desire to learn cryptocurrency markets last fall and throw in 50k$ in Bitcoin when BTC/USD pair price was 300$. Thanks to laziness and lack of time it ended up with nothing. Now I feel much more integrated in Blockchain industry - whoever needs BTC with 3-4% vig (depending on the volumes) - feel free to contact me. I have purchased a certain amount of bitcoins as a long term asset and I trust in its growth - it has all conditions for this. Blockchain as a technology and crypto-currencies in particular are both very promising field for investments.
Question:  How do you estimate recent dramatic changes in PokerStars VIP program? (PokerStars lowered rewards to 5-7% of cashback value for all players). Do you believe your personal EV will correlate with more loyal fields or it won't pay back the losses? Did they cut your top-secret 100% rakeback deal? (*laughing)
Answer: Of course, such a significant cut-off is unprofitable for me, as for any regular. But the field should really become better, which will sweeten the pill a little. I'm now, fortunately, not a zero bb/100 rakeback-reg, so I'll continue to work on my game to boost win-rates. Well, 100% rakeback jokes and memes are already out of date - after all, the community is very hard to accept the latest innovations, and I would like to note that my rakeback was cut in the equal percentage as for other regulars, and I lost more than the absolute majority of the players in terms of $ per hour. But I understand that this is quite a logical business decision, and there is not much to be done about it.
Question: When was the last time you had a fight?
Answer: I fought about a couple of years ago. Who reads my blog know that I was crushed in a head from behind and now I have a crookedly fused jaw. It could all end up very sad for my family in case a punch was landed few inches ahead. Since then, I have greatly rethought the attitude to such conflicts, I think the next fight will not happen soon.
Question: What's your approach to marijuana and do you think that partial legalization in Russia would be a positive step (in terms of reduction of alcohol consumption, domestic violence, etc.)?
Answer: I have a neutral attitude towards marijuana - I smoked several times to give it a try, but just did not feel the the whole thing. Concerning the legalization of recreational drugs - I stand for it and besides, I think that heavy drugs should be decriminalized. The experience of well-developed countries on this score is quite positive.
Question: Do you sometimes feel like to quit poker or you still enjoy the process?
Answer: I often have periods in my life when the game turns to be boring. This is common for every poker player. During the last such period I decided to try streaming my games (www.twitch.tv/innerpsycho) and still this method works good  - the grind is no more just a button clicking and playing process is now much more fascinating. By the way, sending a "WOOP WOOP!" to all my Twitch subscribers.
Question: Do you have students? Have you ever got an idea to create a pool of your players and lead them to higher stakes?
Answer: I was training a few students for about a year, but it was in a period in my life when I could not force myself to work much and tried to maximize my EV through private training. I'm not one of those who turns into a coach because of not beating games - I just could not force myself (like many of my colleagues) to grind hard, and been tired from the game. With the streams, this problem has disappeared, and now, on the contrary, I have to measure my working hours, not to "overtrain". Accordingly, I have stopped private coaching since then.
Question: Do you believe that bots will kill the game or the game will transform into other game types (less calculable and more variant)?
Answer: I believe that development of technology and, accordingly, software that can play poker better than a person - is one of two key dangers for online poker. The second is inadequate measures by governments aimed at trying to bite off a bigger piece of the pie. I am a very mediocre predictor, so I prefer to just observe the process and adapt to it as it goes.
Question: Have you tried to move to PLO? As far as I know average PLO win-rates are way higher than in NLH.
Answer: I definitely have thought about studying PLO. I like this game, but it feels like the amount of time it takes to start beating, let's say, a 500$ PLO zoom will not cover the lost EV in NLH games I have today. Therefore, I only sometimes play PLO for fun purposes. Last session I won like 3k during 500 hands session so I would define myself in Omaha as a lucky fish.
Question: Your most stupid and expensive purchase, which you regret?
Answer: I'm not a big spender, but still not very happy with my investments in real estate. I guess I slightly overdid it with my car, it could be much cheaper without losing almost nothing, except show-off things like a powerful engine. But regret is a useless emotion. Just made lessons out of it and now I manage my funds in a tighter way.
Question: Sensitive topic, but still. As far as I know at the top stakes, almost all players use the self-written software (scripts, helpers, analyzers). Is it partially or completely so? Should the system strive against these things?
Answer: I would not like to think that one of my constant opponents beats me with such forbidden software, in this case it is a clear cheating. Security department of PokerStars is the best in the industry, so I just hope that they will protect me from this as much as possible. Of course, poker should be a game of people, not of softwares. If there was an opportunity to completely ban any HUDs so that in a month it won't reappear in another form, I would be the first to vote for such an innovation.
Question: I fly up to 40 times a year and I do not have a bonus-card of any air-alliance. Give me some life hacks regarding flights and accumulation of bonuses with benefits for active travellers?
Answer: If I were you, I would choose an alliance that is most convenient in terms of the routes you need. For example, I have an Aeroflot, where I began to save miles few years ago. Some people consider the business class to be a prerogative of the oligarchs, but in the past 8 years I have never flown through the Atlantic in the economy, while paying the full price for business only once from probably about 20 flights.
With bonus miles, the BC price is very comparable to the economy (well, in fact x1.5 times more expensive, while regular business class usually costs x5), and the comfort of the flight increases unlimitedly. For faster accumulation of miles, you may also want to open co-branded bank card with air-alliance bonus program for purchases. I myself have stopped to use them, since we have accumulated more than 600k miles of Aeroflot with my family. We actually do not have enough destinations to spend it lol.Question: What countries do you want to visit, from those that you have not visited yet?
Answer: I really want to get to Australia, but it's so far from Russia. I would also like to visit North Korea - I think this should be a very impressive trip.
Question: How about China? In September I am going to relocate there with Worldpokerdeals.com team to learn Mandarin and start new projects. Welcome to the pack!
Answer: I am a settled family guy, that's why I have thank for invitation but refuse. In autumn we move, just in the opposite direction, to Krasnodar (city at South of Russia). The seaside is not far away, it has a good climate and comfortable place.
Question: What is a thing that no one knows about you and would be surprised to find out?
Answer: I spent a year and a half without my driving licence, being deprived for drunk driving 8 years ago, which I am terribly ashamed of. Since that I do not think about driving even after a glass of water.
Question: And the last one. Would you bet 25% of your bankroll, that in six months you could teach an ordinary 80-year old woman to beat nl10$ with 7% rakeback?
Answer: Nice try, but I wouldn't accept this bet :) For poker, fast and productive mind is very important; The times when apes could beat nl1k are forever gone.
If you wish to get in touch with Misha or follow his poker quest, feel free to add him in one or in all of the public accounts listed on the picture below. From our site I wish him to keep a cold mind, a warm heart and stay in harmony with own self.