Exclusive interview with Sergey "Jayser1337": everyday life of a high roller
Exclusive interview with Sergey "Jayser1337": everyday life of a high roller
Author
Vargoso
Published
12/9/2021
Updated
3/3/2022
Any poker player is interested in the experience of those who were able to achieve high-stakes success. In his exclusive interview, Sergey "Jayser1337" will tell not only about how he became a top reg but also how you can learn from his experience by becoming a student of JPokerSchool.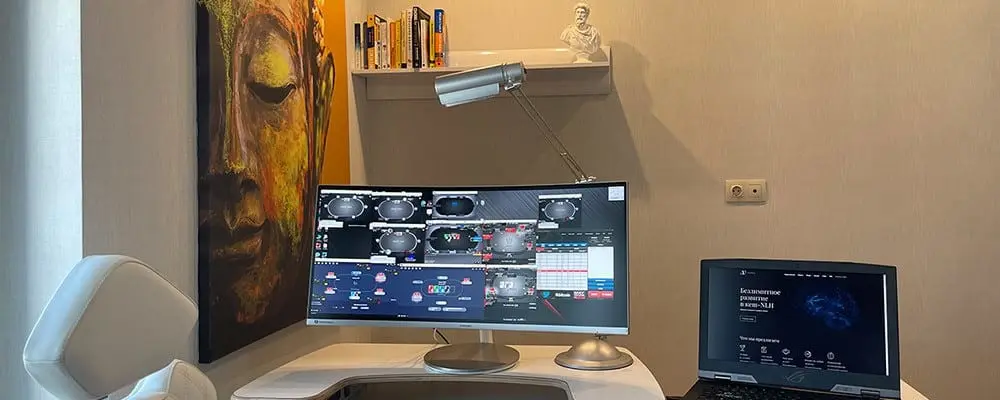 Who is «Jayser1337»?
WPD: Good day, Sergey! Thank you for agreeing to give us an interview. Some of the younger generation players may not know about "Jayser1337". Please name us the 5 most significant points that describe your achievements and yourself as a person to the fullest extent. 
Jayser: Hi, I would highlight the following 5 of my achievements:
Becoming one of the top NLHE 6-max online poker regulars at the peak of my career. In general, ratings are subjective, but considering my NL5K$+ regwars experience and results, I can afford myself such an audacity.
Partially solving my financial issues. Spoiler: popular idea that one can establish passive income sources and never work again while enjoying tons of free time - it's just a utopia. In real life, it quickly becomes tedious, and your brain still tends to occupy itself with something interesting, even when money is no longer a priority. 
The ability to balance work and other important areas of life while keeping quiet high productivity at work. 
Self-reflection and the ability to work efficiently on mistakes, which, in principle, is one of the most important skills, no matter the area of development.
The results of my students. Actually, it is partly my achievement - the central part is always a consequence of the students' work. My role is to provide them with the best tools and explain how to use them.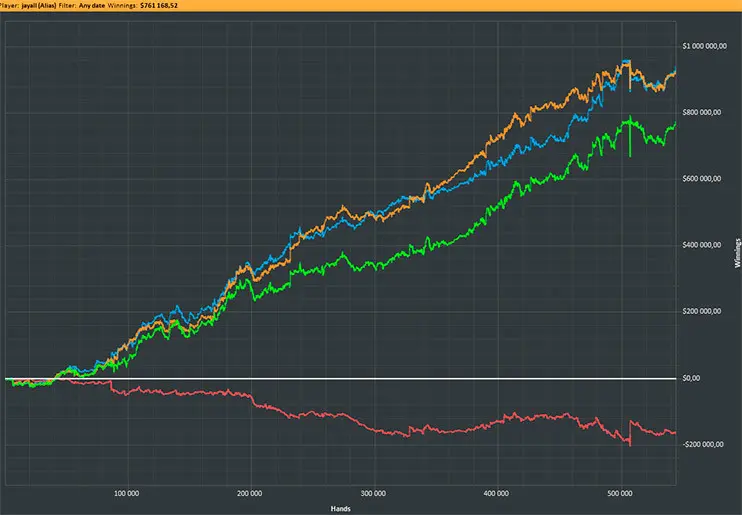 About moving up the limits and poker rooms
WPD: Thanks a lot! Now let's talk about your online poker career. How long did your way to the high-stakes take, and what do you think is the most important for those players who want to repeat your success?
Jayser: It started at the beginning of 2011. I made only one deposit and followed a relatively conservative BRM:
During the first year, I reached NL100$.
During the following year, I moved up to NL1K$.
Since 2015, I have played at NL5K$ and used table selection.
Around 2019, I joined high-stakes regwars only at NL2K$ and above. 
The most critical factors in moving up the limits were motivation and the desire to achieve my goals at any cost.
Without hard work on discipline and psychology (which, by the way, have been my weakest points in the beginning, but became the strongest ones in recent years), a great poker community and many like-minded people, such a rapid rise would also have not been possible. I have worked with several coaches at different periods of my career, and it also gave me massive help at difficult times. Add to that the Forhayley blog (WPD: Dmitry "Forhayley" Yaskevich, well-known high roller during 2010-2015), which made me believe that anything is possible.
WPD: We know that poker rooms have shown themselves from different angles during more than 10 years of your online career. What do you remember most about each of the rooms you played at? How do you generally assess the current situation in the industry in terms of convenience for a regular player? And what do you think about the rapid development of GGNetwork and its specifics: playing field, software, security, and ecology agreement? What are their prospects in terms of competing with PokerStars?
Jayser: The most memorable in a positive way is Full Tilt Poker - the sweetest NL400$ Rush Poker (fast-fold poker) games have taken place there. Thanks to rake races, I could have an awesome EV+. The skill level of regulars was pretty low. I remember achieving my biggest breakthrough in understanding the field during the week I spent at the hospital after surgery. I have not been able to play many tables simultaneously on my laptop, so I began to closely watch what my opponents were doing. This poker room will definitely take first place in my rankings.
Also, I am grateful to PokerStars for the best security system in the world - I can barely remember the last time I had a feeling that opponents have used any kind of forbidden software against me. Of course, they are not perfect; their customer support has become worse in recent years, but still!
GGPoker has a very strange reputation. On the one hand, they host the best high-stakes games globally, but on the other hand - unfair treatment of winning players bans under various pretexts (for example, they have banned Vyacheslav "1nvoker" Ozhigov for bumhunt). 
I stopped following their news but heard from some players that lately, they seemed to have softened their policy towards regulars. They can easily displace Stars and become a TOP1 poker room if they consider behaving more correctly towards pros.
WPD: Thanks for the detailed answer. Let's get back to your personal poker achievements. Of course, it is unprofessional to dwell on the results of individual hands, but nevertheless: has there been a hand in your poker career which you remembered for its enormous pot size, or you've been admired by your opponent's play?
Jayser: There were a lot of them. The first huge pot hand that came to my mind was the one against Wiktor Malinowski, who acted like a "fish" during the NL40K$ deep stack cash game. He played a 4-bet from the button with 53s against me in the BB vs. BU spot. Then we went all-in postflop for a $150K+ pot: he was way behind but rivered my overpair with a flush. Not that I have been "admired" by his move, but he definitely managed to evoke a cocktail of various emotions.
About switching from playing poker to coaching
WPD: In 2018, you decided to finish your career to move on and develop yourself in other areas. What were these areas, why did you choose them, and what did you achieve there?
Jayser: While summing up the results of 2017, I realized that I had achieved my financial goal, which motivated me for a long time. My desire to play poker has simply "vanished" the same day. 
During the first month after that, I learned crypto and realized that it was not my cup of tea. For the next couple of months, I did a lot of reading, thinking, working on myself and sports. I studied mnemonics, the brain's work, and much more: some of that has brought interesting and unexpected results, while the rest just remained an exciting experience.
WPD: Such a wide variety of interests ultimately didn't save you from returning to poker. Why did this happen? Then you became involved in both playing and coaching. How did you become a poker coach, and what did you achieve in this field? 
Jayser: After those 3 months, I realized that I was just missing poker; it felt like I didn't realize my potential in full. I wanted to return and challenge myself to see what I could achieve if I radically changed my approach. 
I started my coaching career in 2015. When I look back, I understand that my first attempts were rather unprofessional, even though I had good potential for coaching. I figured out why something works this way or another, organized information, and explained complex things in simple words.
It took me several years of practice to become almost satisfied with my coaching algorithm and approach. The results of my students, who got better with each course taken, confirm this positive dynamic. 
Now I continue to draw new ideas by learning from specialists in various spheres of life - from surfers and boxers to psychologists and mentors. Sometimes valuable insights come from where I could have never expected.
About JPokerSchool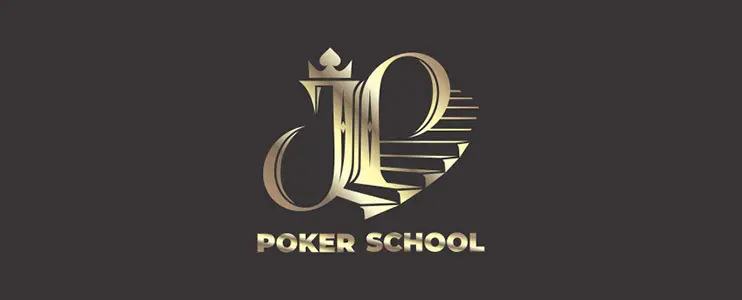 WPD: We know that the JPokerSchool project in association with Inferno is currently your main business in the field of poker education. There's an opinion that nowadays, poker schools only worsen the situation at the poker tables, thus forcing the rooms to even harder protect the so-called "poker ecology." Do you agree?
Jayser: Actually, this is not the most obvious statement. When I started playing poker, there were many educational materials and schools - Deuces Cracked, Ivey League, PokerStrategy, Beluga Whale, Aaron Jones - and these are only the first ones that came to my mind now, ten years later. Almost all of these projects are dead, and the new ones have come to replace them - a pure evolution.
It is not true that there is way less money in poker nowadays. What about me and my friends (high-stakes regs)? Our EV has constantly increased since 2015. And this is although solvers, new poker schools, real-time assistants (RTA), etc., have appeared. 
Solvers helped hardworking but not very talented guys like me to move up to the next level and start competing with those who did much less work away from the tables but still crushed the game thanks to a deep understanding. As the RTA tools evolved, the players learned to better understand how to play against them. And the security systems of poker rooms have also become more advanced. I remember the appearance of the first bots at PokerStars back in 2012, followed by the upsurge of their activity at FTP for a couple of months. In the end, all of them were identified and banned, so it became a pleasure to play again. 
The professional approach to poker has also evolved. Ten years ago, you could tilt left and right, take your game lightly and devote a minimum of time to work away from the tables, but nowadays, any serious professional player can't afford this. 
In general, I am not a supporter of the idea that "the grass was greener before." Of course, there was more "easy" money in poker back then, but now there is still enough of it, especially if you compare poker to other areas in terms of effort and profit. At the same time, it is better not to perceive poker as a career for life but to consider it only as a temporary period and a way to earn a specific capital, enjoying the process on the way to your goals. 
By the way, back in 2011, when I was about to start my poker career, I encountered a forum post from PokerStrategy Black Member. He claimed that there's no more money left in poker compared to 2009.
WPD: Tell us more about your school. As far as we understand, you will work not only with high-stakes players. You and Inferno do not play at the lowest stakes, so the other coaches lead these courses. Who are they, how did they join the team, and what will your and Vitaly's roles in coaching low-stakes players be?
Jayser: The training is based on my one and a half year-long course for high-stakes players, which I'm conducting for the fourth time since 2017, while constantly improving the material. For example, if we compare the version from four years ago with the current one, there would be two completely different training programs, considering the amount of playing and coaching experience that I received and implemented to the courses during this time.
Since my coaching experience over the years has been focused exclusively on working with NL200$+ players, I did not have enough understanding of the current trends and specifics of the lower stakes to create high-quality courses.
The experience of Vitaly Inferno - my friend and colleague, who is currently a mid and high-stakes coach at the school - was precious here. He is coaching NL50$-NL500$ players and while being well versed in the specifics of playing at low and mid-stakes, actively making shots at NL5K$. In addition to passing the full course himself, Vitaly added many exciting ideas to it.
The most crucial info regarding all the other coaches: each of them has passed at least a year-long training course either with Inferno or with me. He has established himself as a good coach and a strong player who in-depth understands the field tendencies he plays and coaches at the stakes. 
For example, I personally control the entire training process for all stake levels together with Inferno, and 70%+ of educational materials are developed by us. Still, in many stake-specific moments, such as delivering information to students, the level of complexity, and other aspects related to the approach to the lower stakes players, we used the experience of our coaches. Their competence in playing at these stakes clearly exceeds ours. One of them, Dima "PandAA," has played almost 3M hands at low-stakes with a winrate of 10+ bb/100.
WPD: Now it's clear. Micro-stakes players can expect the same quality coaching as higher-stakes players. And how does the school admission process work? Which applications will get the top priority? What about the terms and conditions of the contract?
Jayser: When we consider the applications, the most important factor is the player's reputation. The first priority for us is to protect the information from leakage. Although it is challenging to do nowadays, still we try to minimize risks by working only with trusted people and requesting deposits or guarantors' warranties. 
Applications from players who have a successful long-term working experience with our partner WorldPokerDeals will be given the highest priority. 
The second important factor is the motivation and seriousness of the attitude towards growth and development in poker, the willingness to work hard. We want to establish a community of like-minded people who can grow and develop together, not only in terms of poker. And finally, we consider the results and distance of the player. 
WPD: And the last questions (probably the ones that would interest the most of those who want to join JPokerSchool): what about staking? If it would be possible, what are the terms? And how much would the tuition fees be?
Jayser: Staking will be possible for players who have completed at least 2 months of schooling. The terms will depend on several factors and will be discussed individually. On average, with full backing, it will be about 25% to 75% in favor of the player (this does not include the % of the profit that you pay for tuition). 
Tuition payment will be in the form of a percentage of your monthly poker profit. The conditions differ depending on the stakes you play at 9% to 35% (the higher the stakes, the lower the percentage paid). A more detailed description will be attached to your personal contract (in case of approval of your application by our team).
WPD: Sergey, thank you very much for the interview and detailed answers! We will be glad to see you again when your school is fully operational! 
Benefits of our affiliate service:
Private promotions and tournament tickets in our Telegram channel
Professional support for all inquiries seven days a week.
You can contact our manager for all the questions regarding GGPoker.
Telegram: @alexey_wpd
Skype: live:newbheartstoned
WhatsApp: +66658566798
Email: [email protected]
Stay tuned on our Telegram channel for more EV+ news
Review
Private clubs, rake stats, free hand histories, secret offers and more
Gambling industry news and insides, ratings of best poker rooms, bonuses, races and rakeback. The most undiscovered and fishy rooms of internet. Consulting and players' support. Working since 2013.
2013–2023. All rights reserved