GGNetwork Review
GGPoker Network (GGNetwork) is a global poker network focused on the experience of recreational poker players. Its strategy is to segment the traffic into several clusters, focusing on specific geographical groups. The parent company is NSUS INTERNATIONAL LIMITED.
All sites of GG Network
Filtered 0 from 9 poker rooms
We recommend
GGPoker is the flagship skin of the GGNetwork and is our top-pick for grinders:
Clear your cookies or use a new browser;

Use the following link to visit the official GGPoker website;

Fill in all the fields and click "Sign Up". Make sure the bonus code is WPDEALS (click on "Have a bonus code?").



Download and install the client;

Log in with your credentials.
Our GGPoker players get:
Private promotions and tournament tickets in our Telegram channel;

Professional support on all issues seven days a week.
Contact us to get a GGPoker deal and start playing now:
GG Network skins

The GG Poker Network strategy is to expand globally by adding localized poker rooms that serve different countries and markets. This is especially true for Southern Asia and Eastern Europe that need comprehensive payment solutions to deposit and withdraw.
UK grinders are welcome to join GGPoker, the only poker room that holds an active gaming license from the UK Gambling Commission, although the network runs globally with a license issued by the Isle of Man, a British territory.
Skins works across Latin-America, Asia, and Europe; our grinders can use our GGNetwork countries' guide to choose the right skin or reach our team to get customized advice.
The most popular skins are as follows:
Difference between skins
The main difference between the GGPoker Network skins is their localization. Although the client is localized in multiple languages, local payment methods are offered for each targetted market.
95% of the promotions are the same across all skins, and the currency at the tables is the same.
Choosing the right GGNetwork skin
Choosing where to play on a network with many skins could be a challenging task sometimes. Nevertheless, we help our grinders to find the best game solution according to their needs:
Region;
Deposit and withdrawal methods;
Language (support);
Bonuses and rakeback.
The selection depends more on the location and the payment options.
GGPoker Network rakeback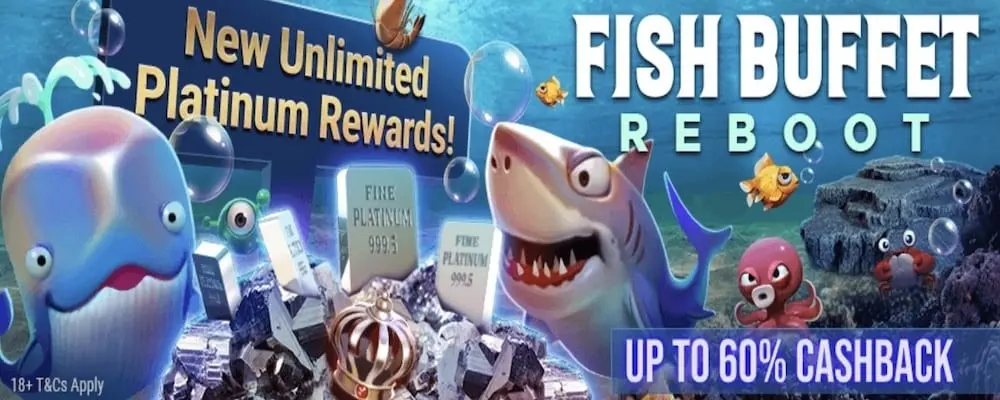 GGNetwork offers a comprehensive promotions package for all tastes. It includes welcome bonuses, a loyalty program, monthly promotions, and unique events.
Affiliates are not allowed to offer direct rakeback for their customers (as a percentage). Anyone who does is breaking the rules. Any promotion must consist of a fixed prize pool divided into multiple positions.
Welcome package
Newcomers can choose one of two bonuses: a 100% matched bonus up to $600 or $100 in tournament tickets (not in all rooms). Also, immediately after registration, the "Honeymoon for Newcomers" becomes available for activation, consisting of 30 missions with a total prize pool of $350.
Loyalty program
All skins have adapted the same loyalty program: Fish Buffet. It's a semi-random VIP program with a dynamic loyalty scheme, giving 15% to 60% cashback for the GGPlatinum rank. Players receive Fish Buffet Points (FP) while playing, and there are 25 different ranks according to 8 levels. 
Monthly promotions
Every month GGNetwork announced a promotions package with millions of dollars guaranteed in leaderboards per each format. Also, two jackpots are permanent (for AoF, 6+ Hold'em, and Omaha tables) with bonuses for getting strong hands (or losing with it). All-in or Fold Bingo rewards players in this unique format.
The total prize pool exceeds $10,000,000.
Signature promotions

A GGCare Flipout tournament with $100,000 added is played exclusively for victims or bad beats, suckouts, or coolers every day. The Spin & Gold Challenge rewards spin&go players with up to $500 at the highest level.
In 2022 the network launched the first-ever Bounty Jackpot for PKO tournaments.
Rake structure
GG Poker Network has different rake structures per game.
Texas Hold'em: 5% with caps from $0,2 (10bb) to $80 (0,08bb for nosebleed games).
Omaha: 5% with caps from 1bb
Short Deck 6+ Hold'em: 5%, caps from 3bb to 0,3bb (*when the pot amount is more than "(2 BTB) + (ante)*(Dealt Players count)" rake is charged).
Rush & Cash: 5% capped to 3bb at all stakes (*if the table is not full, no rake will be charged, and Cash Drops won't apply).
Spin&Gold: 7% fee.
Tournaments: 5% rake.
| stakes | NLH | PLo and PLO5 |
| --- | --- | --- |
| $0.01 / $0.02 | $0,2 | $0,06 |
| $0.02 / $0.05 | $0,5 | $0,15 |
| $0.05 / $0.10 | $1 | $0,30 |
| $0.10 / $0.25 | $2 | $0,75 |
| $0.25 / $0.50 | $4 | $1 |
| $0.50 / $1 | $5 | $2 |
| $1 / $2 | $6 | $4 |
| $2 / $5 | $8 | $7,5 |
| $5 / $10 | $10 | $15 |
Please note that rake is charged in 3-bet preflop situations, an unusual situation, and clearly a red flag for regs.
Besides that, GGNetwork has a unique rake structure know as PVI rake. 
The details behind the Player Value Index (PVI) are unknown, but we know that it affects the final rakeback received by grinders and winning grinders for the benefit of amateurs. PVI considers the volume played and the behavior of the player, profits/loss, deposits, withdrawals, tournament overlays, etc.
In short, a reg may get less rakeback due to PVI calculations. All GGNetwork promotions are PVI-based.
Games and traffic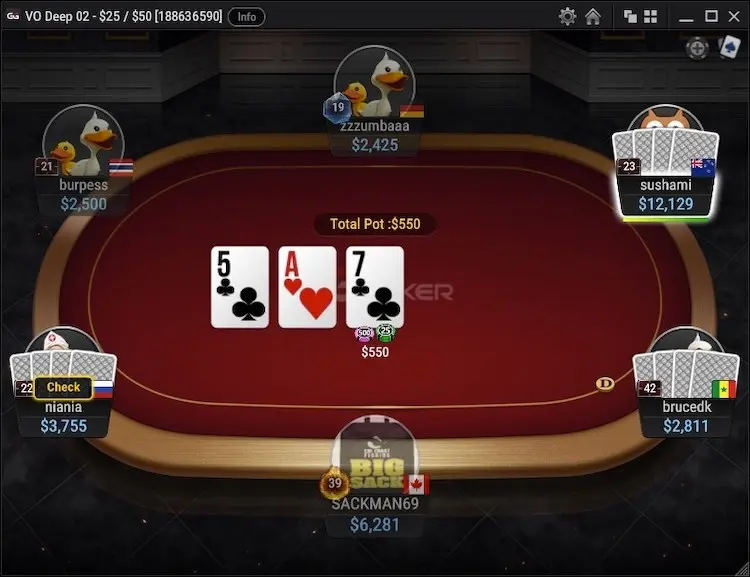 GGNetwork is considered the world's largest poker network. This means that it has action 24/7, although two peak times can be identified: Asian and European evenings. All cash games are played in 6-max format, and there are no HU games. The tournament grid is impressive and guarantees millions of dollars every week.
Cash Games 
The network boasts over 100,000 connections, and we can say that the cash games lobby is always busy.
Hold'em and Omaha
Virtually every time, grinders can find more than 50 active tables at low and mid-stakes (from NL2 to NL200) and 15-20 tables at high stakes. About PLO, the action is around 15%-20% lower than Texas Hold 'em, which can be called very active compared to other sites. This could be related to the influx of Israeli and Chinese players who love this format. At the highest stakes, we have spotted 2-3 tables of PLO1000+.
Occasionally, PLO nosebleeds games are played (PLO4k-PLO20k), and after the partnership with King's Resort, this also extended to the NLH tables. The presence of popular high rollers like Wiktor Malinowski (Limitless) or Linus Loeliger (LlinusLlove) has also boosted the action at the No-Limit Hold 'em $500/$1,000 tables.
Fast-fold poker
In early 2019 GGNetwork announced Rush & Cash, its version of fast-fold poker. In the beginning, it was an Asian-oriented format, but later the currency was changed to USD.
In 2022 there are seven stakes available from NL/PLO2 to NL/PLO200 with more than 1,500 connections (1,000 for Hold 'em 500 for Rush & Cash Omaha) during the prime time. Rush & Cash has its rakeback promotion called Cash Drops, a random scheme that adds extra money to the pots. On NL2-NL200, from morning to late evening (European time), at least 100 connections can be spotted per stake.
6+ Hold'em
GGPoker Network launched 6+ Hold 'em (also known as Short Deck Hold 'em) in November 2019. In the beginning, it was played in CNY, but later, it switched to USD. A flush beats a full house, and the lowest straight is A-6-7-8-9. There are eight stakes from $0.02 to $10, and the lobby features almost 300 connections.
All-in or Fold
All-in or Fold is a pure entertainment game but is played at the highest stakes on GGPoker Network. The player has only two options before the flop: going all-in or fold. The minimum purchase is 8bb for Hold 'em and 4bb for Omaha.
GGNetwork is currently the largest operator with AoF tables, although other Asian sites have launched similar formats. There are 10 stakes available from NL10/PLO20 to NL10k/PLO20k) with over 350 connections.
Tournaments MTT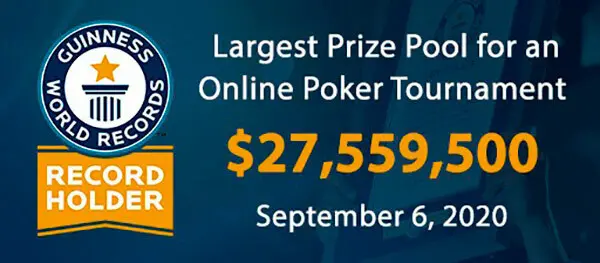 GGNetwork has used its tournament grid as a trampoline to get into many headlines. They have passed from hosting small events with "only" thousands of dollars guaranteed to hold millionaire tournament series with massive fields.
In 2020 they signed a successful partnership with the World Series of Poker to host several WSOP Online events and got listed in the Guinness World Records after hosting the largest online event in online poker history.
The daily grid includes events for all tastes from $0,1 buy-in to daily high rollers. The GGMasters is played daily in three editions, and the weekend schedule boasts several events with millions of dollars added.
Spin&Go
The famous fast-paced 3-max tournaments with random prizes finally came to GGPoker Network in March 2020, and since then, it has become one of the favorite games of the players. Spin&Gold players have access to 13 stakes from $0.25 to $200. At three stakes, the maximum prize is one million dollars, in tournaments from $10 and $100 — $2,000,000.
As usual, GG Network adapted the game to make it friendlier with amateur players, and that's the reason for unique characteristics like insurance.
There are no regular sit&go tournaments on GGNetwork, but the site holds the famous Battle Royale.
Battle Royale
Battle Royale is a unique SnG played exclusively at GGPoker. It mixes Flip&Go, fast-fold poker, shootout, and PKO in each event. As all other games, it features a daily leaderboard rewarding the most active players.
Game softness
From day 1, GGNetwork makes it clear they wanted to make poker fun again. With this in mind, they have never allowed using third-party tools like trackers and have rewarded casual players with extra promotions. All the promotions of the network are designed to give the casual player a great experience.
Due to this, the softness of the field is guaranteed.
Please note that many high-profile regs play on GGNetwork, but mostly at the high-stakes cash games and tournaments; players at "normal" stakes will find many soft villains.
Attitude towards professional players
In August 2020, GGNetwork clarified its position towards professional players, dividing players into three groups: good pros, regular pros, and bad pros. This happened right after a few complaints of players who got their accounts locked and funds seized.
According to GGPoker, they will support any player who works towards the poker market growth via streaming, hosting podcasts, etc. However, they make it clear they don't want players using any "unfair technique" to crush the tables like bumhunting or using illegal software. Third-party software is not allowed, and this prohibition extends to GTO tools and printed preflop charts.
In our analysis of the GGPoker Network terms and conditions, we found out that the site clearly details what practices are forgiven, which can be summarized as "playing only with your mind." Any support besides the information given by the poker room client is not allowed.
If a player follows the rules, he will have no problems, no matter how much money he wins; however, any breach can result in account blocking. Having a leveled playing field is a priority for GGPoker Network.
Reliability
Compared to other poker networks like iPoker or bwin.party, GGPoker is still a young site, although it has accomplished more than anyone for six years.
In 2020, the network realized that its plan was working out very well as its traffic indicators grew exponentially. Therefore, they decided to raise the bar and sign poker stars like Daniel Negreanu, Elky and partnered with World Series of Poker to host a massive online event with $100M guaranteed.
We consider GGNetwork a trusted poker site, and with the past of years, they have only improved in this area.
License
GGPoker Network and its parent company NSUS have worked hard toward having proper licensing:
At first, they operated with a Curacao gambling license.
The GGPoker skin runs with a license issued by the UK Gambling Commission.
In 2020 they requested a license from the Malta Gaming Authority (MGA).
In early 2021 they switched the global pool from the Curacao license to a more trusted Isle of Man license.
In February 2021, the Pennsylvania Gaming Control Board approved a Manufacturer's License for GGPoker, the first step before launching GGPoker in the US.
In October 2022, WSOP launched a GGPoker-operated legal poker room in Ontario, Canada.
It's easy to conclude GGPoker Network is a legit poker site.
RNG
BMM Testlabs, one of the oldest and respected gaming testing laboratory, certified the GGPoker Network RNG a few years ago. As GGNetwork develops its software, a certification of the random number generator is crucial for their trustability. They made the right call when choosing a long-established company to test it; the standard used for testing it: GLI-19 Interactive Gaming Systems, is very strict.
Reputation
GGNetwork has a good reputation among the poker community. They have achieved many results that have helped the industry to recover its popularity. They hold certificates and licenses to back their operation.
The site has been involved in some controversies due to its stand towards pros. However, after they released a statement and updated their terms and conditions, it became clear that anyone who played by the book was welcome at the tables.
GGPoker Network only welcomes legitimate players, and that's the backbone of its reputation.
Deposit methods and withdrawal
With its global expansion, GGNetwork has also added many deposit and withdrawal options. Traditional payment processors are accepted, and local skins may have additional options:
Bitcoin.
USDT
USDC
Skrill.
Neteller.
ecoPayz.
MuchBetter.
Visa.
MasterCard.
Please note that transactions with e-wallets like Skrill and Neteller may be subject to additional fees. Withdrawals are usually processed within 48 hours.
Software review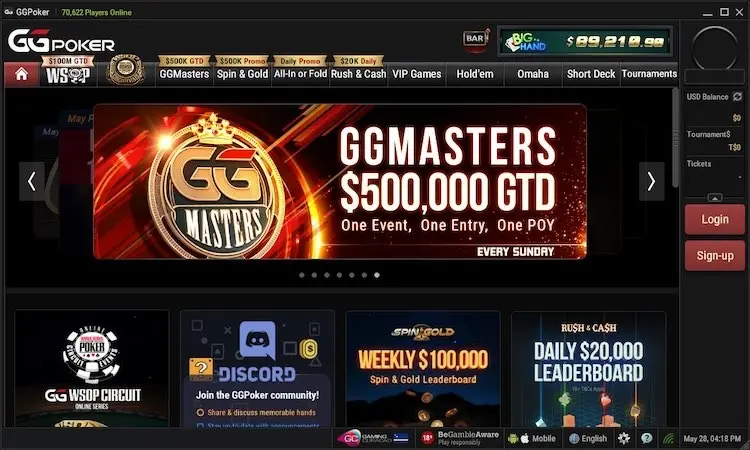 GGNetwork develops its own software, and it's the cornerstone of its security and ecology agreement, which in short aims to preserve the poker ecosystem keeping a balanced player's pool with amateur and pros. The client is visually pleasing and intuitive. There are many fun features, graphics, and animations.
It's important to note that the software demands high resources.
GGPoker Network has implemented several unique features on its platform:
Smart Betting.
Card Squeeze.
Desktop client (Mac OS, Windows)
The GG Network desktop client is usually designed in black tones and is divided into several tabs that change according to special events or new formats. Although the software is new and modern, it lacks standard features like filters and table arranging by different stats. Waiting lists are available and all games can be checked in observer mode without login in, even VIP games with high rollers.
The main window shows a comprehensive summary of all current promotions and events. The game preview can be seen in two different views: group or table, which gives more information before sitting in.
The client is available in several languages, which gives a clue on the served markets and includes English, Spanish, Deutsch, Russian, Thai, French, Turkish, Chinese, etc.
Professional players and ambassadors are highlighted in different colors, and the most famous ones have their avatar.
GGNetwork hand histories and HUD
Although GGNetwork allows downloading hand histories, those are only useful to make post-session reviews, and it is not possible to use real-time statistics at the tables. The only available information during the game is the Smart HUD icons, which show if a player is running on a hot streak.
Mobile app (Android, iOS)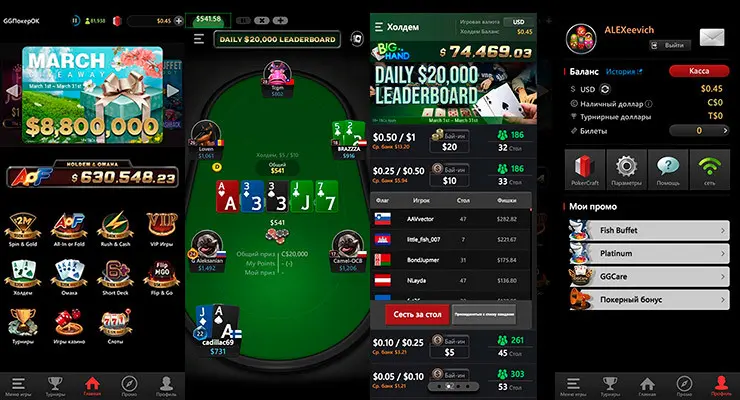 The GGNetwork mobile app is functional, and it works on Apple and Android devices. It gives access to up to four tables at once, and the most popular games are available.
Please note that the GGPoker Network app must be installed directly from each skin website and not from the phone store.
GG Network history
GGNetwork, also known as GGPoker Network, formerly Good Game, was launched in 2014 with a clear objective: make poker fun again. The history of the site could be divided into several stages:
2014-2015: Launch of services and expansion in Asia (China, Malaysia, Indonesia, etc.)
2016-2017: Expansion to Europe with the addition of skins like or BetKings.
2018-2019: Expansion to America, mainly offering games to Canadian and Brazilian players and adding local payment methods like Much Better and Bitcoin.
2020: Global expansion, partnerships with poker stars, and strategic alliances with the WSOP, APT, and other famous live brands.
2022: Major step into the legal Canadian market when WSOP.CA opened its doors
The first and largest section is Asia, and the network has deployed several tactics to strengthen its position to attract the well-known Asian brand Natural8, which is represented by famous players like Kitty Kuo, Xuan Liu, and Dong Kim.
For English-speaking players, the flagship site is GGPoker, the only site holding an active UK Gambling License. It is represented by big names in the industry who works as their ambassadors: Daniel Negreanu, Bertrand "ElkY" Grospellier, and Jason Koon.
The Isle of Man licenses GG Network and legally operates on several markets (the Baltics, Great Britain, etc.) with strategic partnerships. Now the network has surpassed IDNPoker and won the fight with PokerStars for the first place in the world, implementing the plan of its head, Jean-Christophe Antoine, becoming the largest poker site worldwide.
Pros and cons of playing at GGNetwork
According to our comprehensive review, we highlight the following aspects of the network:
TOP3 poker network;
Strategic partnerships with trusted brands and recognized players;
Modern and stable software;
Massive tournament grid.
On the other hand, there is room to improve:
High rake;
Non-transparent rake structure;
No HUD support.
Advantages of playing with us
Worldpokerdeals is a leading poker affiliate with over eight years of experience on the market. We understand our players' needs and always strive to give comprehensive solutions for amateur players and top grinders.
Reach our team to find out more information about GGNetwork:
FAQ
✅ What network is GGPoker on?
GGNetwork is an independent network, and it runs its software and players' pool.
✅ Can I play GGNetwork on my mobile device?
Yes! GG Network has native clients for iOS and Android devices.
✅ What is the best skin of the GG Poker Network?
Our team will guide through all GGPoker Network skins to choose the best one for you.
✅ Are there any bots on GGPoker Network?
There are not many complaints about bots or super users on GGNetwork. As we always say, it's impossible to guarantee a bot-free environment, but as GG Network prohibits using third-party software, such cheats may be easier to recognize.
✅ Is GGNetwork legit?
GGNetwork holds active gaming licenses on several markets, including highly regulated ones like the UK or the Baltics. Therefore we consider the site to be legit.
✅ Is GGPoker legal in the USA?
NSUS Group Inc (parent company of GGNetwork) filled an application to get a gambling license from the Pennsylvania Gaming Control Board on 12/23/2019, which is still under review.
After getting approval, GG would be able to join sites like PokerStars, partypoker, and WSOP.com to offer legal online poker in the US.