Galfond Challenge: How to handle a €550,000 downswing
Galfond Challenge: How to handle a €550,000 downswing
Author
Vargoso
Published
2/4/2020
Updated
11/24/2022
The Galfond Challenge is becoming more and more popular every day; many grinders connect to Twitch daily to watch VeniVidi crushing Phil Galfond at the nosebleeds PLO tables at Run It Once Poker. After ten sessions, the host is losing half a million euros. Why is he losing so much money, and how is he handling the downswing?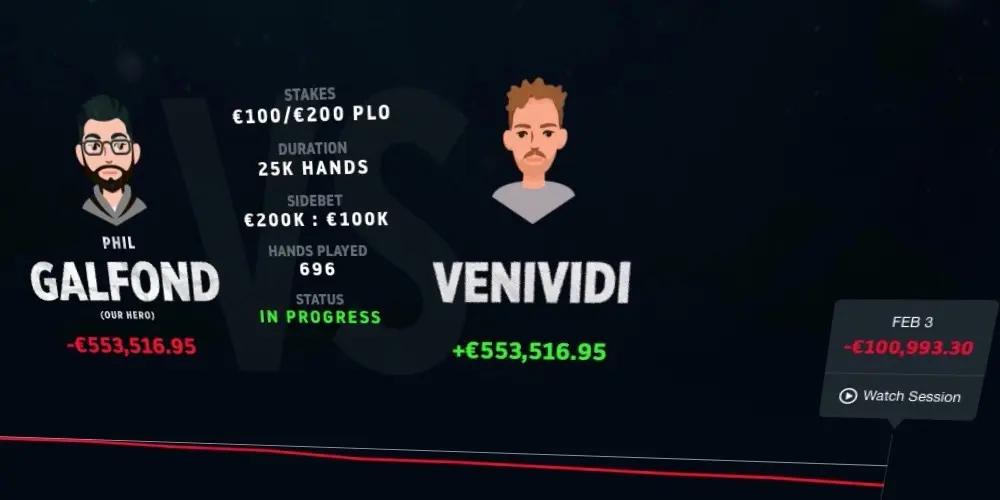 Galfond Challenge: 30 buy-ins down after ten sessions
Until today (February 3), Phil Galfond and VeniVidi1993 have played 6,842 hands (684 average per day) in ten action sessions. VeniVidi1993 (whose identity is unknown) is crushing Galfond and all points that the final result of the match will only change the amount of money won by VeniVidi.
Galfond had had only one positive day (January 23) when he won €2,615, and the best days for VeniVidi were January 27 (+€155,063) and February 3 (+€100,993). The Run It Once Poker team shares with the entire poker community the best 15 hands per day of the challenge (in txt format, compatible with trackers).
Why is VeniVidi1993 crushing Phil Galfond?
Phil Galfond has not played nosebleeds games for many years (he played under the nickname "OMGClayAiken" on Full Tilt Poker until 2015 and "MrSweets28" at PokerStars until 2017), while VeniVidi is a current rock star; in other words, Galfond is rusty, and the results of this match were predictable;
Galfond isn't playing the challenge to win money, he is promoting his poker room, which is his main project now, and is somehow working: today almost 200 players were spotted at the PLO tables, a record for the site;
We have spotted moments where Galfond was tilted and he literally "burned money" at the tables, and in the forums is very commented that he is over bluffing, for example:

€5,598 in the pot on the river, board TdKhTh2c8s, VeniVidi bets €2,854 (half pot), Galfond raise to €14,162 leaving only €3,037 behind; VeniVidi re-raise again and Galfond folds.
We must also say that €550k is a lot of money in the real world, but in PLO20,000 (blinds €100/€200) is "only" 28 buy-ins, which means that the results are bad but not terrible because the sample is too low (-40bb/100 loss is such a lousy statistic but in the long term only).
When Galfond played high stakes poker at Full Tilt Poker, he went from +$8,76M (September 2010) to +$6,36M (February 2011) in profits, losing 2,4 million dollars in five months, but he made an incredible comeback to +$8,24M in one month. This only proves that downswings are common for a poker player.
How is Phil Galfond handling such a massive downswing?
Even if you are a high roller, losing half a million euro (with a prospect to lose much more) isn't a comfortable situation to handle. Phil shared his thoughts on his Twitter account about how he is handling the current results of the Galfond Challenge:
"A lot of you seem worried about me.

Please, don't be.

The first #GalfondChallenge isn't going as planned. I've lost almost every session and now I'm down nearly €400k.

Being down 20 buy-ins, it may be unlikely for me to come back and win this challenge, so that isn't my goal.

Chasing your losses sets you up for failure. There's no way for me to earn 20 buy-ins over the next week or two through good play alone. Attempting to get even means attempting to be lucky.

With that mindset, it's easy to push the action, focusing on the hope of hitting a big hand. Hopes like that take up space in your mind and stand in the way of thinking through hands properly.

It's essential during a downswing to mentally reset, accept your new reality, and make the most of it. I see my current reality as an opportunity to set an example for players who are following the challenge.

I'm proud of the way I've kept my composure. I feel that I keep getting stronger as we go on, despite dealing with disappointment after disappointment.

My results are out of my control, but I still prefer to have a goal for motivation. My goal, and my plan, is to come out ahead from this point in the challenge onward.

I'm going to continue to keep a positive attitude, to work on my game, and to have fun battling against a great player!

Please enjoy the show."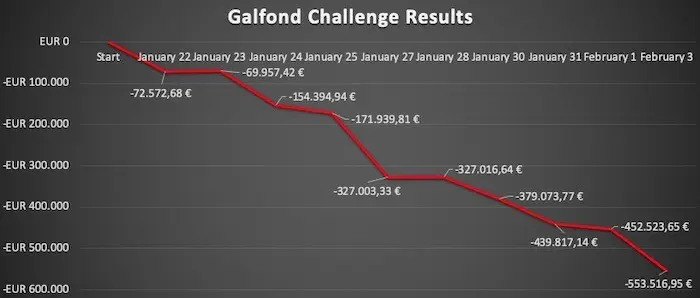 Galfond Challenge Graphic
From this message and others, we can conclude:
Phil is aware of the bad results. He is not hidden behind a wall thinking that he's just having bad luck;
He and his wife, Farah Galfond, have also shared a few jokes via Twitter, showing crucial support and good mood;
As a poker player, Phil is aware that the results are always out of his control; the only thing he can do is make the best decision. He is playing his "A-game and letting the cards fall as they may";
It's clear that both players are studying their results, and Phil must be working hard in fixing any leak.
We can also add some tips for poker players to deal with downswings:
Rest your mind, take a moment (one hour, one day, one week) to rest and get back on your feet;
Meditate, it's proven that devoting a few minutes a day to meditate boosts your awareness and helps to deal with tilt in a better way;
Study and fix your leaks, post-session reviews with coaches, read forums, etc.
Never play outside your bankroll. If Phil Galfond is losing over €500,000, he certainly can afford it, and if not, he is making a terrible mistake.
The first match of the Galfond Challenge so far has only a 25% completed (less than 5% compared to the overall challenge), but it's already a trending topic every day. We'll soon update with new results and thoughts about the high-roller action online.
Stay tuned on our Telegram channel for more EV+ news.
Review
Private clubs, rake stats, free hand histories, secret offers and more
Gambling industry news and insides, ratings of best poker rooms, bonuses, races and rakeback. The most undiscovered and fishy rooms of internet. Consulting and players' support. Working since 2013.
2013–2023. All rights reserved