Phil Galfond beats VeniVidi after 25,000 hands
Phil Galfond beats VeniVidi after 25,000 hands
The first match of the Galfond Challenge is over. Phil Galfond has accomplished the impossible and came back from a €900k downswing to end up winning the match.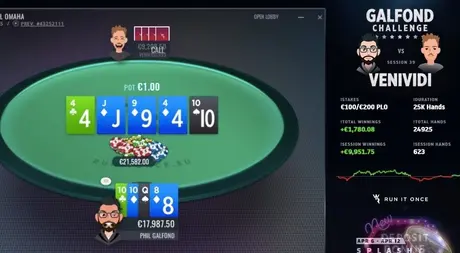 Phil Galfond vs. VeniVidi1993: The Show is Over
The first match of the Galfond Challenge was a rollercoaster for poker fans. At some point, Phil was €900k down and the question was whether he was throwing in the towel against VeniVidi1993. Fans even learned some advice from a top poker pro on how to handle a massive downswing.
But, after a long break of almost a month, Galfond was able to make a spectacular comeback that will surely be remembered for many years. For the final session, only 698 hands were left and VeniVidi had a small advantage of €8,171.67, not even half a buy-in of a €100/€200 table.
The odds for the final match were:
Phil Galfond: 1.83
VeniVidi1993: 2.04
This indicates that Galfond had the highest probability to win according to online bookies. The odds difference was smaller for the overall challenge, at just 1.93 vs. 1.91. For the following matches, Galfond is considered to win according to the odds, except against ActionFreak.
Joey Ingram, David Tuchman, and Joe Stapleton were in charge of the comments of the final session that had over 20k viewers on Twitch.
The winner was Phil Galfond. The final match was epic and the last 100 hands were played at one table. After winning a massive pot with a full house, Galfond folded the last 50 hands.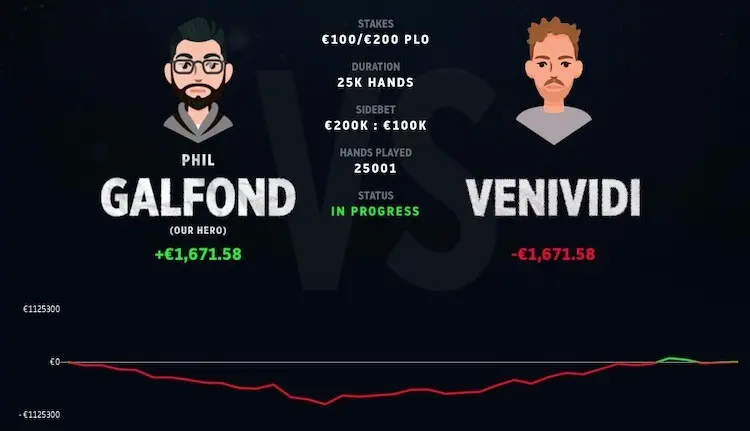 In addition to the profits from the challenge, there was a side bet of €200k : €100k between Galfond and VeniVidi respectively, so the winner took home at least €100k. That without considering any private bet.
The next contender is Bill Perkins, the charismatic entrepreneur who became famous after reaching the Triton Million final table. Both players will fight in 50,000 hands or a €400k loss, and the side bet is €1M : €250k. This match will most likely end earlier as it only took 8 sessions with 940 hands to hit the €400,000 mark versus VeniVidi.
The Galfond Challenge will go on, at least throuhgout the year, and is turning out to be an exciting event followed by hundreds of players. Galfond has proved that he is not rusty at all, and poker fans finally watch a high stakes match ending after many fiascos like the Durrrr Challenge that never ended.
Reach our team to get a Run It Once Poker rakeback deal and start playing now:
Telegram: @alexey_wpd
Skype: live:newbheartstoned
E-mail: [email protected]
Stay tuned on our Telegram channel for more EV+ news.