Hellmuth Defeats Seiver in $800K Heads-Up Match
Hellmuth Defeats Seiver in $800K Heads-Up Match
The 16-time WSOP champ has an impressive 9-1 record now in the format.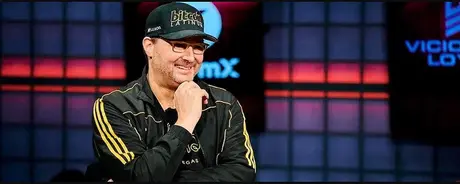 Hellmuth Takes on Seiver Instead of Dwan
As we reported yesterday, high stakes pro Scott Seiver took online poker legend Tom Dwan's place in the challenge after the latter decided to unexpectedly drop out.
Hellmuth and Seiver exchanged some compliments about each other's poker skills during the "weigh-in" part of the broadcast, which was hosted by Nick Schulman. A clip of some of Hellmuth's famous blowups was also played. Both players agreed that those rants are now a staple of the game which poker audiences tend to enjoy around the world.
Stacks Stay Relatively Even for First Hour
The first hour was streamed on PokerGO's YouTube channel free of charge. Over the course of those few dozen hands, neither player managed to build up a sizable lead. The biggest stack that was amassed was Hellmuth's 460K (the starting stacks were 400K). However, by the time the first hour passed, Seiver was in the lead.
Perhaps the most memorable hand in this phase of the match was when Seiver rivered a flush with his 10-9 suited against Hellmuth's top pair of Aces. Seiver did his best of Hollywooding before putting in a raise. However, it did not on his opponent this time. Hellmuth folded. You can find that hand in the video below around the 21 minute mark. 
Hellmuth's Flopped Two Pair Ends It
As the match progressed, Seiver managed to amass a 3:1 lead. However, Hellmuth has been in bigger holes over his time playing Heads-Up Duels. Remember, Negreanu was up 19:1 (!) during their first match before the famed "Poker Brat" made an epic comeback.
This time was no different. Hellmuth retook the lead. In the last hand, he was dealt the "nut low", 3-2 off-suit, while Seiver had 10-6 off. The 2 10 3, two spades flop gave Hellmuth bottom two pair and Seiver top pair. Seiver 3-bet all-in for his 14 BB stack which Hellmuth promptly called. The Queen turn gave Seiver more outs for a better two pair, but he missed it on a brick river (5 of Spades). Phil Hellmuth won yet another Heads-Up Duel! All of the massive $800,000 prize pool went to him.
Hellmuth Up Over $1 Million on High Stakes Duel
Hellmuth has played in all 10 High Stakes Duel games so far. Quite remarkably, he managed to win 9 of them. He beat Antonio Esfandiari and Daniel Negreanu 3 times each, won one against Nick Wright, lost one then won one against Tom Dwan, and now beat Seiver as well. He's up $1.250 million in these games.
He now has the option to cash out his winnings again and restart with a $50K match. Or, if the opponent is willing, play Scott Seiver again in an $800,000 buy-in heads-up Sit&Go. Prior to the game, Seiver said he expects a rematch if he loses.
Stay tuned on our Telegram channel for more EV+ news.