Phil Hellmuth and Jason Koon To Play $1.6 Million Heads-Up Match
Phil Hellmuth and Jason Koon To Play $1.6 Million Heads-Up Match
Author
Vargoso
Published
8/11/2022
Updated
8/23/2022
Scott Seiver dropped out of the largest High Stakes Duel match ever.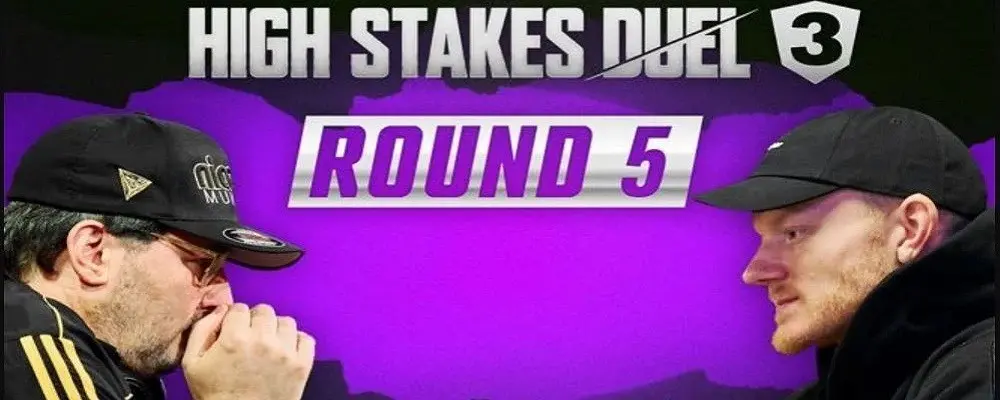 Stakes Higher Than Ever in Hellmuth-Koon Duel
The online poker content service PokerGO started their habit of pitting two poker legends together in a heads-up NLHE Sit&Go back in October 2020. The first match-up was between Phil Hellmuth and Antonio Esfandiari.
However, now, they're putting on their biggest heads-up match yet. The aforementioned Hellmuth and Jason Koon are facing off for no less than $1.6 million! Both players are putting up a hefty $800,000. The date was originally set for August 22nd. However, with the new opponent, Hellmuth requested a later date that is yet to be determined. The location is the Aria Resort & Casino in Las Vegas, Nevada, per usual for HSD heads-up matches.
The two have a round 17 WSOP gold bracelets among them. Evidently, Hellmuth is supplying the vast majority of those with his record 16.  However, Koon tops "the Poker Brat" in terms of live tournament earnings. Hellmuth has "only" $28.431 million to his name, while Koon has $38.251 million.
The first match-up in this Duel was played back in May 2022 between Hellmuth and Scott Seiver. Hellmuth emerged victorious in the end. Seiver abruptly dropped out of the challenge due to undisclosed personal reasons. It was his place that Jason Koon took to play this $1.6 million heads-up match in the near future.
This year's WSOP went pretty well for Hellmuth who cashed in 9 events for $460K combined. He also made a runner-up finish in the $3,000 No Limit Hold'em event. On the other hand, Koon only played a couple of high rollers in the Series this year, and failed to cash.
Tom Dwan Was the Original Challenger
Hellmuth played Esfandiari (as we wrote above), Daniel Negreanu, and recreational player Nick Wright in the High Stakes Duel format before taking on Tom Dwan. Up to that point, he had an unbelievable 7-0 record.
Dwan, however, beat him in their first round for $200,000. Phil Hellmuth returned and took revenge in the $400,000 match. After that, Dwan opted out of the challenge. That is when Scott Seiver took his place. After his defeat, Seiver became the second player to tap out of this series of heads-up matches.
According to the rules of the challenge, a player has to win 3 games in a row before they can cash out. However, after round 4, that requirement is reduced to 2 back-to-back victories before cash-out due to the high stakes. This means that Hellmuth can in fact end the whole Duel with a victory over Koon.
Hellmuth is currently up $1.250 million dollars in PokerGO's heads-up challenges. He beat both Esfandiari and Negreanu out of $350K each in two clean sweeps, took $50K from Wright, and ended his set of two S&G's against "Durrrr" Dawn with a $100K in profit. Add to that the $400K he took from Seiver in the previous match. 
Still, every time he plays (whether win or lose), the online poker community flares up a debate about his actual poker skills. It is usually based on unorthodox plays he likes to make. He tends to explain those by his ability to read his opponents which he calls "white magic". These debates will surely be had after this match as well.
Phil Hellmuth is awaiting his challenger Jason Koon with a still impressive 9-1 record on High Stakes Duel.
Stay tuned on our Telegram channel for more EV+ news.
Review
Private clubs, rake stats, free hand histories, secret offers and more
Gambling industry news and insides, ratings of best poker rooms, bonuses, races and rakeback. The most undiscovered and fishy rooms of internet. Consulting and players' support. Working since 2013.
2013–2023. All rights reserved