Landon Tice surrenders to Bill Perkins
Landon Tice surrenders to Bill Perkins
Landon Tice prematurely admitted his defeat in the challenge against Bill Perkins, who won $312,932 overall. This happened after playing only a quarter of the match. What happened to Tice?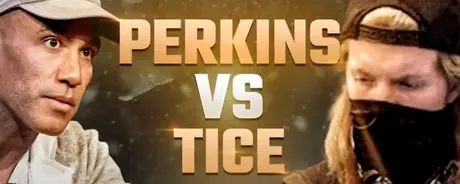 Results after 12 sessions
Our last update about the Bill Perkins vs. Landon Tice challenge was after seven sessions, and until the 12th one, everything was normal. Both players won sessions. However, Landon's total winnings gradually decreased, but most importantly, the handicap in BB/100 greatly impacted his results.
On June 30, after 12 sessions and 4,907 hands, the profit of the young American was $63,720 or 3.25BB/100, which due to the handicap of 9 big blinds, made this match more and more profitable for his opponent.
*Record of the last session
It became clear that Landon could lose almost a million dollars if this trend persisted, including the side bet.
What a twist!
Hence, last weekend Landon Tice posted on Twitter several messages in which he decided to admit his early defeat: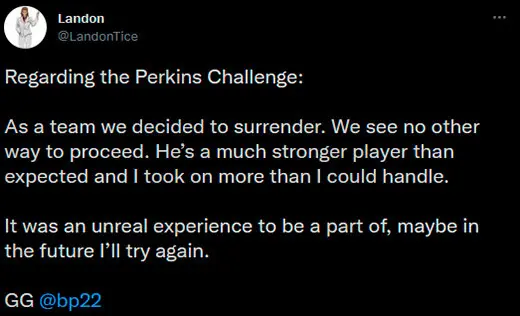 He also explained how much this match will cost him (or rather, he and his backers, since there are comments Landon sold 90% of the action):
$176,652: handicap
$200,000: side bet
$63,720: profit after 12 sessions
Total: minus $312,932
Is Perkins a good student?
This is not the first time an HU challenge ends early. At the beginning of the year, Chance Kornuth conceded the victory to Phil Galfond, although after playing 70% of the hands and $726,500 in losses. In this case, Tice, most likely, was under intense pressure for his possible losses and unexpectedly good preparation of Bill.
Perkins himself described the reasons for his success: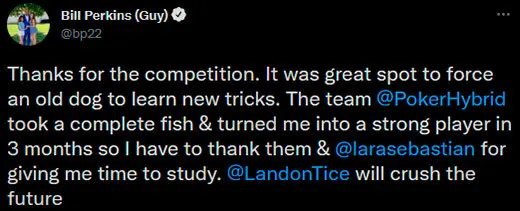 It is quite possible that on the wave of success, the businessman will look for more high stakes challenges, but for now, all fans of such competitions, spoiled by the number of matches played over the past year and a half, will have to wait for new contestants.
To get a deal at Americas Cardroom (home of the challenge), reach our manager: