Planet Poker: the first online poker room
Planet Poker: the first online poker room
On January 1, 2023, online poker turned 25 years old. In this article, you will learn all the details of the "pioneer" of our industry.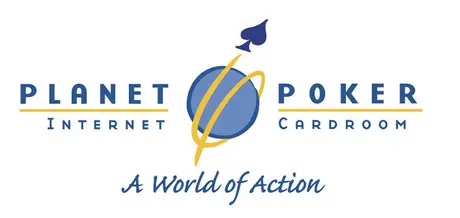 History of Planet Poker
Predecessors
Launch and first games
Problems
RNG hack
Game over
Who is Randy Blumer
Predecessors
The development of the Internet in the 90s drew the attention of many entrepreneurs who understood the opportunity to globalize their businesses. After the world's first online casino, InterCasino, opened in 1996, it was a matter of time before a similar poker site was launched.
After all, back in 1995, Todd Mummert and Greg Reynolds engineered a script for an IRC web chat with a text interface and a poker bot that dealt cards. Players in it received a thousand "conditional dollars" and made bets with those. A year later, 2AM Poker was launched, where players could get real $100 by stuffing one million local chips
In 1997, the CardPlayer website added an advertisement inviting players to test a new poker application with games for real money.
Launch and first games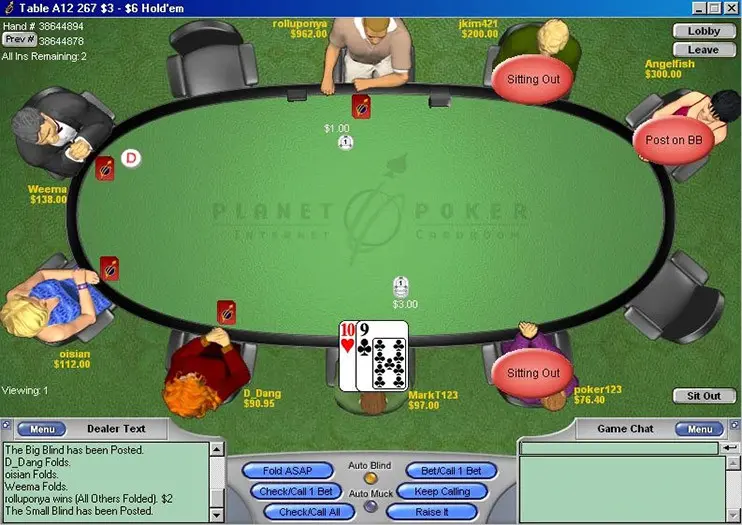 Such ads were posted by the Canadian engineer Randy Blumer. After a few months, his team released the first version of their product.
On January 1, 1998, the first online real money hand was played on a $3/$6 Limit Hold'em table in the Planet Poker client.
In February of the same year, a night-long session was played for the first time, but there was never more than one table. This was mainly because it was possible only to deposit via a bank check.
Therefore, they quickly introduced the option of transfer using cards. To increase the room's attractiveness, they added new games popular among Americans (Omaha, Stud, Draw Poker), more stakes, 25% rakeback via a first deposit bonus, and sound effects.
Problems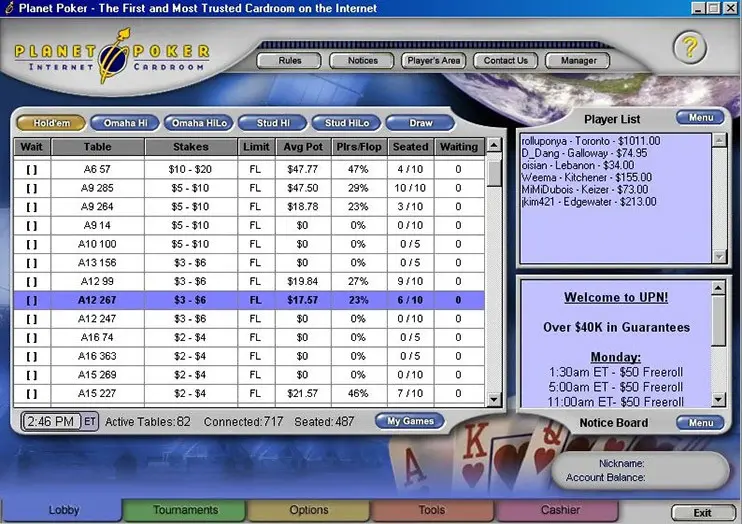 Of course, Planet Poker faced many problems after its launch, like any startup. Some of them were caused by the nuances of the Internet at the end of the 20th century, but software flaws played a decisive role.
The team faced a dilemma: ensuring a stable operation and implementing many new options simultaneously was necessary.
And this is even though the platform's development was done by a third-party company: ASF Software. Also, the increased load on the Costa Rican servers led to connectivity issues that restricted players from entering the lobby for several days.
RNG hack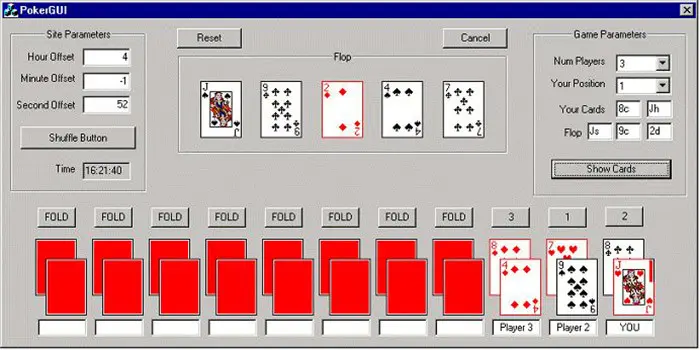 With the birth of the first room, debates about a "rigged RNG" reached the headlines.
At first, Planet Poker hired Mike Caro (who did the math for Doyle Brunson's "Super System") to help calm down the players and assure everyone that the cards in the room were dealt correctly. Then even the random number generator algorithms were published, but the "goodwill" gesture had the opposite effect.
A group of programmers from Citigal Inc found that the Planet Poker RNG didn't shuffle the cards correctly and even created a program that could predict the cards of opponents and the next streets on the flop.
Of course, Acekicker Holdings, engaged in the room software, quickly reported that all the vulnerabilities were fixed and the RNG was fully compliant with probability theory. However, Planet Poker's reputation was irreparably damaged.
Game over
A year after opening its doors, Planet Poker met its first competitor: Paradise Poker, which from the start had not only a more advanced client but also began cooperation with another young company — Google. Therefore, Paradise was the first in the search results.
Until 2001, booth rooms featured similar traffic, but then several sites destined to radically change online poker were launched: PokerStars, partypoker, and UltimateBet, so Planet Poker gradually turned into a small platform with a "vintage atmosphere."
In 2006, after adopting the UIGEA act in the USA, Planet Poker stopped accepting deposits and switched to a subscription-based model. In this form, the site lasted until 2017, when it was finally closed.
Who is Randy Blumer?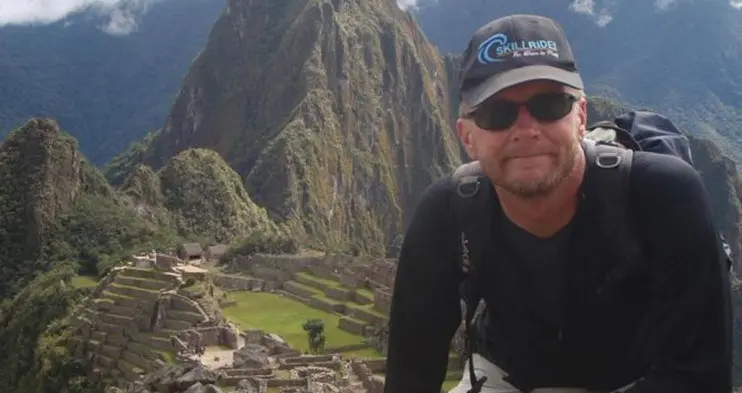 Nowadays, this name is known by a small number of players, although Randy Blumer can be rightly called the "father of online poker," the one who was able to raise $30,000 in investments to launch his project.
He met the game in the 6th grade and arrived in Las Vegas after his 21st birthday. Randy is a naval engineer and worked in the Canadian navy. After retiring early, he decided to devote himself to online poker, although, according to him:
"Everyone said that this idea would never succeed. There were a lot of people who opposed the Planet Poker project."
And even though the room eventually closed, it was primarily thanks to its founder that online poker was born as we know it. Randy Spoke in detail about himself and Planet Poker on Joe Ingram's podcast.
Contact our manager to get yourself a deal.