GGPoker vs PokerStars: Where to roll?
GGPoker vs PokerStars: Where to roll?
Author
Vargoso
Published
9/27/2021
Updated
8/9/2022
GGPoker or PokerStars. That's the question. The two online poker giants have been struggling a long time for a "world's largest" title. Players, of course, benefit from this, getting more promotions, having more traffic and games. In this article, we will compare both poker sites at 2022 and conclude which one is better for you.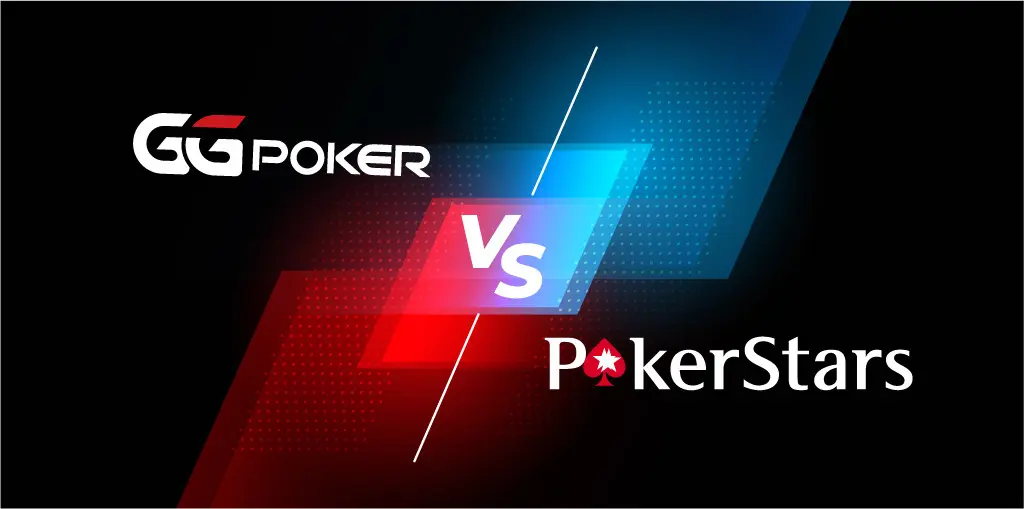 GGPoker beats PokerStars. Why?
After less than a decade of operating, GGPoker beat PokerStars in PokerScout rankings. However, both sites still clash, and it is common to see a change in the throne from time to time. Why did this happen? Although PokerStars vs GGPoker is a complex matter, we can think of several reasons; let's start with the main ones:
Global availability and focus on crucial markets
GG Network focused on robust and unexplored markets like Asia, Eastern Europe by having several skins accepting online poker players from China, Malaysia, Taiwan, Japan, etc. In other words, GG revived a global online poker market, similar to a pre-Black Friday situation.
Massive promotions
Who doesn't like rakeback? GGPoker has always offered profitable promotions for players: rake races, leaderboards, freerolls, and private deals. Although today direct rakeback is strictly forbidden, players still benefit from monthly promotions with millionaire prize pools.
Partnerships
GGPoker partnered with many big affiliates to promote its brand when they were young. Once they became famous, they recruited poker stars like Daniel Negreanu and offered online series under WSOP or WPT brands.
One way or another, GG Network remains the world's largest network and indeed a top site to play online poker.
PokerStars vs GGPoker
Nevertheless, from a player's perspective, playing in a poker room with 7,000 or 6,000 connections makes almost no difference, so let's be honest and conclude the title "world's largest poker room" is mostly a promotional thing.
So, comparing PokerStars vs GGPoker, how can a player decide where to play? This article will compare the most important features so you can take an informed decision:
Software: it's online poker; hence platform is crucial
Traffic: yes, thousands of players, but what is behind these numbers?
Games: what formats are available?
Softness of the field: are there amateurs at the tables?
Promotions: is there any rakeback?
Rake: How much fees will you pay?
Cashier: We're guessing you'd like to know how to get paid
Software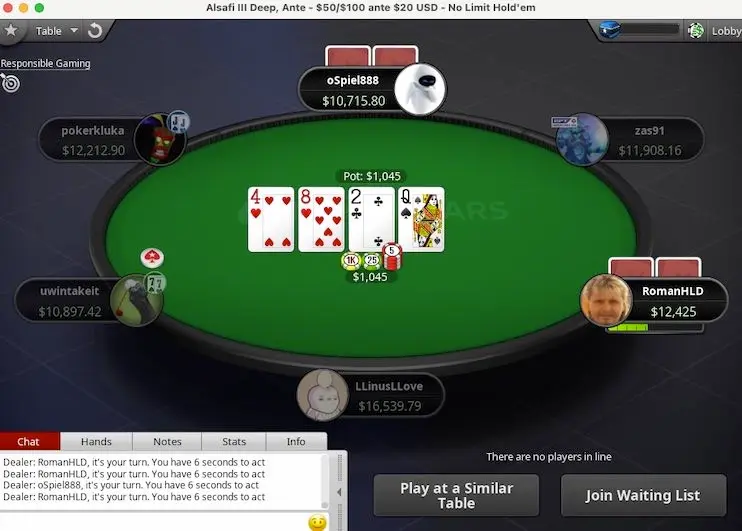 PokerStars has been developing its software for over 20 years, and it has done a great job. It remains a simple client, but it includes all functionalities needed by casual players and regs. On the other hand, GG Poker has included into its platform many features crafted for amateur players. However, such options overload the client and make it laggy.
We clicked both PokerStars and GGPoker icons at the same time on our MacBook Air M1 laptop. We managed to make the entire process (login and logout) in PS four times before the GG client showed up. There is absolutely no doubt here. PS client is much faster and stable. PS used 5,4% of our CPU in terms of performance while GG used up to 50%. Regarding RAM usage, GG took over 1GB and PS less than 300MB. Also, expect a loud song once it finally opens, so be aware if you want to play a night session.
However, in terms of uniqueness and innovation, GG is leading the way here; for example, the staking feature is crushing it. We consider PokerStars to have the best poker software nowadays. If GG Poker wants to compete with it, it needs to drastically improve its performance.
Third-party software
There is not much to say here. GG Network prohibits all third-party software. PokerStars allows using HUDs, trackers, and other tools for grinders. Point for Stars.
Mobile client
Both sites offer a great mobile app, although you must reach GGPoker support to install in iOS and also use an extra profile (sort of underground procedure), while the PokerStars mobile app can just be installed from official stores. Point for PS.
Overall you can access all games (cash, tournaments, spins, etc.) from a mobile device and process all kinds of transactions. We must highlight that GGPoker mobile app and its counterpart are just not "minimized" versions of the desktop client but were designed to fit small screens.
Traffic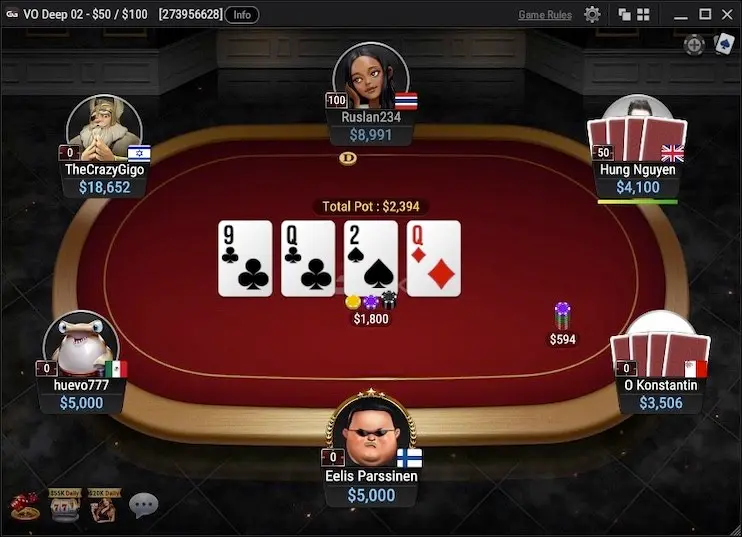 As we said above, GGPoker overtook PokerStars in terms of cash game tables in 2021. However, from a players' perspective, this information is almost useless without proper analysis (you cannot play against all 100,000 users connected), so let's dissect this by studying the portfolio.
Game portfolio
PokerStars takes the lead here, as it offers more variants. However, GG Network seems to be innovating with new games, while PS sticks to traditional formats. If you are a Draw, Stud, or Mixed games fan, you should look no further. PokerStars is the only site offering decent traffic across these so-called "exotic" formats.
Cash games
Besides traditional Texas Hold'em and Omaha cash games, PokerStars leads by offering much more:
7 Card Stud
Razz
5 and 6 Card Omaha
Omaha Hi/Lo 
5 Card Draw
2-7 Single and Triple Draw
Badugi
8-Game
HORSE
GGPoker offers (exotic games):
All-in or Fold
Short Deck
PLO5
Overall, PS has a more extensive portfolio, but GGPoker has launched unique and modern games like AoF or Battle Royale, which definitely attracts a fresh audience of international poker players to the tables (let's face it, newcomers won't start playing HORSE in 2021). Let's not forget PokerStars is one of the few sites offering HU cash game traffic.
How about high rollers? GG Poker hosts nosebleed games up to NL100000 with grinders like Wiktor Malinowski or Linus Loeliger.
Fast-fold poker
Zoom or Rush & Cash are very similar games, so there is not much to study here. However, PokerStars offers 9-max, 6-max, and a unique HU variant. GGPoker has only one format for Hold'em and PLO.
Tournaments
Probably tournament players will feel comfortable playing either at PokerStars or GGPoker. The rake is similar; both offer many structures, including progressive knockout PKO, high roller, regular series with millionaire prize pools, weekly main events, etc. Nevertheless, GGPoker went the extra mile by adding Super MILLION$ and tournaments focused on the Asian market (time and currency), attracting many casuals.
GG doesn't offer any SnG (besides Spin&Gold). A small score for Stars here.
We must highlight that tournaments have become a powerful tool in the competition. In recent years between ongoing promotions and tournament series, players have enjoyed massive prize pools. Compared to PokerStars, GGPoker has clearly focused on this area, as their portfolio has exponentially grown.
Spin&Go...ld?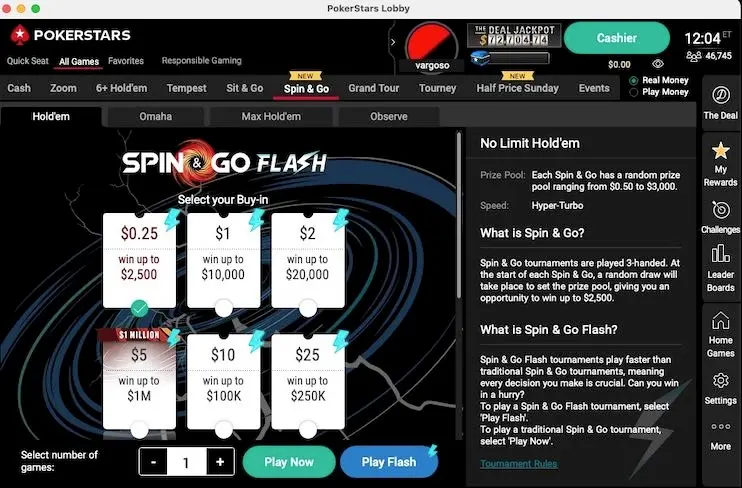 Although PokerStars made Spin&Go trending several years ago, when GGPoker launched Spin&Gold, they went further and added unique features like all-in insurance. The maximum prize pool is 1 million dollars.
GGPoker offers regular spins in NLH and an exclusive 6-max variant, but PokerStars has higher stakes (up to $1,000), Spin&Go Max, and Grand Tour. Overall, tournament players will find a bigger portfolio at Stars, but in this competition, both sites lead.
Unique events
GGPoker focused on this area. Since 2020 it has signed up partnerships with the biggest brands worldwide: World Series of Poker (WSOP), World Poker Tour (WPT), Asia Poker League (APL), etc.
However, we highlight that PokerStars has created its own brands recognized worldwide, like Sunday Million of the World Championship of Online Poker (WCOOP). We have to give GGPoker this one because only there will you win a WSOP golden bracelet.
Softness of the field
No recreational players, no soft games. Although many pros read our reviews to decide where to roll, we should not forget that fans are crucial for online poker. It's complex to evaluate the quality of the traffic of such massive rooms. But, we can take feedback from our online poker players database, countries welcome, and study terms and conditions in detail.
G G has loaded its platform (by paying the price as we said above) with features to attract amateurs: sending short videos at the tables, dancing emojis, reactions, and most importantly: banning all third-party software. Many regs just don't like this. 
GGPoker also welcomes players from "fishy" countries like Israel, China, Malaysia, etc.
Overall, we feel that GGPoker features softer traffic.
Terms and conditions deserve an insightful analysis.
Poker ecology
GGPoker is definitely the winner here. Although PokerStars has been working towards protecting amateurs recently, from day one, GG introduced its "Security & Ecology Policy," a live document listing all predatory behaviors prohibited at the tables.
We highlight that although we don't agree with all GGPoker restrictions (like forbidding using printed GTO tables as this can lead to unjustified bans), at least such information is public, and anyone wanting to play just needs to double-check they don't fit in any predatory behavior.
Ambassadors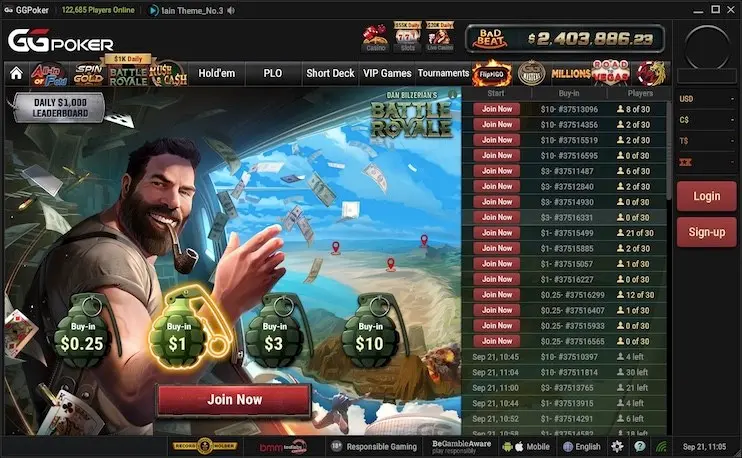 Probably a reg doesn't care that much about the ambassadors of a poker room. However, an amateur can register following his idol. GGPoker is doing the homework in this area as they currently have several teams with figures like Daniel Negreanu, Dan Bilzerian, Wiktor Malinowski, among others. They have also created teams with winners of important tournaments.
PokerStars sponsors professional players like Lex Veldhuis (Twitch star), Rafael Moraes, or Ben Spragg, all big names in the poker industry, but we still give the point to GG.
Rakeback and bonuses
Those who recall the "golden era" of poker always say that VIP Rewards with Supernova Elite was a fantastic rewards program. Many years after changing "Porsches for chests," PS reconsidered its position and relaunched its rakeback program.
Let's start with welcome bonuses. Both sites offer almost the same package with two options, including a free ticket package or a matched bonus up to $600. However, GG gives more tickets (up to $100 vs. $30). PS requires a traditional bonus code vs. a dropdown menu; probably the second one is better.
But what really makes a difference is the monthly promotions package by GGPoker that gives millions of dollars in prizes across all games and stakes. Such promos include leaderboards, jackpots, rewards for getting bad beats or winning massive hands, etc.
Fish Buffet vs StarsRewards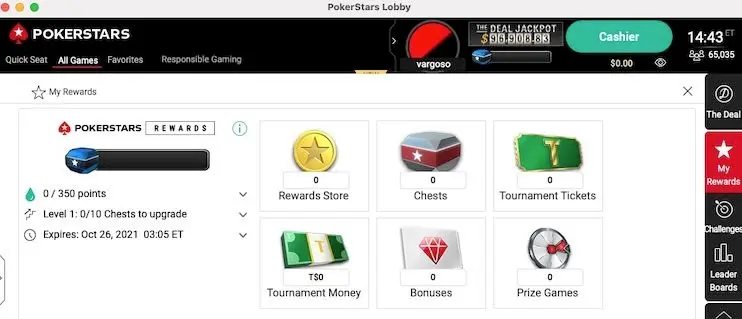 From 2015 to 2021, the conclusion was straightforward. StarsRewards gave no rakeback, so GGPoker Fish Buffet was a clear winner here.
FishBuffet Rewards promises up to 60% cashback, but we must emphasize that GGPoker uses an indirect distribution (PVI rake structure), so the promoted 60% can be much less. On the other hand, the all-new StarsRewards gives from 15% to 35% fixed rakeback, and bigger percentages depend on luck.
Although both sites have tailored their rewards program for casual players, PokerStars deleted the randomness of chests, so we feel G G Poker and its endless levels and ranks can be more entertaining in the long term.
Overall, we think the new StarsRewards is better than Fish Buffet rewards, mainly because PS gives an accurate rakeback percentage with some random boosts, while GGPoker openly promotes massive percentages that cannot be contrasted.
GGPoker vs PokerStars rake
Recall: anytime you've been offered a rakeback deal, you need to compare it to the rake structure of the room. If they charge an unfair fee, then a massive cashback won't sound that good. This is sort of the situation here.
GGPoker is the only primary site charging preflop rake in 3-bet pots. All-in-all, you will be paying more commissions to GGPoker than any other site due to this rule, no matter the structure.
Cash games, G G also charges a bit more with a 5% standard across all games, while PS starts from 3.3% for micros-stakes to 4.5%-5% for the highest games. The first one also has higher caps.
Lottery SnG, GG Poker charges a 7% rake across all buy-ins, while Stars has a ladder model from 8% (lowest stakes) to 5%.
MTTs, PokerStars charges from 12% to 5%, and GG from 9% to 5%.
Overall, GGPoker charges more rake than PokerStars, and if we compare the distribution model, the secret PVI leans the balance towards the Red Spade.
We would also like to highlight that there is no public information about the preflop rake on the GGPoker website (ok, there is, but buried in one of the many FAQ questions), so many players can be unaware of this unusual rule. Less 1 point for lack of transparency here.
Cashier
Usually, GGPoker and PokerStars take deposits via several payment options, including e-wallets and local methods available in your cashier according to your country.
Credit cards
Skrill
ecoPayz
Bitcoin*
MuchBetter
LuxonPay
AstroPay
*The main difference between PokerStars and GGPoker is, of course, Bitcoin. The second has embraced cryptocurrencies, and because of this, GG wins here.
GGPoker agents process deposits and withdrawals with alternative payment methods in some countries. We recommend being extremely careful with such offers as those can lead to massive scams. We don't think having this feature is a good thing in the long term.
How about if you win a million dollars? In that case, you should reach customer service to find a payment solution for withdrawing your winnings. Bitcoin would be among our recommended options.
Customer service
Ideally, you should never need to contact customer service. However, when a problem arises, it's crucial that you reach the poker room as fast as possible.
You can reach PokerStars via a virtual assistant, email, contact support form, FAQ, and a community forum. GGPoker beats PS in this area. Players can interact in a Discord community, contact an agent via live chat, and other traditional ways like email and forms.
Final Thoughts
It isn't easy to call for a winner in the GGPoker vs PokerStars fight as both are great options to play online poker. To make things easier for you, we have answered some questions, and if you fit in one of the categories below, you'll know where to go:
Are you a fan of traditional draw games? Head to PokerStars
Do you need to deposit and withdraw via Bitcoin: GGPoker is the answer
Do you like to compete for massive prizes in rake races: Go to GGPoker
Is your PC 3 years older or more? Go to PokerStars
Are you chasing a WSOP golden bracelet: Head to GGPoker
Do you play SnG or HU?: PokerStars is the way
Topic / Site
GGPoker
PokerStars
Software
X
Traffic
Tie
Games
X
Softness of the field
X
Promotions
X
Rake
X
Cashier
X
Or you can just read our PokerStars review and GGPoker review, reach our customer service and ask for a round-table to find out what other rooms fit you better:
Telegram: wpd-support
Skype: wpd-support-skype
Email: [email protected]
WhatsApp: +905430740558
Stay tuned on our Telegram channel for more EV+ news
Review
Private clubs, rake stats, free hand histories, secret offers and more
Gambling industry news and insides, ratings of best poker rooms, bonuses, races and rakeback. The most undiscovered and fishy rooms of internet. Consulting and players' support. Working since 2013.
2013–2023. All rights reserved