Poker Cruncher — Advanced Mac OS, iOS and Android poker odds calculator
Poker Cruncher — Advanced Mac OS, iOS and Android poker odds calculator
Most of the poker software is developed for the Windows platform, and even today there are not enough good Mac OS applications. Today we would like to bring your attention to PokerCruncher — an advanced poker odds calculator working across all Apple devices (iPhone, iPad, Mac) also on Android. In the beginning, the software was created only for mobile devices, but now there is a Mac OS client with advanced functionalities.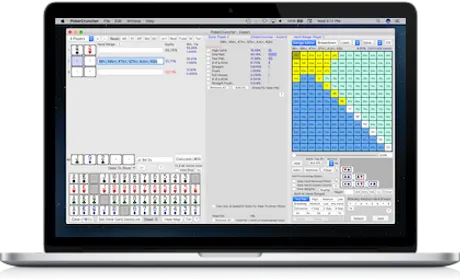 What are the PokerCruncher functionalities?
PokerCruncher main features
Game situation analysis with specific hand-ranges; specific hand or hand-range vs. hand-range
Board texture analysis in all streets considering hand ranges
Support many statistics
Create Heat Maps with combined statistics
Dark mode for macOS Mojave
Save/Load And Export/Import Scenarios (Hands) And Hand Ranges
Range Manager tool (only for Mac-Expert version) to work with ranges and subranges.
PokerCruncher allows importing data in real-time, useful feature to carry out constant work with hand ranges both playing live and on the internet. With it, you are able to create libraries for different positions and game styles of opponents.
In addition to this, PokerCruncher can be used as a training tool to analyze and verify the correctness of actions on randomly generated scenarios.
PokerCruncher has the following advantages:
No internet connection is needed;
The analyzed hands can have up to 10 players;
Dead cards are shown;
Hand weight can be customized;
There are many built-in ready to use hand ranges;
On the software website, there is a detailed manual of PokerCruncher (only in English).
Each PokerCruncher version (Mac, iPhone) has a different cost and you can buy a bundle for all the supported devices with a discount:
PokerCruncher — Advanced — iPhone $ 12.99
PokerCruncher — Advanced — iPad $ 17.99
PokerCruncher — Advanced — Android $ 12.99
PokerCruncher — Expert — Mac $ 49.99
PokerCruncher is available on the App Store or the Google Play store; one license of the expert version could be used on several of your personal computers.
The software developer also offers additional tools for improving the game:
Poker Odds Teacher: estimate the odds in any Hold'em scenario
Tournament Cruncher (ICM): analyze the ICM concept in poker tournaments
Hold'em Odds Quizzer: Play and learn about odds and equity
Stay tuned on our Telegram channel for more EV+ news.