The $5 Million Venom on Americas Cardroom this summer is going to be hot!
The $5 Million Venom on Americas Cardroom this summer is going to be hot!
Americas Cardroom (ACR) is excited about the upcoming $5 Million Venom and the fever is catching. The poker community has been buzzing about the largest tournament ever offered by any US-facing poker site and the turnout is definitely going to be one for the record books. Looking at what's in store for July 14th, it's easy to see what the excitement is all about.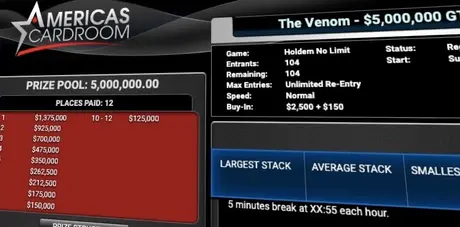 Here's a taste of what you have to look forward to:
The chance to become an instant millionaire -$1 million in guaranteed cash is going to go to the event winner.  Someone will see their life changed in an instant.
Chances at seats for free -ACR is adding $120,000 a month into their Step tournaments for players to have a chance to win a $2,650 Venom seat.  Step 1 is free to enter for everyone.  
Multiple opportunities for entry -The $5 Million Venom offers multiple Day 1 starting dates.  If you don't make it on Day 1A, come back on Day 1B for a second chance or 1C for a third.  The multi-Day 1 tournament, the first for ACR, gives everyone a chance at a seat.
Lightning-fast payout by Bitcoin —If you win the $1 million first-place prize, ACR will send you the payment within minutes by Bitcoin to demonstrate to the world how fast players get paid. Don't use Bitcoin? No worries. You can send it back right away and get paid using a traditional payment method.
Here's the complete $5 Million Venom Schedule:
Day 1A: Sunday, July 14th at 1 pm ET (12 hours of play)
Day 1B: Tuesday, July 16th at 1 pm ET (12 hours of play)
Day 1C: Sunday, July 21st at 1 pm ET (12 hours of play)
Day 2: Monday, July 22nd at 1 pm ET (12 hours of play or down to final 8 players)
Day 3 (if needed): Tuesday, July 23rd at 1 pm ET (Play down to the final table)
Day 4: Wednesday, July 24th at 5 pm ET (Final Table plays until the tournament is over)
This online poker tourney promises to smash records. First off, it's Americas Cardroom's biggest online poker tournament ever. As in ever, ever. It's also got the biggest first place prize of $1 million. And, last but not least, it's also the largest online poker tournament on the planet for US players.

In all honesty, the $5 Million Venom is giving the World Series of Poker a run for its money in the excitement department. Step onto the floor at the Rio, and all you hear is people talking about the $5 Million Venom. Of course, those people happen to be the good folks and us at Americas Cardroom. But that's neither here nor there.

Bottom line? It's going to be absolutely massive, and this is your big chance to be a part of it. So what are you waiting for?
To learn more about this summer's biggest tournament visit Americard Cardroom website.
Stay tuned on our Telegram channel for more EV+ news.