WSOP International Circuit Schedule Released for 2022-2023
WSOP International Circuit Schedule Released for 2022-2023
There will be plenty of chances for players to win a WSOPC golden ring around the world.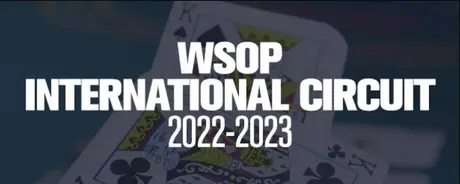 WSOP Circuit Rozvadov Takes Place at King's Casino in the Fall
The WSOP Europe with 15 bracelet events will be taking place between October 26th and November 16th at King's Casino Rozvadov in Rozvadov, Czech Republic.
However, before poker's biggest names ascend to Leon Tsoukernik's famous poker venue on the German border to chase bracelets and POY points, there will be another WSOP festival held at the same casino.
It's the WSOP International Circuit Rozvadov. In these events, you can win rings instead of bracelets. A total of 11 ring events are on the schedule, running between September 21st and October 8th. The combined guaranteed prize pool of the events is an inviting €2.6 million.
The buy-ins range from €150 up to €3,000, with a €1,700 buy-in, €1 million GTD Main Event starting on October 7th. For those who are looking to get in on the action cheaper, there are plenty of satellite tournaments on the schedule as well. The smallest one of those costs just €45 to enter, and feeds into the €250 buy-in Mini Main Event with €500,000 GTD.
Last year, the €1 million guarantee was surpassed in the €1,700 WSOPC Rozvadov Main Event. 912 players entered, and the prize pool ballooned up to €1.343 million. The Italian Andrea Ricci topped the field for €246,839. Hopefully, even larger fields and thus larger prize pools are what await players this year back in Czechia.
WSOPC Events to be Played in Mexico, Brazil, Australia, and More!
The WSOP International Circuit is truly living up to its name.
From September 2022 to April 2023, 10 WSOPC festivals will be held in 10 different countries on 4 different continents.
While events are being played in the Czech Republic in Europe, another WSOP Circuit is simultaneously taking place at Hilton Aruba Caribbean Resort in the Central American island nation of Aruba in September-October 2022.
The next stops are Cintermex Convention Center in Monterrey, Mexico, and the Unique Hotel in Sao Paulo, Brazil, both in October 2022. Brazil is known for its relaxed regulation of tournament poker (it's not even considered gambling in the country). However, in Mexico, there was an incident where law enforcement inexplicably stopped a major poker series, the Latin American Poker Tour sponsored by PokerStars, in December 2008. Hopefully, no such situation will ever occur there again.
The remaining locations for WSOP International Circuit events include Sydney, Australia; Rotterdam, Netherlands; Punta del Este, Uruguay; and Marrakech, Morocco.
Here's the full schedule:
| Date | Series Location |
| --- | --- |
| September 21 - October 11, 2022 | King's Resort (Rozvadov, Czech Republic) |
| September 22 – October 2, 2022 | Hilton Aruba Caribbean Resort (Aruba) |
| October 11 - 23, 2022 | Cintermex Convention Center (Monterrey, Mexico) |
| October 18 - 28, 2022 | Unique Hotel (Sao Paulo, Brazil) |
| November 2 - 14, 2022 | The Star Sydney (Sydney, Australia) |
| November 25 - December 3, 2022 | Holland Casino (Rotterdam, The Netherlands) |
| December 2 - 10, 2022 | Enjoy Punta del Este Resort (Punta del Este, Uruguay) |
| January 11 - 23, 2023 | Deerfoot Inn & Casino (Calgary, Canada) |
| January 14 - 22, 2023 | Es Saadi Marrakech Resort (Marrakesh, Morocco) |
| March 22 – April 3, 2023 | Casino Royale (St. Maarten) |
An excited Ty Stewart, Senior Vice President and Executive Director of the World Series of Poker, had this to say about the upcoming WSOPC events:
"The World Series of Poker is ready to go international once again. Poker is bigger than ever and there has been a recent run of international champions in our Main Events. We're excited to bring the once-in-a-lifetime poker experiences of the WSOPC and WSOP Europe back to transcontinental players."
Stay tuned on our Telegram channel for more EV+ news