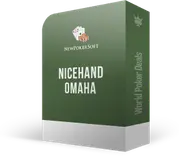 Efficiency
NiceHandOmaha
NiceHandOmaha - the Software that Shows Hand Ranking in Omaha while Playing on PokerStars
Features
NiceHandOmaha will show you a rank of your starting hand, so you could make a better choice how to play Omaha.
This includes Omaha, Omaha Hi/Lo, 5 Card Omaha, 5 Card Omaha Hi/Lo, Courchevel and Courchevel Hi/Lo. The kind of limit: pot-limit, non-limit, etc.
The software is designed both for beginners and more experienced players. It calculates by starting hand the percentage of range, in which this hand appears. The program calculates equity on the following streets equity vs. a random hand in the current street and river, displays the number of straight outs and higher, determines the number of possible straights taking into account Hero cards blocking.
NiceHandOmaha is intended to be used while playing on PokerStars and 888Poker.
For Worldpokerdeals players, when entering the WPD code, a trial version is available for 1 month.