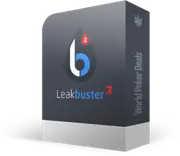 Efficiency
Leak Buster
Software that extracts key statistics about your play in order to find your largest poker leaks.
Features
More than just stat analysis, Leak Buster analyzes your whole poker game. By comparing your online poker hands and data to tens of millions of hands from winning online players, Leak Buster looks for over 465+ potential leaks in your game – all in minutes.
It uses peak high and low stat ranges, and combines that with hundreds of post flop filters to find areas of your game where you're bleeding the most money from your bankroll. You'll be surprised at how precise Leak Buster is at locating your most costly poker leaks.