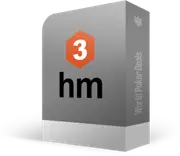 Trackers
Holdem Manager 3
The latest version of Holdem Manager is not an update or add-on that can be downloaded via HM2. In other words, HM3 is a brand new product developed from scratch.
Holdem Manager 3 — overview and principle of operation
Holdem manager 3 is the world's most popular tracker tool for collecting and analyzing poker statistics. It's a powerful tool with many functions. You can upload your hand history, comprehensively study your game, as well as your opponents, detect and fix leaks. The built-in HUD software displays statistics on villains in real-time, which allows you to find and exploit any weakness.
How does it work?
Text files with information about all the hands you have played are stored in a folder on your computer. HM takes these files and creates a database with them, calculates game statistics for any taste. The results are conveniently displayed in a window.
If you run a tracker during a session, it will work in the background, displaying the so-called HUD statistics on opponents on the tables. The data and visualization can be fine-tuned to suit your needs.
Or you can download and install one of the many engineered HUDs available on the Internet. 
Several years ago, the developers rolled out a global software update. The third version of the "Manager" has acquired a redesigned interface, has become faster, user-friendly, and added even more stats, reports, and filters.
Holdem Manager 3 keeps pace with the times and 100% meets the needs of poker players.
Holdem Manager 3 features
The HM3 developers have done a great job to improve the software interface, and now it has become more friendly and available in many languages besides English.
The platform looks beautiful and allows users to customize every detail of the tracker with a few clicks.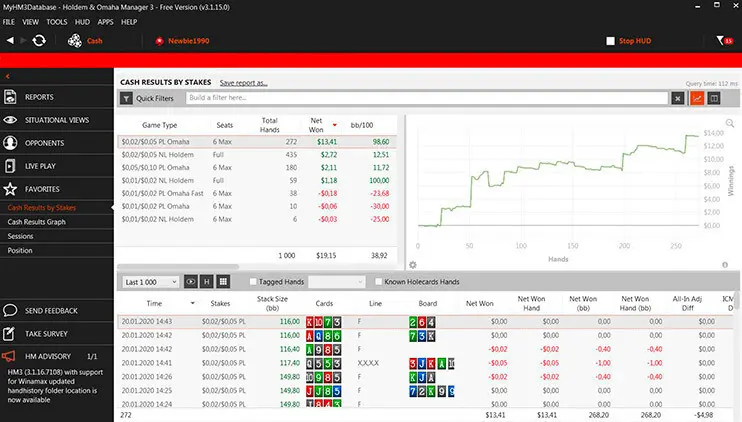 Let's see what's new in the tracker functionality and how the latest version of Hold'em Manager differs from the previous ones.
Situational views
Holdem Manager 3 now features Situational Views. This is a set of reports on the most common situations: 3-bets, continuation bets, playing on the river, placing in tournaments, playing on the bubble, etc.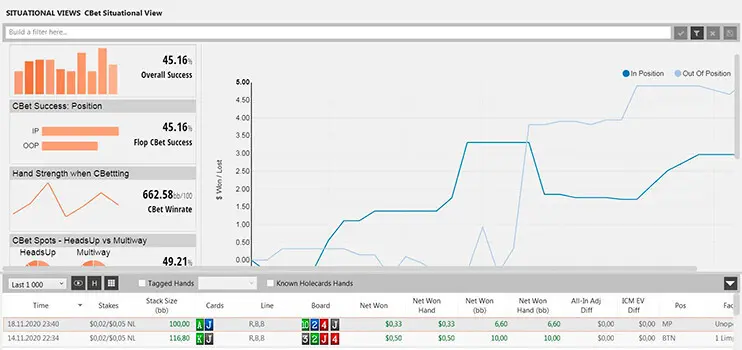 One review combines a lot of helpful information about your game in the form of graphs, charts, and tables. To get similar information in older versions, it would be necessary to configure many filters separately.
This improvement makes it possible to analyze the selected topic from all sides. Working on a game like this is the best way to learn because it allows you to break your game into components and then analyze each step by step.
Graphical HUD
Holdem Manager 3 Graphical HUD allows you to see all of your opponents ' stats at a glance. This feature will appeal to those who don't need a lot of statistics on the screen.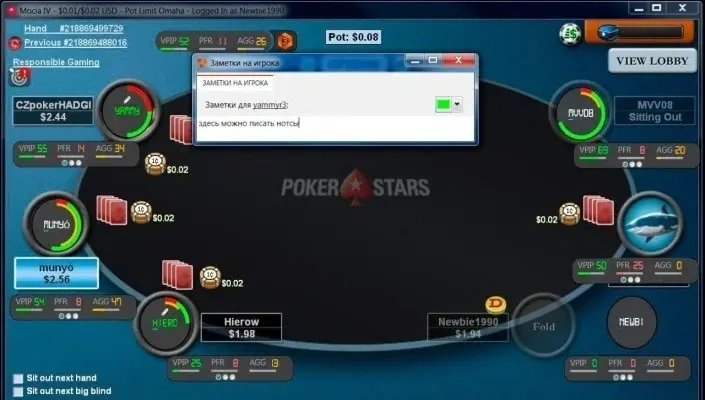 The graphical HUD works in all supported poker rooms but is not compatible with fast-fold poker tables. Let's take a closer look:
The round part of the HUD displays 3 main statistics: VPIP (green), PFR (red), and aggression % (yellow), as well as the player's nickname and the number of hands. 
A statistical line is also available with only numbers (as a percentage). You can switch to other indicators using the buttons. The note editor opens by clicking on the icon.
New Filter Editor
The next innovation is convenient and intuitive filter management tools.
Some of them now have a better visual interface, which makes them more efficient.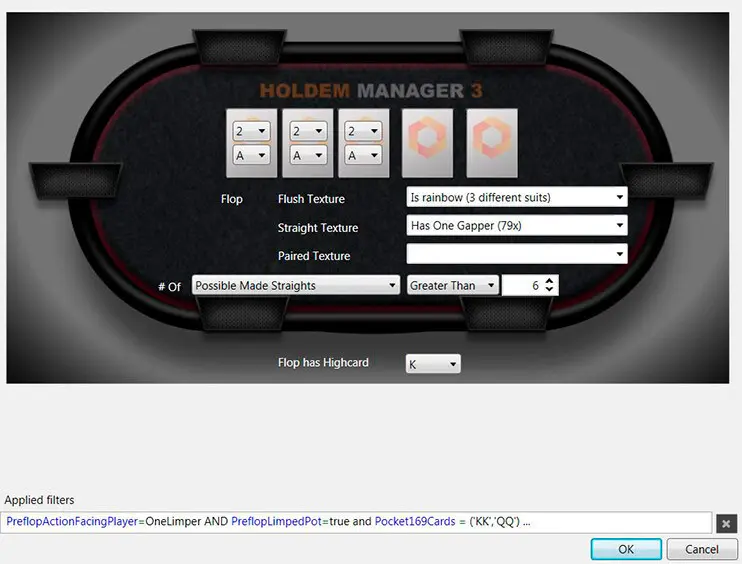 Algorithm for tracking tournament results
HM3 developers have improved the algorithms for tracking tournament statistics and payouts. This frees MTT players from routine editing the database to display up-to-date information.
After importing the hands, the tracker classifies the results and hands of the tournaments based on several factors, such as the field, the prize won, the bounty received, the type of format, etc.
This feature is called "Tournament Detection," and it can work both in automatic and manual mode.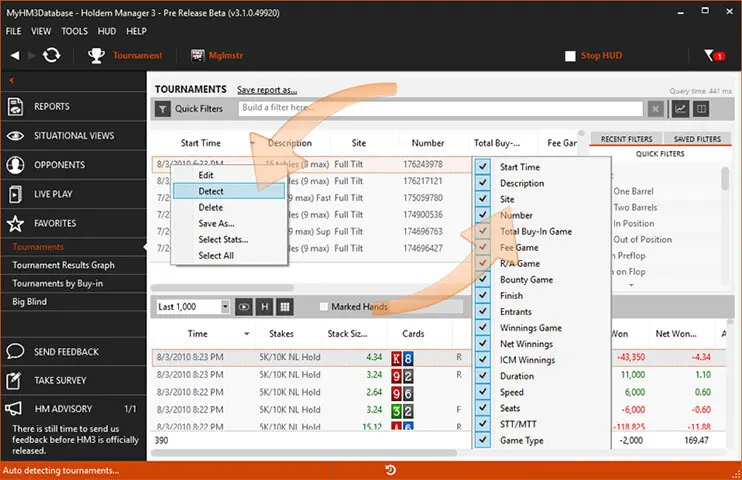 Improved HUD editor
Holdem Manager 3 features a redesigned HUD editor to make it easier to create and edit elements and added even more statistics.
The pop-up editor has also been reengineered: unnecessary tabs have been removed, which allows you to quickly find the statistics you need. This will save not only time but nerves.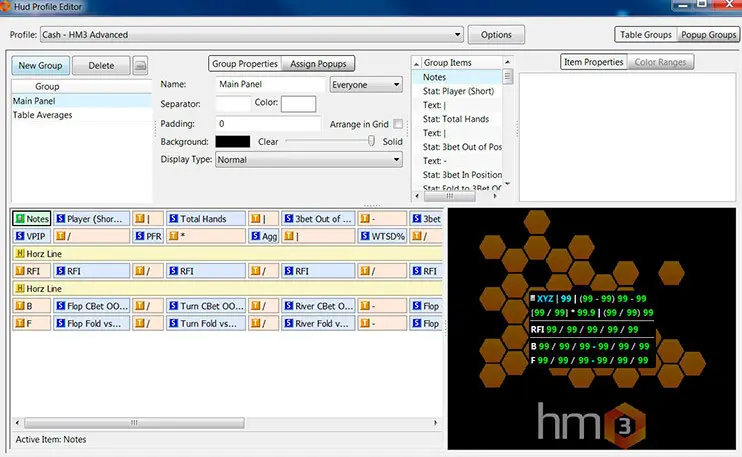 Just like PokerTracker 4, HM3 introduced the Drag and Drop function — now you can simply drag the stats you need from the statistics are to the window for creating your HUD. Although this is not a real innovation, it makes the work much more manageable.
More statistics
If earlier it was necessary to make "many movements" to get advanced statistical indicators, then everything was added to the basic version in the new tracker.
In Holdem Manager 3, "vs Hero" statistics are standard.
In addition, the developers have added a lot of new statistics on bet-sizing, donk bets, and other valuable aspects.
Updated hand replayer
The functionality of the hand replayer remains almost unchanged, but it became faster. MTT players will be pleased with the new replayer that converts stacks and bets into big blinds.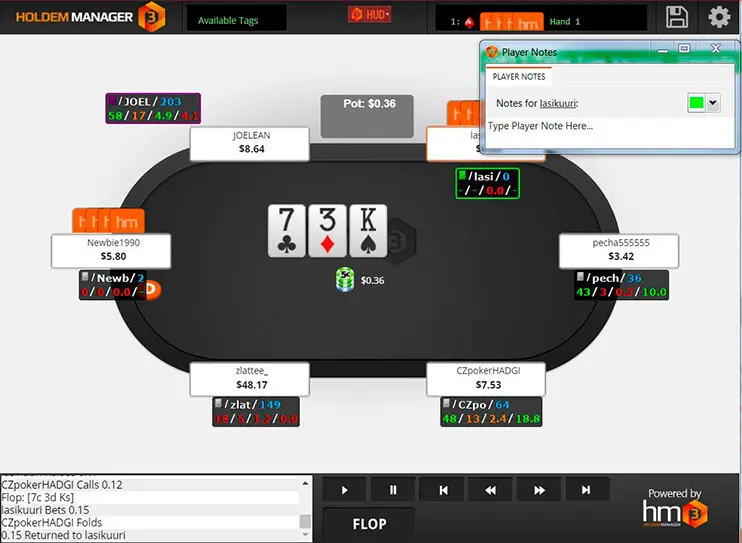 HUD Only Mode
Allows you to keep Holdem Manager 3 closed during the game while importing hands and showing the heads-up display. This significantly saves PC resources, increases the performance of the tracker, and the entire system as a whole.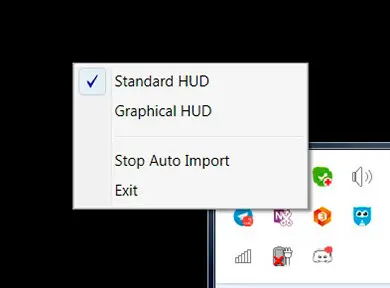 When the software is in "HUD Only" mode, the HM icon locates in the tray. By right-clicking on it, you can:
Switch between standard and graphical HUD
Stop automatic imports of hands
If you remove the icon from the tray (Exit), the import will stop, and the HUD will no longer be displayed.
HM3 does not require PostgreSQL
This point will definitely delight players whose computers cannot handle the load of the PostgreSQL database.
Without going into the details, this was a core element of HM2. This system managed the massive databases for hands stored on the hard drive.
Holdem Manager 3 developers have abandoned the use of the local PostgreSQL database. This allowed avoiding headaches during the installation and initial configuration of HM3, which often occurred when working with the previous version of the tracker.
This change significantly speeds up the program and import/export feature, so from now on, HM3 will "fly" even on older computers.
Holdem Manager 3 price
You can use Holdem Manager 3 free for 14 days thanks to a trial version, available for any format — Texas Hold'em or Omaha.
If you play low stakes, it's better to buy the Small Stakes version, and if necessary, upgrade to All Stakes.
Holdem Manager 3 Small Stakes has the following restrictions: No-Limit Holdem / Pot-limit Omaha: up to $0.25 /$0.50, Tournaments and SNGs: buy-in up to $22.
Holldem and Omaha Small Stakes $60.
Holldem and Omaha Combo, Holldem and Omaha All Stakes $100.
Combo All Stakes $160.
The HM key is valid for use on two computers, so you can purchase a license with your friend, for example.
The fee also includes a year of free software maintenance, allowing updating the platform when critical upgrades are released. For example, support for new games or changing in hand history formats.
After the first year ends, all users who want to keep the software updated must pay an annual fee, whose cost ranges from $25 to $65.
What poker rooms does Holdem Manager 3 support?
As of early 2021, Holdem Manager 3 supports:
PokerStars.
iPoker.
888poker.
Winning Poker Network.
Winamax.
Bodog, Bovada, Ignition.
List of poker rooms where HM3 is prohibited:
GGPoker.
partypoker.
Unibet.
Pokerdom.
What games does the tracker support?
As the name of its various versions suggests, the software supports only two formats — Hold'em and Omaha. You won't be able to analyze the game or use a HUD at 6+ Hold'em tables or draw games (Stud, Razz, etc.)
As for all formats within PLO and NLH — cash (including fast-fold poker or Zoom), tournaments (MTT, SnG, Spins), they are fully supported by the tracker if the poker room does not have any restriction.
Conclusion
Holdem Manager 3 brings the tracking software to a new level of quality. Working with the platform during sessions and analyzing the game afterward is more efficient than ever before. The good news is that switching from HM2 to HM3 won't be a hassle, as importing databases and HUDs requires only a few clicks.
Purchasing HM3 is definitely the way to go to improve your game in the long term.
FAQ
✅ Is it possible to download Holdem Manager 3 for free?
Yes! The software has a 14-day trial period with no limits whatsoever.
✅ If I have a Holdem Manager 2 license code, do I have to pay for HM3?
Unfortunately, yes, the new version of the tracker is not an add-on.
✅ Is Holdem Manager 3 compatible with macOS?
No. There is no Mac OS support at the moment.
✅ What are the system requirements for Holdem Manager 3?
It's recommended to have a multi-core 64-bit processor (at least Intel Core i7 or the AMD equivalent) and from 8GB of RAM. The hard drive is the main factor affecting the speed. Since solid-state drives (SSDs) are currently the fastest drives available, it's advisable to use them.
✅ Where can I find "an eternal" trial for Holdem Manager?
This thing does not exist. We strongly discourage downloading a "cracked" tracker because it is, among other things, not safe.
For any questions you may have, write right now. We are online seven days a week: