Brian Rast: New Poker Hall of Fame Member
Brian Rast: New Poker Hall of Fame Member
The voting results for the new Poker Hall of Fame inductee were announced in Las Vegas last week. This year the new member is famous worldwide: Brian Rast. This article will teach you what achievements allowed the poker player to be awarded such an honor.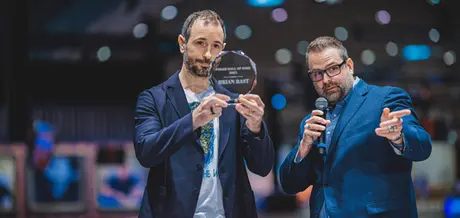 First steps
Every year the WSOP celebrates the biggest poker event worldwide. Among the events, they choose one or two people to join the most prestigious club. Since 1979 the Poker Hall of Fame has inducted only 58 people.
In 2023, Brian Rast became the fifty-eighth Poker Hall of Fame member.
The results of the Las Vegas vote were announced by WSOP Vice President Jack Effel. All the living members of the Hall of Fame chose Brian from among the 10 finalists chosen by the online community.
Interestingly, besides Rast, Mike Matusow and Isai Scheinberg (founder of PokerStars) were considered the main contenders for victory. This is not the first time they have been included in the final list, but it was the first time for Rast because he just turned 40 years old, a pre-requisite.
Main achievements of Brian Rast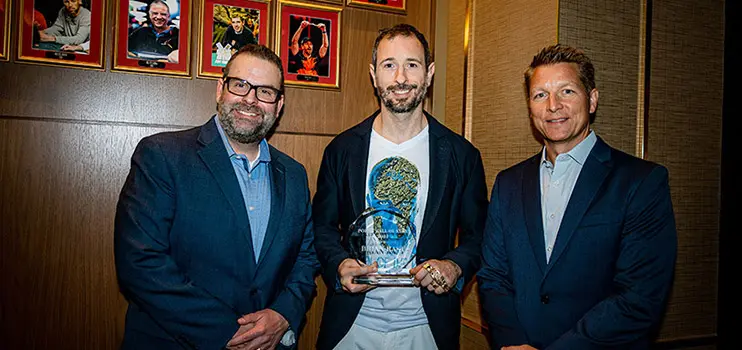 In the World Series of Poker press release, Eric Seidel highlighted the following achievements of the American:
The only player winning at least $1M in live tournaments for seven consecutive years.
Only he has won the $50k Poker Players Championship three times.
He became the 19th person in the history of the WSOP to earn 6 bracelets (from 2011 to 2023).
Entered the world's TOP 30 in total winnings with $25,258,945.
Childhood and Introduction to Poker
Brian Rast was born in Denver, Colorado, on November 8, 1981. Nine years later, he moved to a suburb of San Diego. He says that at that time, he was 100% a "nerd," and his main hobby was video games: first on the Nintendo 64, then on the computer.
Brian started playing poker at Stanford, where he entered after graduating from high school with a gold medal, but almost immediately, his motivation to study plummeted.
At first, this happened due to participation in Counter-Strike games within the local team. And in the third year of study – because of the poker club organized by Rast's friend Mike Asmar, where students gathered every week.
First successes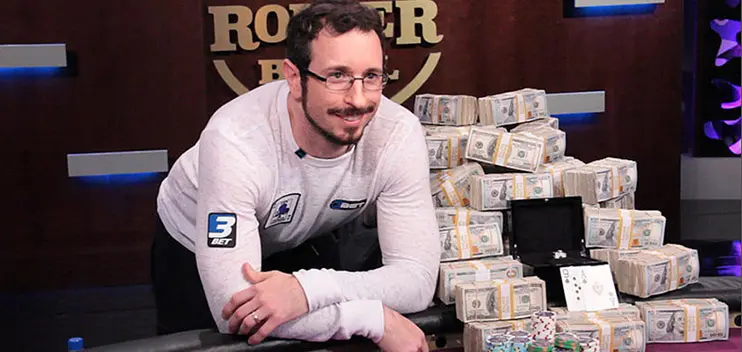 Brian won about twenty thousand dollars in the club's first three months of playing. In the last semester, he decided to drop out of school, finally linking his life with poker. Then his bankroll grew to $100K.
Rast devoted several years to live cash games in three California casinos (Lucky Chances, Garden City, and Bay 101), playing Limit and NLH games. 
Three years later (in 2007), he moved to Las Vegas, buying an apartment in Panorama Towers, where many famous poker players, such as Antonio Esfandiari and Phil Laak, lived then.
Then, Brian Rast made his first six-figure prize ($101,230) in a live tournament, becoming the 3rd in the Fifth Annual Five Star World Poker Classic series event for $5,200.
Tournament drifts
All the subsequent great achievements in Brian's career were connected with live tournaments, for which he got into the Poker Hall of Fame. More than 120 times during this time, he was in prizes in various events.
Since 2011, the player has had six prizes of more than a million dollars:
| Date | Tournament | Place | Prize |
| --- | --- | --- | --- |
| 2 July 2015 | Super High Roller Bowl - $500,000 No Limit Hold'em | 1 | $7,525,000 |
| 2 July 2011 | WSOP - $50,000 The Poker Players Championship 8 Game | 1 | $1,720,328 |
| 1 July 2012 | WSOP - $ 1,000,000 The Big One for One Drop | 6 | $1,621,333 |
| 18 June 2023 | WSOP - $ 50,000 Mixed Games: Poker Players Championship 7-Handed | 1 | $1,324,747 |
| 2 July 2016 | WSOP - $ 50,000 Poker Players Championship (6-handed) | 1 | $1,296,097 |
| 8 December 2013 | WPT Five Diamond World Poker Classic - $ 100,000 No Limit Hold'em - High Roller | 1 | $1,083,500 |
Curiously, four of Brian Rast's six biggest wins came on the first two days of July.
At the same time, the poker player considers mixed games cash his main discipline, which is also noticeable in his tournament achievements: three WSOP bracelets in the Poker Players Championship mix tournament and two more in No Limit Hold'em events, and 2-7 Lowball Draw.
Hobbies and betting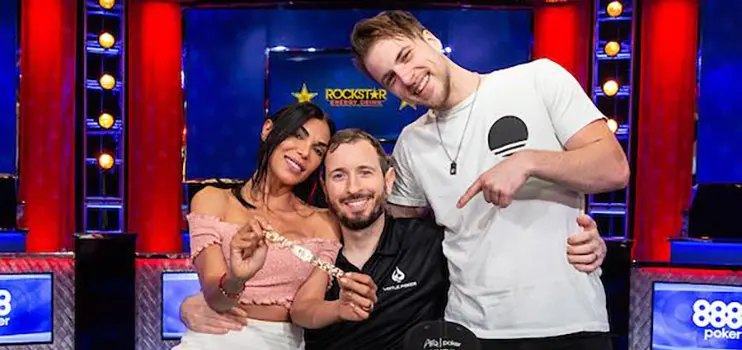 Although Brian played online at the dawn of his career, and in 2009, with a group of colleagues, he even participated in the launch of the Victory Poker room, he does not like online poker at all, primarily because of the widespread use of solvers and other tools.
In his spare time from poker, Brian Rast, as in his childhood, devotes video games to PS5 and Switch. In addition, he tries his hand at creating electronic music and a healthy lifestyle.
His gambling nature also manifested itself in two bets:
In 2015, Brian Rast boxed in a charity match against Sorel Mizzi and surrendered in the 4th round.
In 2016 he won $600K from Dan Bilzerian and Bill Perkins in a bet for cycling 640 km from Las Vegas to Los Angeles in 47 hours.
Since 2011, he has been married to Brazilian actress and model Juliana de Silva. Other members of the player's family are: adopted son Krishna and German Shepherd Marta.