Exclusive interview with India's Game Changer winner: Prashant Sekar
Exclusive interview with India's Game Changer winner: Prashant Sekar
The Game Changer was announced in December 2018 and kept its promise of being the largest online poker tournament in Indian history. The tournament guaranteed 2 Crore but amazing participation of 3,777 players raised the prize pool to 3,78 Crore, so far the biggest prize ever awarded in India. Prashant "Iveyleague" Sekar won the tournament and in this exclusive interview share its thoughts with Worldpokerdeals.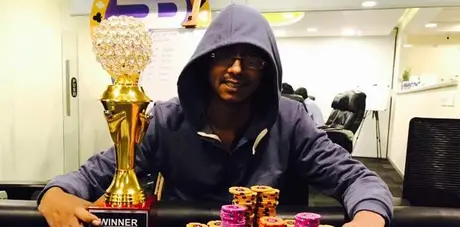 WPD: First of all, tell us something about you, who you are, how old are you, where do you live?
PS: I am a 29-year-old Poker Pro based out of Bangalore (Silicon Valley of India).I work a day job in MadOverPoker and spend the nights grinding MTTs online. I am a Business Management Graduate from Indian Institute of Management Tiruchirapalli.
WPD: For how long have you played online poker?
PS: I have been playing Poker since 2011. Like most folks, started playing in college. Have taken online MTTs seriously since 2017
WPD: Tell us about the Game Changer experience, how do you feel after winning the most important poker in online poker history in India
PS: It feels surreal, to be honest. Did a lot of preparation before going into it. Faced a good upswing in 2018 where I was able to comfortably build my bankroll.2 months before the Gamechanger experienced a terrible downswing (which is something every MTT Poker player goes through). Kept preparing through RYE, software and working on inputs from my coaches plus kept putting in a lot of game volume. Mentally prepared me to have no results based expectation from the Gamechanger. Just enjoy the Gamechanger experience, and that's what I did. Comfortably cruised through Day1A with a free ticket from Deposit offer.Day2 tried to remain focused throughout, and the plan was to Zone in more as the tournament progresses. Had a massive rail from all my friends which enabled me to get through and added additional motivation.
WPD: What was the first thing you did after seeing you AK smashed the K5 in the final hand of the tournament?
PS: That moment was the most ecstatic and euphoric moment of my life.Had no energy to let it get in. My rail of friends at my place was watching the Final table stream, and they went ballistic. Words cannot describe that moment when he called. My friend's arms just flooded around me, and I was lost for half an hour in that feeling.
Overall the result validated the fact that the process I was following is working and would like to keep at it.
WPD: Are you buying something crazy about the prize? Or a world-trip maybe?
PS: Nothing much. I have been planning to get a table and a ground setup which will enable me to multi-table and grind for long hours while keeping my health in check.
One thing that's on my bucket list is a recreational international poker trip which I would like to see through
WPD: What do you think about the current legal situation of online poker in India?
PS: Things are indeed progressing, and tournaments like the Gamechanger are certainly making a case for the Game to be legalized. I believe in 2 years the game would be authorized entirely and have the respect as a sport that it deserves.
WPD: Why do you think online poker is growing so much in India right now?
PS: The RoIs are crazy online. It allows the financial freedom of one to play at the comfort of their home. It's also a lot of fun where you can log on and play a game if you are traveling or chilling with friends or wherever you are.
WPD: Are you a professional poker player? Or what do you do for a living?
PS: I do have a day job, so Poker isn't my sole source of income. But I can safely say that over the last two years it is my primary source of income.
I work a day job in MadOverPoker as a Product Manager but make it a point to grind tournament poker and put as much volume as possible.
WPD: To end, what recommendations or tips can you give to poker players facing big tournaments like the Game Changer.
PS: In general, if you are taking Poker seriously, try and treat this as a business where you are the CEO and founder. Be financially disciplined and do whatever it takes to make your business grow. Financial Discipline, Bankroll Management is critical. Be continually working on your game getting feedback from people. Simultaneously try and enjoy the game and the process of getting better.
We thank Prashant for taking the time to answer this interview and wish him the best of luck on the next tournaments!