Fernando "JNandez" Habegger — CoinPoker Ambassador
Fernando "JNandez" Habegger — CoinPoker Ambassador
The largest cryptopoker room renewed its pro team. The famous Omaha player and coach Fernando "JNandez" Habegger became part of Team CoinPoker in mid-October 2023.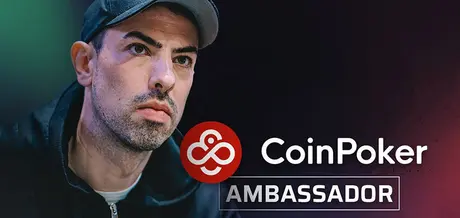 The first Coinpoker ambassador
CoinPoker announced its first official ambassador on October 16, 2023: Fernando "JNandez" Habegger.
However, in the five years since the room's launch, many players have collaborated with the site. The most famous of them, of course, was Tony G, the room's founder.
Isabelle "No Mercy" Mercier and Manig "Swordfish007" Loeser play in the weekly tournaments named after them. Other players like Charlie Carrel, Mark Gork, and Matt Richard stream their games at the CoinPoker tables.
Why CoinPoker
Habegger was a member of the GGPoker team for the last three years, but by the end of September, he announced the termination of cooperation with the world's largest poker room.
The main reason was that he moved to Las Vegas, where the available poker sites are limited, and GGPoker is not among them. In addition, Fernando planned to make content for the PLO community from different gaming platforms.
The agreement with CoinPoker allowed the poker player not only to play from the territory of the United States but also, apparently, does not prohibit rolling at the tables of other offshore sites hosting Americans.
Who is 'JNandez'
Fernando Habegger is a Swiss citizen. He has been playing poker since 2006. At one time, he worked as a dealer in a casino. By the end of 2010, JNandez switched to Omaha, starting with $0.5/$1 online. Since 2011, he still earns from $150,000 to $400,000 yearly at PLO tables.
In April 2018, JNandez launched his own website — Plomastermind, which sells training courses. In the summer of 2023, he finished second in the $5,000 NLH/PLO WSOP tournament, winning $330,344    
As a CoinPoker ambassador, Fernando has streamed playing Omaha with record pots.
CoinPoker advantages
For any poker room, the appearance of a player like Fernando Habegger is a big plus to the reputation and reliability in the eyes of the players.
Given the Swiss specialization and his current residence, he can attract fans of this poker format from the USA.
Moreover, CoinPoker has many limits for PLO (from $0.02/$0.05 to $10K/$20K) and PLO5 (from $0.02/$0.05 to $3K/$6K), but the traffic is relatively small.
Reach our team to get a top CoinPoker rakeback deal now: