Where is legal to play CoinPoker — Countries and territories
Where is legal to play CoinPoker — Countries and territories
CoinPoker is perhaps the most popular cryptocurrency poker room; although it was founded in 2018, it was only in 2022 that the room became trending after nosebleed games were held with Tony G and other famous high rollers. In this article, we will tell you everything you need to know about the legal aspects of CoinPoker and make clear if you can play from your country.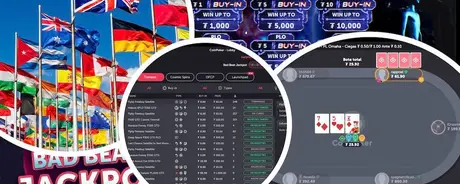 In what countries is CoinPoker legal?
Coin Poker, like many other cryptocurrencies rooms, is worldwide available. Please be aware that Coinpoker doesn't restrict any country officially, but some ISP (Internet Service Provider) may block access to the website; in this case, you can try using a VPN at your own risk.
Let's be straight: without a gambling license and operating with cryptocurrencies, CoinPoker cannot be called legal or illegal anywhere; hence here we will refer to the terms and conditions of the room.
In theory, you can play CoinPoker from any country, including:
Australia
Austria
Brazil
Canada
Germany
France
Finland
India
Israel
Italy
Poland
Switzerland
United Kingdom
United States of America
The Netherlands
Coinpoker restricted countries
CoinPoker doesn't share a public restricted country list. Still, they limit to post that underage gambling is restricted (usually 18 years of age) and that gambling can be prohibited under the applicable law. In other words, the player is responsible for checking his country's laws and not the room. They also confirmed this information via a Telegram channel:
CoinPoker does not restrict players from any, however, players have to comply with their local law.
We have tested the CoinPoker website in some countries with legal restrictions like Spain or Turkey, and indeed, some ISP block the website. Changing DNS to Cloudflare or using a VPN allows access (again, at players' risk). The site hints some information when they state any matters will be handled in accordance with the English laws.
As usual, cryptocurrency poker rooms feature no license, and its trustability is granted by the team behind the project: they have René Boutestijn, Isabelle Mercier, Antanas Gouga (Tony G), among others, on board.
CoinPoker currency guide
Coin Poker hosts games in Tether USDT (stablecoin pegged to USD), and the cashier includes only five options to deposit/withdraw:
*No fees are charged for deposits, but for withdrawals, it will depend on your CHP balance (down from 5% to 3%) and the pair used:
MATIC: 5%
BTC: 5% + 0.0000096BTC
ETH: 5% + 10USDT
USDT: 20USDT on ETH network (ERC20) and free on Polygon Network
Please note the cashier features two balances in USDT and CHP. You can exchange CHP for USDT and vice-versa in the cashier by paying a 5% fee.
Cashier tips
You will only be able to withdraw to a BTC Legacy address (starting with 1)
You cannot deposit to CoinPoker directly from any exchange like Binance; you will need to set up a personal wallet first before any deposit
Once you use a deposit address, this will be permanently linked to your account, and withdrawals will be processed only there. Reach customer service if you need to change such address
Holding CHP to pay rake will significantly benefit you (less rake, withdrawals fees discount)
General information
CoinPoker isn't a regular room; they call themselves a "Decentralized Poker Powered by Cryptocurrency." Games are hosted in a pegged-USDT stablecoin
You can get a profitable rakeback deal for registering with us. Ask our manager for all the details
Recall you need an active phone number to register (you will need to verify via SMS constantly)
CoinPoker recommends using a hardware wallet (Trezor, Ledger), or software wallets (MyEtherWallet MEW, MetaMask)
CHP is the coin developed by CoinPoker. It reached a peak ($0.14) in 2018, but after that, the price ranged from $0.01 to $0.04
Be aware that according to local regulations, some countries may require you to declare a crypto income.
CoinPoker and nosebleed games
CoinPoker can be called the room of the moment. Although they remain a "small site" compared to massive networks like iPoker or WPN, it's the best-ranked cryptocurrency site on PokerScout, and despite its ambiguous legal status, several mid to high-stakes games can be spotted throughout the day.
CoinPoker switched to USDT in late 2020; after that, the traffic began to grow, but it was only in 2022 when Tony G invited friends to play nosebleed games that the room boomed. The room broke record after record hosting the biggest pot in online poker.
Do you need help? Write us!
Worldpokerdeals shook hands with the cryptocurrency world many years ago, even before the ICO bubble. We have worked with crypto sites since their foundation. Our team is fully qualified to guide you through the deposit and withdrawal process, exchange fiat money to cryptos, etc.
Read our CoinPoker review and get a top rakeback deal now: