Negreanu vs. Polk: Doug broke the million-dollar mark
Negreanu vs. Polk: Doug broke the million-dollar mark
The heads-up challenge between Daniel Negreanu and Doug Polk reached the milestone of 30 game sessions. This anniversary gave all viewers of the match a big surprise. At the end of the day, Doug broke the million-dollar mark in profit and is now winning $1,002,596 after 17,878 hands.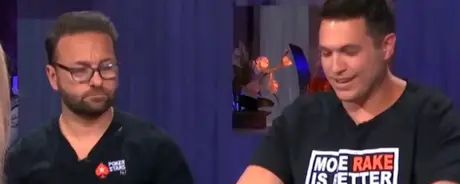 Results after 30 sessions
After Daniel Negreanu complained about his opponent's luck, the match continued with an exciting session that included the biggest pot of the challenge and many jokes from Doug Polk on his social medial.
| Session | Winner | Amount | Hands |
| --- | --- | --- | --- |
| 26 | Daniel Negreanu | $132,649 | 750 |
| 27 | Doug Polk | $119,610 | 600 |
| 28 | Doug Polk | $26,199 | 650 |
| 29 | Doug Polk | $73,000 | 608 |
| 30 | Doug Polk | $298,985 | 770 |
| TOTAL | Doug Polk | $1,002,596 | 17,878 |
Doug Polk won four sessions in a row with a total profit of $517,794, and after 17,878 hands, he is winning $1,002,596 from Daniel.
Doug Polk on fire
Before starting the game on Thursday, the Canadian shared a message, predicting he would win $228k.

This tweet was the last one devoted to his confrontation with Polk. However, Doug, who always paid more attention to the results on social networks, kept mocking Negreanu's comments about luck and tweeted 33 messages during the session.
One of these tweets highlighted the biggest pot in the match, in which he loss $384,216.
Polk wasn't the only one joking about Negreanu's last interview. Joey Ingram changed his name on Twitter to include the word "LUCKY" and shared "impossible hands" of the last session. He invited Rob Yong to the commentary.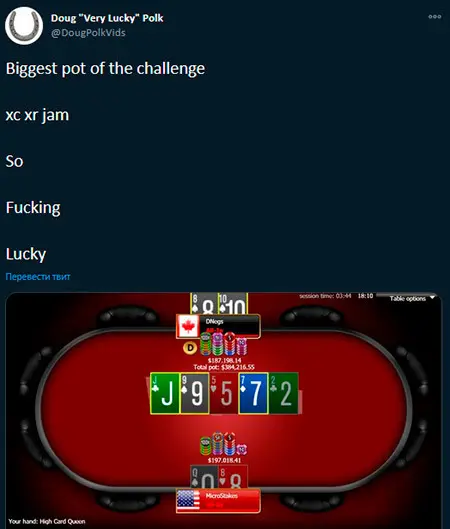 There are just over six thousand hands left to play, and now the winner's name is almost written in stone. It remains to see how much Daniel Negreanu will lose in the end or whether we will be able to make a spectacular comeback.
Advantages of our affiliate service:
Private promotions and tournament tickets on our Telegram channel;
Top rakeback deals;
Professional support on all issues seven days a week.
Contact us to get a deal and start playing now:
Stay tuned on our Telegram channel for more EV+ news