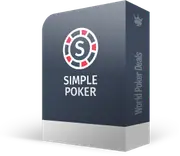 EV, GTO and Trainers
Simple Poker
Simple Poker is a website featuring advanced software for calculating optimal and operational GTO gaming strategies.
What is Simple Poker
Simplepoker.com provides professional tools for poker players seeking a higher level of understanding of the game. Here you will find preflop calculators, postflop simulators, and GTO solvers – a gentleman's set of modern reg.
Simple Nash
Free poker calculator to train push-fold and raise-fold in SNG tournaments. It can also be used for multi-table SNGs, MTTs, short stack strategy cash games, and CAP tables.
The software has wide functionality: it is an equivalent replacement for a regular ICM calculator, you can download and analyze your hands from the tracker, and the training mode is supported.
Download and run the software, click on the "Request Trial Key" button – you will receive a key in your email, with which you can use the software absolutely for free. 
Tutorial on how to use the Simple Nash software:
Simple Omaha
Solver for Omaha. Calculates a GTO strategy for two players in different post-flop situations.  
Simple Omaha is suitable for all types of PLO. It shows the EV of the hand on the postflop, calculates the optimal strategies for any scenario.  It doesn't work on Mac – Install Windows via a virtual machine. 
The software has a trial version with which you can calculate the "rivers" for free.  To use all the features of the software, you must purchase a license, the cost is $249 per year.
Simple Omaha Software Review: 
Simple GTO Trainer
As the name implies, this software is a GTO simulator. You make decisions about real poker hands, and the software shows how correct your actions are from the point of view of the theory of optimal play. The perfect tool for boosting your GTO understanding!
Lots of ready-made scenarios, as well as the ability to upload your own.  You played a hand — the software immediately shows the EV of your actions. Full integration with Simple Postflop, PioSolver Engine support. The software is perfect for solving various game situations and eliminating leaks. Doing poorly in OOP 3-bet pots? Set the appropriate scenario and go!   
License cost:
 3 months - $99
6 months - $149
12 months - $199
You can also buy an additional license for a ready-made training pack for various poker disciplines, pre-flop, and post-flop situations.
Tutorial on using Simple GTO Trainer: 
Simple 3-Way
Poker calculator. It calculates optimal postflop strategies in three-player hands.  The software shows the strategies and equity of any hand for any postflop situation. 
In the trial version, you can calculate the river for free, as well as see examples of calculations for the flop and turn.  An annual license costs $249.
Software Review: 
Simple Postflop
A calculator for analyzing the game in any way – from preflop to river. Builds an optimal strategy for two-player spots. 
It counts GTO with preflop for both No-Limit and Limit Hold'em.  Suitable for computers of different features (it is still desirable to have an Intel Core i5 processor or higher), macOS is not supported — use virtualization software. 
About the free feature: calculation of the optimal strategy for the turn and river, as well as 3 examples of counted flops and 1 calculated preflop tree.  The annual license costs $299.
Overview:
Simple Preflop Holdem
Poker preflop calculator. Calculates different preflop situations for a specified number of players (from 2 to 10). 
It calculates preflop for different poker disciplines in the ChipEV and ICM models.  Can consider the rake.  It adjusts to the power of your PC to increase the speed of processing. It calculates the optimal strategy for Fixed Limit Holdem and NL Holdem.  Not supported by macOS — this problem is solved by using software such as Parallels Desktop or Bootcamp.
The software is fully paid. The cost of an annual license is $250.
Detailed user guide: 
GTO Base
Browser application into which you can upload your hand history and analyze it for GTO compliance. It contains a base of strategies calculated in Simple Postflop and Simple Preflop Holdem solvers. 
It works directly in the browser – no need to download anything.  The calculation of the base of hands is performed in the cloud at a speed of 200-300 hands per minute, while the power of your PC is not used.
Software review:
GTO Sensei
A mobile application that will help you master the GTO poker strategies.
It works on iPhones, iPads, and Android devices. It contains a large number of training sessions with an emphasis on pumping postflop skills. The application has uploaded many GTO strategies that were calculated in Simple Preflop Holdem and SimplePostflop.
The functionality is partially free. There are free pieces of training in such disciplines as cash, multi-table tournament, and spins.
Promo video:
PreflopHero
Preflop simulator for cash, MTT, and Spin&Go.
It works directly in the browser. Available on mobile devices. It contains ready-made preflop charts that were developed by professional players, as well as an advanced chart editor. 
In the trial version, most of the functionality is reduced.  Subscription price:
1 month -$20
3 months - $45
12 months - $150
Ready-made solutions Simple Poker
The site also offers paid packages with ready-made solutions that are loaded into the Simple Postflop (7 packs) and Simple 3-way (1 pack) programs. Inside the packs – sets of GTO strategies for preflop and flop for cash, CIS, spins, and MTTs.
You just download the Simple Postflop or Simple 3-Way program and load the pack into it. Packs are paid, but you do not need to pay for the licensed version of the program itself! The strategies for preflop and flop have already been calculated, and you can calculate the turn and the river.
Among the presented packs are:
SB vs BB (SB - OOP) in Cash for $149.99
BB vs IP Raiser in 6-max Cash for $199.99
MTT LP raisers vs BB Strategy Pack for $149.99
In total, now, you can download 8 packs from the site for different scenarios in different poker disciplines. 
If you have any questions, please contact our manager. He keeps connected daily: