FreeBetRange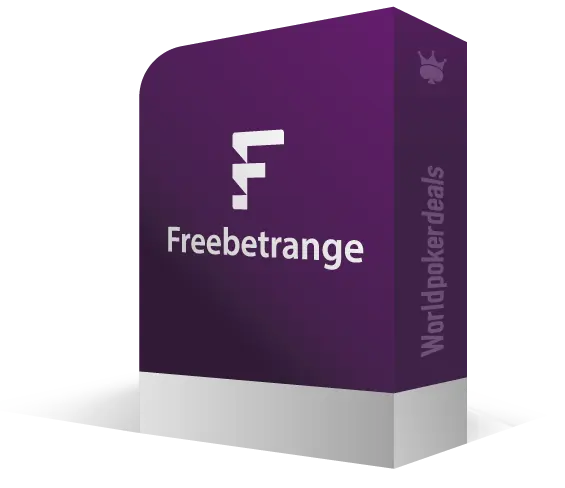 EV, GTO and Trainers
FreeBetRange
FreeBetRange is an online poker range manager. Build and apply your preflop strategy using Editor and Viewer sections. Import from Flopzilla, Equilab and solvers is available.
For Worldpokerdeals players, a 10% discount is available when entering the "worldpokerdeals" code.
Features
FreeBetRange is an online poker tool for working with preflop ranges.
It consists of two main sections:
Editor
Intuitive, powerful, fast range manager right in your browser.
You can either create your own preflop ranges configuration, get it from your friends/colleagues/coach, or import from Equilab, Flopzilla, SimplePostflop and other poker software.
Viewer
Switch to this page when you start a session. All of your previously created ranges will be displayed in a convenient form of dynamic preflop chart.
You'll need to simply click a couple of buttons to see the range you're supposed to play in a current spot.
Forget about outdated software, Excel, PDF and screenshots. Keep all of your ranges in one place - use FreeBetRange.
Video guide for working with FreeBetRange
Related software
EV, GTO and Trainers

OmahaPro

OmahaPro: The best tool for learning preflop ranges in PLO.

$45.00

EV, GTO and Trainers

Simple Poker

Simple Poker is a website featuring advanced software for calculating optimal and operational GTO gaming strategies.

$250.00

EV, GTO and Trainers

Preflopper

Preflopper — app for improving the preflop skills on PLO (App Store only).

$20.00

EV, GTO and Trainers

Oranges 6+ Calc

Oranges 6Plus Calculator — texas hold'em Six Plus hand range software.

$50.00
Review
Private clubs, rake stats, free hand histories, secret offers and more
Gambling industry news and insides, ratings of best poker rooms, bonuses, races and rakeback. The most undiscovered and fishy rooms of internet. Consulting and players' support. Working since 2013.
2013–2023. All rights reserved