888Poker grew 48% in 2020: 888 Holdings full-year report
888Poker grew 48% in 2020: 888 Holdings full-year report
888 Holdings, the parent company of the old-school site 888Poker, has shared its full-year 2020 report. The group's revenue grew 52%, and their poker B2C (Business to Consumer) product went from $43m to $63m revenue, a growth of 48%.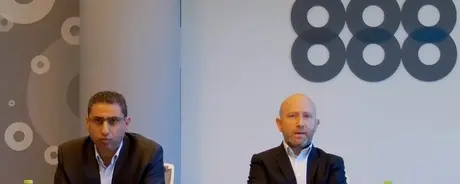 Record annual revenue
2020 was a challenging but profitable year for 888 Holdings. According to the full-year report released last week, all their brands increased their revenue with solid results. Their shareholders were one of the few in the industry in having a profit for their investments.
888 Holdings revenue shows a long-term double-digit growth profile. In 2020, the overall revenue grew 52%, with excellent results in casino (63%), poker (48%), and sport (36%). The company paid out an 18.0c dividend to its investors, 200% more than in 2019.
2020 financial highlights:
Revenue: 850M (+53%)
Adjusted EBITDA: 156M (+69%)
Free Cash Flow: 146M (+153%)
Dividend: 18.0c (+200%)
The revenue mix shows that the UK and EMEA (Europe, Middle East, and Africa) account for 69% of the total. The marketing investment remains solid at $237M (27% of the revenue).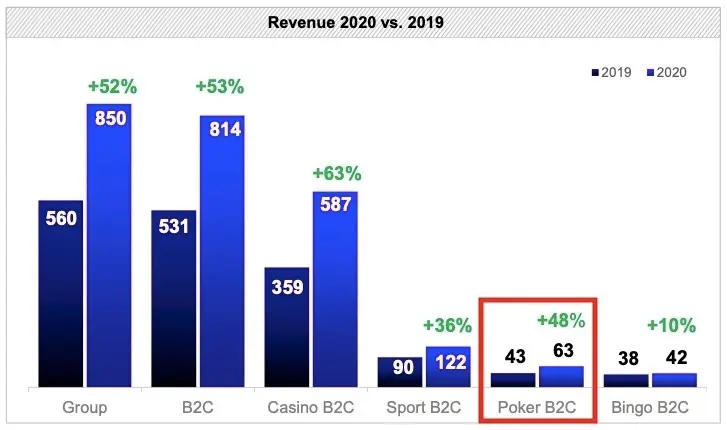 Our product-leadership strategy delivered outstanding results in 2020, with the launch of our ground-breaking Control Centre, our first-ever in-house sportsbook, and a totally new poker platform. Our focus on delivering safe, intuitive, content-rich, and entertaining products helps us deliver a differentiated customer experience and support our market share gains in key regulated markets. 
Said Itai Pazner, CEO of 888.
How about 888Poker?
Although, according to PokerScout, 888Poker is struggling to stay in the TOP10 of poker rooms in terms of traffic (currently ranked 8th as it recently surpassed partypoker), the financial results of the poker site are strong enough to say they are on the right path. 
888Poker's revenue grew 48% in 2020 ($42.7M to $63.1M). First depositors doubled after the Poker8 full launch. The poker room still represents 7.4% of the overall revenue. Nevertheless, they are still underperforming compared to 2015-2017, when the same indicators were close to $80M.
It worth noting that the second quarter of 2020 had a $23M revenue (53% of the total), highly influenced by global lockdowns. In Spain, the poke revenue increased a fantastic 92%.

According to 888 Holdings, the success of this segment of the market is thanks to the roll-out of Poker8 and a brand-new mobile platform, in October 2020. They have "redefined the recreational poker experience" by having a faster app with richer gameplay (over 100 poker formats and tables). The focus on in-game entertainment (funny avatars and emojis, throwable items) is definitely working out.
USA: focus in 2021
888 Holdings will focus on the US market in 2021. They will invest over $30M in the ongoing development of such a country. In 2020 the company secured access in 3 states: Colorado, Iowa, and Indiana, and they got licensed in Pennsylvania.
Poker8 will be rolled out in 2021 in Pennsylvania and Michigan. In January, the group extended its partnership with Caesars Entertainment until 2026, including the World Series of Poker brand.
Reach our team to find out more information about our 888Poker rakeback deal:
Telegram: @alexey_wpd
Skype: live:newbheartstoned
WhatsApp: +66658566798
Email: [email protected]
Stay tuned on our Telegram channel for more EV+ news.