Doug Polk Takes on "Jungleman" Cates in $200/$400 Heads-Up Challenge
Doug Polk Takes on "Jungleman" Cates in $200/$400 Heads-Up Challenge
Online poker legend Jungleman hopped on Polk's podcast to discuss the never ending Durrr challenge, but the two agreed to a brand new duel in the end.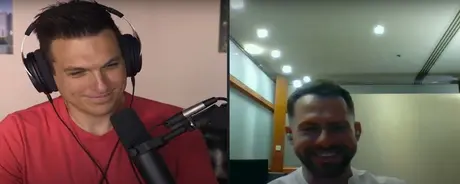 Daniel "Jungleman" Cates on Doug Polk's Latest Podcast
Polk uploaded the latest episode of his interview series on May 3. As the title of it suggests, the main topic of discussion was the guest Daniel "Jungleman" Cates' unfished heads-up challenge against Tom "durrrr" Dwan.
Dwan took on Cates in a $200/$400 NLHE online cash game challenge all the way back in August 2010. Even though the challenge was agreed to last 50,000 hands, no hands were played between the two combatants after hand #19,335 in 2013. Since Jungleman is up around $1.250 million, many in the poker community feel that he would be entitled to the $1.5 million side bet payout from Dwan. The podcast's host Doug Polk has been one of the most vocal proponents of that position.
In the latest development, Cates has confirmed in this interview that Dwan in fact has conceded the challenge, making Jungleman the official winner. He also revealed that there has been an arbitration process to resolve the issue with three unnamed arbitrators. However, despite them ruling in Jungleman's favor (although not unanimously) on the matter of the side bet, there is no way of enforcing that. Again, however, Cates also claims Dwan has already paid around $1.35 million of that sum of his own volition. 
The Latest High-Profile Heads-Up Challenge on the Way
After the two poker greats touched on a number of topics, including the latest cheating scandals in the poker world and even Jungleman's dating life, they ended the hour-and-a-half discussion with a bang.
Daniel "Jungleman" Cates agreed to play a $200/$400 heads-up challenge against Doug "WCGRidder" Polk! The match-up is set to take place on May 28, at the Lodge Poker Club & Cardhouse in Round Rock, Texas (co-owned by Polk).
The two have battled quite a lot at the HUNL high stakes tables on the now-defunct poker site Full Tilt back in the day.
This is the latest in a series of recent high-profile heads-up challenges. Lately, Polk beat Daniel Negreanu; Phil Hellmuth defeated Antonio Esfandiari and Negreanu, then lost and won one heads-up Sit&Go against Dwan; while Phil Galfond defeated a number of opponents as part of the Galfond Challenge.  
You can watch Doug Polk's interview with Junglman in its entirety below.
Stay tuned on our Telegram channel for more EV+ news.