Doug Polk vs. Daniel Negreanu: "I cannot wait to clean you out"
Doug Polk vs. Daniel Negreanu: "I cannot wait to clean you out"
The HU match between Doug Polk and Daniel Negreanu is set to kick off on November 1, 2020, at WSOP.com. Both players have engaged in an endless fight on Twitter about the use of RTA (Real-Time Assistance), preflop charts, and other topics.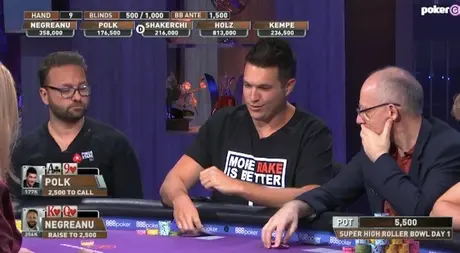 Are you calling preflop ranges RTA?: Doug Polk
On October 7, 2020, Negreanu posted that HUDs and hand histories won't be allowed in the HU match, and said he was open to discussing the use of "any RTA including charts during play."
Polk replied that he'd like to use his preflop ranges during the challenge and that, of course, no real-time solutions should be allowed.
He added that Real-Time assistance meant that the assistance changes in real-time, while Negreanu insisted that although the solvers were on another level, the use of preflop charts during play also assisted in decision making. 

Daniel added that Polk played millions of hands, he is a clear favorite, and couldn't understand why he needed the charts to play.
I won't be using a cheat sheet, and neither will you: Daniel Negreanu
Suddenly, Negreanu changed his mind and called preflop charts "cheat sheets," and not accept them. On the other hand, according to Daniel, "studying and memorizing the content of charts is a skill and should be rewarded."
Later, Doug said that his biggest problem was that working out the details with Negreanu was almost impossible and that he was deciding everything for himself. Negreanu replied that he agreed to play against Doug on his game (Daniel is an MTT pro), his platform, and his format.
Polk mocked Negreanu's expression using the term "Cheat buttons" to refer to hotkeys, in a clear reference to the "Cheat sheets." 

Daniel conducted a Twitter poll where 67,7% of the players agree that "cheat sheets" or preflop charts shouldn't be allowed during play.
Let's remind that GGNetwork is currently one of the few sites that clearly stand against the use of charts and RTA.
Other poker pros like Phil Galfond and Isaac Haxton referred to the subject. The first one said that he couldn't imagine his human HUNL preflop strategy losing to a chart and that he wouldn't follow a chart even if allowed to.

Haxton said you can write a HUNL strategy on a napkin and memorize it in 15 minutes. Fedor Holz (also sponsored by GGPoker) replied to Isaac, saying, "It's called cheat sheets."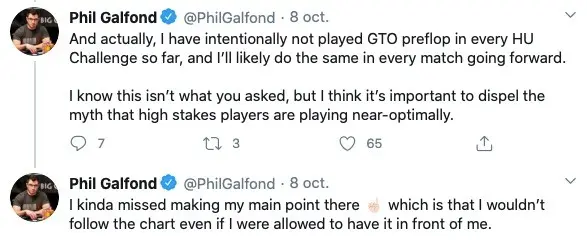 Doug Polk: odds on favorite
After all the trash-talk, Doug and Daniel agreed on the final terms, and Negreanu confirmed that he loaded $1 million into his WSOP.com account for the match. On the other hand, Polk has been playing some games $25/$50+ during the week. Yesterday he said he played 10 hours and won 100k.
So far, we can confirm the following details on the HU match:
No charts of any kind will be allowed during play;
Players will show a fraction of their hole cards;
Kick-off: November 1.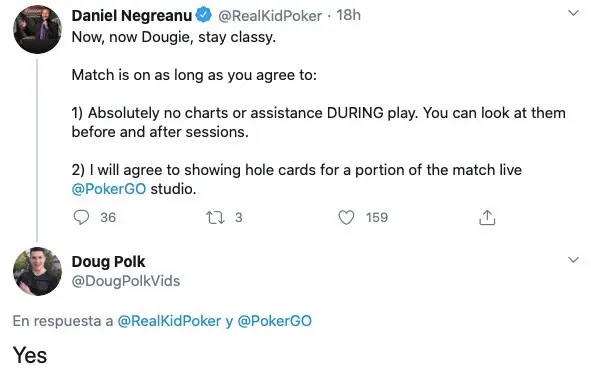 One thing is true: the heads-up match between Daniel Negreanu and Doug Polk will be one of the most exciting poker events of the last year: they are both live legends.
Currently, the odds are 1,19 for Polk and 5,00 for Negreanu, which means that the community considers Doug a massive favorite before the first card is dealt. Just for comparison, the odds for the current Galfond Challenge are 2,13 for Chance Kornuth and 1,75 for Phil.
Advantages of our affiliate service:
VIP rakeback deal;
Hand histories.
Contact us to get a deal and start playing now:
Telegram: @alexey_wpd
Skype: live:newbheartstoned
WhatsApp: +66658566798
Email: [email protected]
Stay tuned on our Telegram channel for more EV+ news