GG Network
| | |
| --- | --- |
| Bonus | 100% up to $600 |
| Rakeback | up to 60% |
Characteristics

| | |
| --- | --- |
| Room type | Licensed |
| License | Curaçao |
| Payments | |
| Platforms | |
Key facts
World's largest poker room
Millionaire monthly promotions
Action across all stakes and games
WSOP Online partner
Unmatchable MTT grid
Our ratings

| | |
| --- | --- |
| Reliability | 5.0 |
| Game selection | 5.0 |
| Bonuses and promotions | 4.8 |
| Casual players | 4.8 |
| Deposits and withdrawals | 4.8 |
| Convenience of the software | 4.4 |
GGPoker Review
GGPoker is the flagship skin of the world's largest poker network: GGNetwork. Under the leadership of Jean-Christophe Antoine, the site has become a model to follow in the gaming industry, and it is the #1 poker site in the world after winning the GGPoker vs PokerStars battle.
In this thorough review, we will expose all GG Poker secrets and make your life easy before signing up by answering the most frequently asked questions:
Why is GGPoker on the way to the top?
What makes GG Poker unique?
Is GGPoker safe?
How can I deposit and start playing?
GGPoker rakeback
Suppose you want to play at GG Poker for rakeback. In that case, we have bad news for you: the site has developed effective measures to "discourage" rake machines, and although everyone gets a piece of the cake, regs definitely get a smaller one.
Each month the site reveals new promotions in the form of leaderboards for all formats, and several jackpots are played at the cash tables (including Short Deck and All-in or Fold). Please note that most of the prizes will be paid with the "local currency" Cash Game Dollars C$.
Besides such monthly promotions, GGPoker features a cashback program called Fish Buffet Rewards.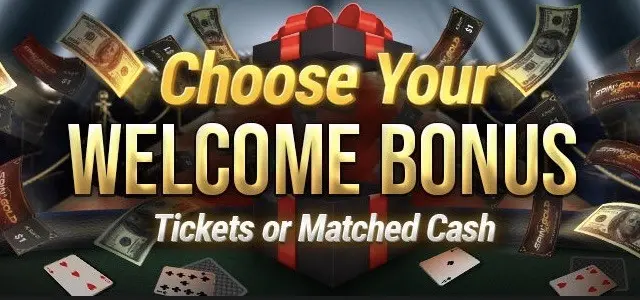 You will be able to choose one of two welcome bonuses for your first deposit at GGPoker:
100% matched bonus up to $600: paid in $5 chunks for every $20 net rake (please check PVI rake), 90 days wagering time;
Up to $100 in cash and free tickets: all rewards will expire after 30 days
Attention! You cannot clear the bonus cash at Rush & Cash (fast-fold poker) tables.
How to get the GGPoker welcome bonus?
Download GGpoker and register an account;
Deposit at least $20 and choose a bonus from the dropdown menu;
$600 matched bonus: your account will be credited with a bonus balance according to your deposit.
$100 in rewards: you'll get free tickets up to $40 during the following six days, and $60 in additional rewards for playing;
GGPoker gives up to $300 in extra bonuses for new players in the Honeymoon for Newcomers promotion.
Daily challenges will be assigned for 30 days; tasks include playing a specific number of hands or winning a jackpot. Please note that you must opt-in the client to benefit from this bonus.
Fish Buffet

Fish Buffet is a semi-random cashback program rewarding all players taking part in real money games at GGPoker. It's designed to be complex. Although it tries to attract regs with massive rakeback promotions up to 60%, the reality is that there is no way to know how much you will receive in return at the end of the day. All of this thanks to PVI rake (more on this later).
Players get Fish Buffet Points (FP) at a rate of 100 FP for every $1 "paid in rake," affected by PVI, of course. Eight levels divided into 25 ranks compose Fish Buffet. Grinders can switch to a Platinum Status, giving a "flat cashback" from 20% to 60% for the top rank: GGPlatinum. Each time you rank up, you can spin a wheel with random prizes.
| Rank | Rewards | Average Rakeback | FP Required |
| --- | --- | --- | --- |
| Platinum Fish | $1 for 500 FP | 20% | not required |
| Platinum Octopus | $1 for 285 FP | 35% | 750К |
| Platinum Whale | $1 for 200 FP | 50% | 1,5M |
| Platinum Shark | $1 for 182 FP | 55% | 3M |
| GGPlatinum | $1 for 167 FP | 60% | 5M |
Overall, Fish Buffet is a cashback program designed for casual players. It's not possible to know how much you will receive from it, even in the so-called "flat cashback" ranks, so we recommend our grinders not to pay much attention to this and just spin the wheel when the time comes.
GGPoker rake
GG Poker charges a 5% rake with caps from 0,5bb to 2bb.
Did you make a 3-bet preflop? You will pay rake too. The commission is taken preflop from all pots more than 2.5BB.
GGpoker cash games rake structure

| Stakes | 6-max Hold'em | 9-мax hold'em | Оmаhа | Rush&Cash |
| --- | --- | --- | --- | --- |
| | | | | |
| | | | | |
| | | | | |
| | | | | |
| | | $4 | | |
| | | | | |
| | | | | |
| | | | | |
| | | | | |
GGpoker cash games rake structure
No rake will be charged at the fast-fold poker (Rush & Cash) tables if the table is not complete.
About Short Deck, the rake is as follows:
At spins and MTTs, the sake is standard. Tournaments: about 10% + 0,5% of the prize as admin fee in some events.
Spin & Gold fee: 7% 
GGPoker doesn't have a friendly rake structure. Although a capped 5% commission looks ok, raking preflop pots is non-standard. It's also the only site charging "Admin Fees" in MTT series. However, many players are unaware or are just willing to pay the price to access such a massive soft field. And we have not yet started with PVI.
PVI rake
Player Value Index or PVI is a "secret formula" that redistributes the rake paid at the tables according to many situations. We have explained all GGPoker PVI rake details, but let's share some highlights here:
No one knows the real PVI indicator. The site doesn't share this information with players or affiliates
Winning regs have a lower PVI (0.1 is the lowest one), and amateurs have better ones (2 is the biggest possible)
Any behavior at the table affects PVI: deposits, withdrawals, profits, overlays, time played, skill level, games, etc.
Although we consider transparent rake structures and distribution methods better for the overall industry, GG Poker has proved that this approach does not scare players and benefits the ecosystem.
Games and traffic
Average online 100,000
Best time to play 14:00 GMT+3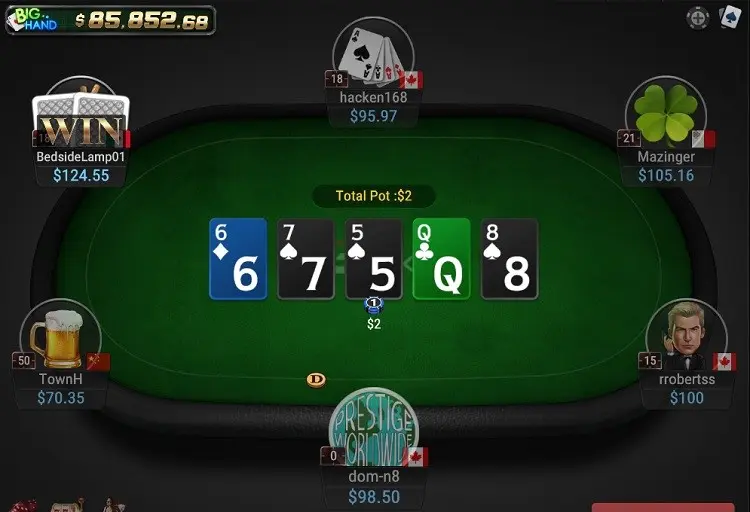 GGPoker is already at the top of online poker. It's common to see over 100,000 connections. Exciting features like straddle, run it twice, rabbit hunt, and all-in insurance are available across all games.
We highlight the presence of nosebleed games up to NL/PLO100k, a millionaire tournament grid, spin & go, and unique games like All-in or fold. All formats offered at the lobby are usually crowded by players 24/7. It's common to see over 100,000 connections.
Cash Games: Hold'em, Omaha, Fast-fold, AOF
GGPoker is one of the few sites where the Omaha poker PLO action is similar to Hold 'em. Hundreds of games are available around the clock. Every day, more poker players come to the tables attracted by the outstanding traffic indicators.
The number of tables at low and mid-stakes exceeds 100, and over 20 high-stakes games can be spotted during the peak time. VIP games are available for high rollers with $500/$1,000/$2,000 blinds.
In 2023, No Limit Hold'em 9-max tables were added (4 stakes from NL2$ to NL25$). About 20 tables are played at each limit.
Rush & Cash (fast-fold poker)
Rush & Cash is the local version of fast-fold poker, a successful format launched under the name of Zoom by PokerStars; the action is measured by the number of connections per stake. Fast-fold Hold 'em games start at NL2 to NL200, and over 500 players play during the prime time.
Rush & Cash Omaha features more than 500 connections around the clock, and it's played at the same stakes as Hold 'em.
Short Deck (6+ Hold 'em)
GGPoker is perhaps the only major poker site in which 6+ Short Deck Hold 'em has become popular. Although the traffic isn't great, low-stakes players won't have any problem finding an open seat in one of the 25 tables available. There are games available for up to $10, and the button ante rule applies. Flush beats a full house.
All-in or Fold
AoF is preferred by many amateurs who join the games looking for the non-stopping action that this game offers. The bets are placed using the "button-ante" system: all players put a mandatory bet of the same size before dealing cards, and the button pays two antes.
Games are available from NL10 to NL1,000 and PLO20 to PLO2,000; usually, more than 20 tables are being played per format.
Tournaments and MTT series

Every day the site holds dozens of regular events. In addition, the network organizes many tournament series, including unique series in alliance with recognized brands like WSOP, WPT, or APT.
All regular MTTs are divided into nine fixed groups in the client:
GG Masters — unique series of daily freezouts with buy-ins from $25 to $1,050 with over three million dollars guaranteed every week.
High Rollers — expensive tournaments with buy-ins from $525 to $10,300 and guaranteed prize pools of up to a million dollars
Daily Guarantees — daily events divided by the blind structure into four color groups. The Daily Majors guarantees $8,000,000 every week. The main event features a $75,000 prize pool for a $250 buy-in ($100k on Sundays)
MILLION$: series of four major multi-stake tournaments, including Omaha and Asian-biased (prizes in Yuan)
Bounty Hunters — tournaments with a bounty for knocking out opponents with buy-ins and guarantees for all tastes.
Omaholic — More than 50 daily PLO events with buy-ins up to $320 and guaranteed up to $20,000. Please note that the PLO betting rule will be during pre-flop play in this events, while the Omaha No limit betting rule will be applied during post-flop play.
Mystery Bounty: every Saturday a $1M GTD for $210 with a maximum bounty of $100,000. Starting flights are played throughout the week along with $15-$25 satellites.
Flip&Go: exclusive tournaments with all-in format up to the bubble.
Chinese Zodiac: a unique schedule played in CNY to attract Asian fans.
T$ Builder — poker tournaments without rake held every half hour with prizes in tournament dollars, which can be used in any other MTT of the site.
GGPoker WSOP Online Series
In 2020 GG Poker partnered with the most prestigious poker brand worldwide: the World Series of Poker, and successfully hosted the first-ever WSOP Online Series. The Main Event mixed live and online poker in a unique event in Las Vegas and Rozvadov.
All indicate the partnership was fruitful. In 2021, a new series under the WSOP Circuit brand was already played in the fall.
Spin & Gold
GGPoker launched Spin&Gold in 2020 with unique features like insurance to avoid playing the X2 multipliers and a maximum prize pool of $2,000,000. The site didn't stop there and in 2021 released 6-max Spin & Gold. Please note that regular SnG is not available at the moment.
There are 15 stakes available from $0,25 to $200, and according to our reviews, the probabilities are very similar compared to major poker sites like PokerStars.
Spin & Gold Challenge is the rakeback program where players can get up to 60% cashback by getting gold on the tables.
Battle Royale
Hybrid SnG (Flip&Go, fast-fold poker, shootout, PKO) with Dan Bilzerian's image — Battle Royale is the latest innovation by GGPoker. There are games from $0.25 to $10 and, we could summarize the game structure as a 30-max PKO SnG awarding prizes to the best 5 players (the winners take 27.40%).
Flip & Go
Flip & Go is a tournament designed for players who want to skip the pre-prizes section of the game. In the first stage, all players go all-in automatically until they are all ITM, in which the tournament switches to a regular turbo MTT structure.
Game softness
It's not easy to evaluate the traffic of a site with so many cash tables. However, we can study the overall environment considering the site's policy:
All third-party software is banned
The indirect rake distribution structure discourages rake machines
Virtually all promotions are designed for casuals
Real names are used at high-stakes tables
Comparing the ecosystem rules and our customers' feedback and profits, we can conclude that GGPoker has soft traffic overall in cash games and tournaments, except high stakes games in which it is common to find world-famous regs like Wiktor Malinowski.
GGPoker ambassadors
GGTeam is composed of several famous players:
Daniel Negreanu: Daniel was a PokerStars ambassador for more than 10 years, and in late 2019, he decided to join the GGPoker team to promote the room. Many of the ideas that Daniel publicly supports, like freezeout tournaments, have been implemented in the platform.
Felipe "Mojave" Ramos: The youngest member of the team pro and indeed the bet of the network to attract Latin American customers; Felipe is one of the best Brazilian grinders ever and has been recognized as the Most Inspiring Player.
Bertrand "ElkY" Grospellier: The French pro joined GGPoker on April 16, 2020. ElkY is a member of the exclusive Triple Crown club for winning EPT, WPT, and WSOP titles.
Fedor Holz: A German reg that needs no introduction. WSOP champion and over $30 million in profits. He was challenged by Wiktor Malinowski and triumphed in the so-called Face-Off Challenge.
In 2021 GG Poker redesigned its team pro and added new branches: TwitchSquad (Kevin Martin), OmahaSquad (Fernando "JNandez" Habegger), Short Deck Squad (Denys Chufarin), Team Brazil (Felipe Ramos), Team Russia (Anatoly Filatov), and Team China (Guo Dong).
Attitude towards PRO players
Tracking software – no.
Auto-seating scripts – no.
Pre-flop charts – no.
Bumhunt – no.
Data-mining – no.
One thing is true regarding GGPoker attitude towards professional players: it's 100% clear. They don't want "bad pros" at their tables and clearly state what they expect from regs:
To stream their games.
To promote poker in any way (blogs, podcasts, etc.)
To play following all the rules, including not using any third-party software, GTO tools like printed charts, and avoiding bumhunting and similar practices at the tables.
We have heard many histories about blocked players at GGPoker, but it seems all cases are related to infractions to terms and conditions. The Tobias Duthweiler banning case reached the headlines, but he returned to the tables even after the site seized his funds.
Software review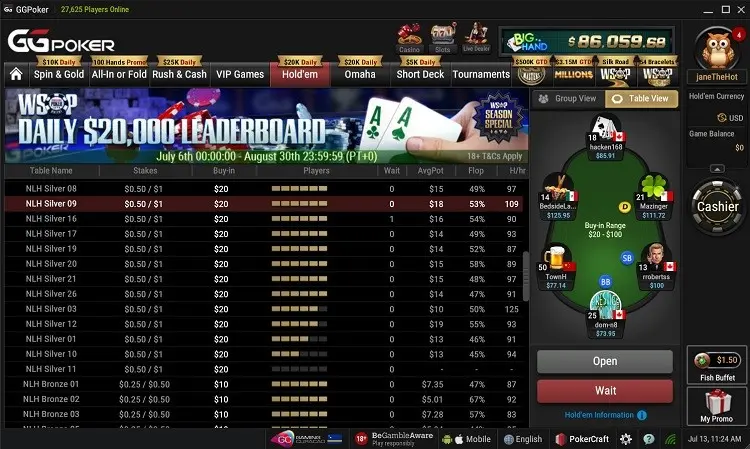 GG Poker client is available for Windows, Mac OS, Android, and iOS. The software used by all the skins is the same one (only the logos and some exclusive promotions are different), and it's a state-of-the-art poker platform that meets and even exceeds the modern requirements.
GGPoker client is powered with many exciting features:
SnapCam: share short videos at the tables
Bubble Protection: early birds will recover the buy-in if they get finish close to the bubble
Emoji: Negreanu or ElkY will dance for everyone when reaching a final table
No Look All-in: players and answer a straddle with a blind all-in
Staking: buy shares of any player for any MTT, including big series
Ask Fedor: AI-based training program
GGPoker Network prohibits the use of any additional software (trackers, automated seating tools, HUDs, etc.).
Therefore, the client has two built-in features to give more information about the game:
SmartHUD: statistics on opponents.
PokerCraft: information about your own game.
PokerCraft gives access to download your hand history. Such HH can be added to tracking software to conduct post-session reviews. Please note that GGPoker hand history deletes information about the villains, so you'll only be able to study your game.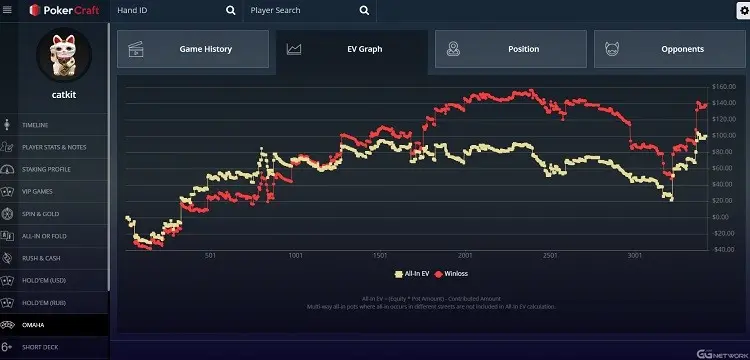 Mobile app
GGPoker has native clients for iOS and Android gadgets. The user interface is well designed and allows joining up to four simultaneous games in portrait (vertical) mode. Curiously, you'll need to reach customer service to get an up-to-date link. Apple users must install an extra profile.
What's to highlight about GG Poker mobile app? It has been polished to fit in any gadget and grants access to all games on the network (hello WPN). We could say it's an excellent copy of the PC platform.
Reliability and trustworthiness
Year of foundation – 2017.
License – Man.
RNG certificate – bmm testlabs
Identity verification – necessary.
Guarantees from WPD – no.
GGPoker is 100% a legit site. Globally they operate under a license issued by the Isle of Man, a trusted regulatory body worldwide, and for accepting UK customers, they also hold a permit from the United Kingdom Gambling Commission.
Its platform was certified by ISO 27001 (security management system), and bmm testlabs verified the Random Number Generator (RNG).
Overall, we consider you safe playing at GGPoker, but only if you play using the direct cashier; if you use agent services, you introduce unnecessary risks.
GGPoker in the USA
In 2019 GG Poker filed an application to get a license in Pennsylvania, one of the states that have legalized gambling in the US. Two years later, on February 10, 2021, such a license was granted to NSUS Group (GGPoker parent company).
This is only the first step to entering the highly valued US poker market, but we might have a surprise from the site in the following years.
Deposits and withdrawals
The poker room features a direct cashier with many options for users around the world:
| Payments | Deposit | withdrawal |
| --- | --- | --- |
| Visa | $10-$1,500 | $10-$1,500 |
| Skrill | $10-$5,000 | $10-$5,000 |
| Neteller | $10-$50,000 | $10-$5,000 |
| ecoPayz | $10-$50,000 | $10-$5,000 |
| MuchBetter | $10-$5,000 | $10-$5,000 |
| Bitcoin | $10-$50,000 | $1,000-$100,000 |
| USDC (Stablecoin | $100-$50,000 | $100-$100,000 |
*Please note that the complete list depends on your location.
Withdrawal fee: $1;
Timeframe: 1-6 days
Monthly withdrawal limit: $50,000;
P2P transfers: Yes, you need to know the email address of the account you want to send the money to. Before withdrawing the funds, the player must pay in rake at least 15% of the transfer amount.
We highlight the use of Bitcoin and USDT in the GGPoker cashier as a preferred method for its speed and availability worldwide.
Account verification (KYC)
Before requesting a withdrawal, GG Poker may ask you to verify your personal data; to do this, you must submit the following information: ID (passport, driver's license), proof of address, and Banking details.
All the process is done in the GGPoker Cashier or via e-mail. We recommend you complete this process right after creating your account to avoid delays in the future.
Customer service
GGPoker customer service can be reached as follows:
Live chat on their official website
E-mail: [email protected] or [email protected] (depending on your question)
Discord and Telegram official channels.
A comprehensive FAQ is posted at the bottom of this article and the GGPoker website to immediately solve common questions.
Conclusion: pros and cons to play at GG Poker
GGPoker will be a top choice for almost any player: regs, amateurs at any stake or game. You only need to follow all the rules, and you will be fine, no matter how big your wallet is at the end of the month. Fast-fold poker or MTT fans must definitely check this site.
Who will feel uncomfortable here? Rake machines, players who cannot play without an advanced tracker or those who don't like not knowing how much rakeback will receive. High rollers who want to remain anonymous must know that the site asks to reveal the identity at the highest stakes tables.
We identify many benefits of playing at this site:
Hundreds of games are available 24/7 in different formats and stakes.
Weak lineups, especially from Asia.
Millionaire monthly promotions.
Massive MTT grid.
WSOP Online partner.
Of course, the site has its drawbacks:
All third-party software is banned.
Secret PVI affects grinders cashback.
3-bet preflop rake.
Advantages of our affiliate service
Worldpokerdeals has been a leader in high-quality affiliate services for professional players for many years. We guarantee the best conditions and rakeback deals for our customers and have strong connections to solve any kind of issue.
At GGPoker our players receive:
Private promotions and tournament tickets in our Telegram channel.

Professional support on all issues seven days a week.
Reach our team to get more information about GGPoker room.
FAQ
✅ What are the GGPoker allowed countries?
✅ Is GGPoker better than PokerStars?
✅ Does GGPoker accept PayPal?
✅ Does GGPoker allow HUDs?
✅ Does GGPoker have home games?
✅ Can I play GGPoker in the US?
✅ Where is GG poker legal?
✅ Are there heads-up (HU) games at GGPoker?
✅ Is GGPoker rigged?