Espen Jorstad Wins 2022 WSOP Main Event for $10 Million
Espen Jorstad Wins 2022 WSOP Main Event for $10 Million
The Norwegian poker pro qualified for the event through an online GGPoker satellite.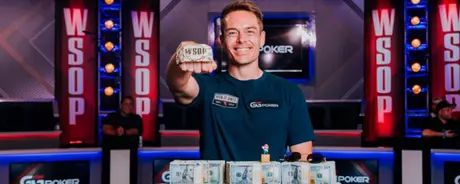 Espen Jorstad from Norway is the 2022 WSOP Main Event Champion!
The second largest field in WSOP history, 8,663 players entered the $10,000 Main Event this year. The record still holds from 2006 (8,773 players), the year Jaime Gold won.
Hao Chen had the overall chip lead after all 4 Day 1's concluded with 580,000 chips (725 BBs). Alas, that wasn't enough for him to make it into the money. We've seen many A-list casualties throughout the Day 1's, such as Daniel Negreanu, Phil Ivey, and Alex Foxen. 
Defending champ Koray Aldemir from Germany did survive to see Day 2, and even got as far as a 75th place elimination for a $101,700 cash. That is a very impressive back-to-back ME performance.
Another legend of the game, Mike Matusow, busted on Day 5 in a memorable hand. Although considered a rock-tight player these days, he 3-bet bluffed all-in on the river with Ace high. His opponent, Mikolaj Zawadzki from Poland, had a flush - however, it was only 9-high on a paired board, so it wasn't a trivial decision for him. But Zawadzki ultimately made the call. Matusow was out in 677th place with $21,000 cash.
On Day 7, we saw an incredible fold from David "Lefty" Diaz. He managed to get away from trip Queens (with an Ace kicker!) against Jeffrey Farnes' Kings full on the last street. Diaz was eventually awarded a 13th place finish and a hefty $525,000 payout.
The field got down to the last 10 players by the end of Day 7. With the elimination of Asher Conniff in 10th place at the start of Day 8, the classic 9-handed World Series of Poker Main Event final table was formed.
The 2022 WSOP Main Event Final Table Line-Up
Here's the list of the 9 finalists, in order of their starting chipstacks at the final table.
Espen Jorstad from Norway, 83,200,000 chips;
Matthew Su from the United States, 83,200,000 chips;
Matija Dobric from Croatia, 68,650,000 chips;
Aaron Duczak from Canada, 56,000,000 chips;
John Eames from the United Kingdom, 54,950,000 chips;
Adrian Attenborough from Australia, 50,800,000 chips;
Michael Duek from Argentina 49,775,000 chips;
Jeffrey Farnes from the United States, 35,350,000 chips;
Philippe Souki from the United Kingdom, 13,500,000 chips.
Attenborough and Jorstad got down to the heads-up stage, with the Norwegian holding a slight chiplead.
About two hours into the final duel for poker's most coveted title, Jorstad picked up Q2 off-suit, while Attenborough got dealt J4 off-suit. The board ran out 422 8 Q, giving Jorstad a full boat by the river. He raised to all of his opponent's chips. After 8 minutes (!) of tanking, Attenborough called with his two pair, 4's and 2's. Thus Espen Jorstad became the 2022 WSOP Main Event champion!
Here are the results for the 2022 WSOP Main Event final table:
| PLACE | PLAYER | PRIZE |
| --- | --- | --- |
| 1st | Espen Uhlen Jorstad (Norway) | $10 million |
| 2nd | Adrian Attenborough (Australia) | $6 million |
| 3rd | Michael Duek (USA) | $4 million |
| 4th | John Eames (UK) | $3 million |
| 5th | Matija Dobric (Croatia) | $2.250 million |
| 6th | Jeffrey Farnes (USA) | $1.750 million |
| 7th | Aaron Duczak (Canada) | $1.350 million |
| 8th | Philippe Souki (UK) | $1.075 million |
| 9th | Matthew Su (USA) | $850,68 |
The 34-year-old Norwegian poker pro won his first WSOP gold bracelet earlier this summer in the $1,000 Tag Team NLHE event in tandem with Patrick Leonard. Naturally, this $10 million cash is his largest live tournament score to date, In fact, before his great victory, he's only cashed for $271,872 in live events.
Espen Jorstad qualified for the WSOP Main Event through a $1,050 online satellite he played on GGPoker. He managed to almost 10,000X his initial investment!
Besides that, Jorstad posted a few months ago that his net worth received an important hit after the Terra Luna crypto fiasco (over a million dollars), and said he must battle his ego not to return to his usual high stakes soon, and that he'd play WSOP at a lower buy-in range.
Poker Glory for Norway
Norway is the 13th nation outside the United States to give the poker world a Main Event champion. Interestingly, 3 out of those 13 are Northern European countries, with the Danish Peter Eastgate winning in 2008 and the Swedish Martin Jacobson winning in 2014.
Stay tuned on our Telegram channel for more EV+ news.