Is poker dead? Over 8,000 players in the WSOP Main Event
Is poker dead? Over 8,000 players in the WSOP Main Event
Although our focus is online poker, we cannot ignore the events taking place offline, especially in summer where this year's WSOP is almost over in Las Vegas. In this article, we'll discuss the new achievements and how are these related to the development of poker in the USA.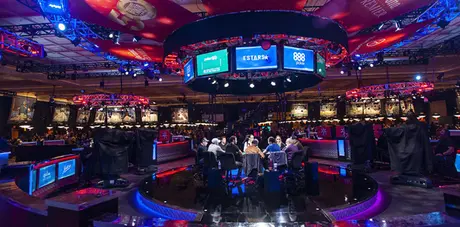 World Series of Poker (WSOP) 2019 results
Getting to the 50th edition of the World Series of Poker is an important milestone in the gambling industry. The level of popularity of WSOP and its attendance compared to previous years has always been considered by the poker community as an indicator of the state of the poker industry, not only in the USA but worldwide. Since day one, this WSOP was prepared to break records:
88 events scheduled, ten more than the previous year;
First 6+ Hold'em tournament (Event #8 $10,000 Short Deck No-Limit Hold'em) that attracted 114 players making a $1,071,600 prize pool. Alex Epstein won the bracelet and almost $300k;
The $565 Colossus tournament was replaced with The Big 50, that established a new record as the world's largest-ever live poker tournament, with 28,371 entries, almost 6,000 more than the last record four years ago. As expected, the winner of this mega-field was an unknown player: the American Femi Fashakin who took home over $1M and his first gold WSOP bracelet.
And of course, the Main Event attracted the most attention. A total of 8,569 players (9% compared to the year before) registered for this year's edition, becoming the second-largest field in the history of this tournament, only beaten by 2006 ME that draw a field of 8,773 players. As an interesting fact, Chris Moneymaker turned $80 into $20,200 after qualifying via an 888 Poker satellite and ending 687 in the tournament.
$80,548,600 is the prize pool created this year, and the winner has a $10M GTD prize. More than ten years have passed since almost 9,000 players gathered to play the Main Event:
| Year | # of participants |
| --- | --- |
| 2006 | 8,773 |
| 2007 | 6,358 |
| 2008 | 6,844 |
| 2009 | 6,494 |
| 2010 | 7,319 |
| 2011 | 6,865 |
| 2012 | 6,598 |
| 2013 | 6,352 |
| 2014 | 6,683 |
| 2015 | 6,420 |
| 2016 | 6,737 |
| 2017 | 7,221 |
| 2018 | 7,874 |
| 2019 | 8,569 |
It can also be confirmed that poker Black Friday in 2011 did not affect the WSOP attendance; in 2017 the entries surpassed 7,000 players again, and according to the results of this year, next year will likely be a world-breaker WSOP.
Conclusion
Although poker is a complex industry (regulations, artificial intelligence, etc.), it's continually evolving and adapting to the new era. This year's WSOP edition established a new record (world's largest-ever live poker tournament with 28,371 players), and only 204 players were missing to make the largest Main Event in history. Both are good signals of the poker industry status, and of course of the development of poker in the USA. Speaking online (our area of expertise), in the last couple of years, American players have seen their options to play increased exponentially:
Legal poker rooms in Nevada, New Jersey, Delaware, and very soon Pennsylvania (other states are working on legalizing gambling as Virginia or Michigan);
The US-facing networks Chico and WPN are great options to play, and even millionaire events (The Venom $5M GTD) are scheduled to be played this month;
Alternative poker rooms as PPPoker, Upoker, KingsclubPKR, and crypto poker sites (Crypto Poker Club, Nitrogen Sports) keep growing every day.
Therefore, our recommendation is to take advantage of all options available today, which on top of our amazing rakeback deals, can guarantee you a safe and comfortably grind from USA (or against American players).
Stay tuned on our Telegram channel for more EV+ news.