Independent
| | |
| --- | --- |
| Bonus | Not available |
| Rakeback | up to 50% |
Characteristics

| | |
| --- | --- |
| Room type | Agent |
| License | Not required |
| Payments | |
| Platforms | |
Key facts
Unique access to 20+ worldwide clubs
Cash games and MTTs
Top rakeback deals
Customer service and cashier 7 days a week
Withdrawals via cryptos within 24 hours
Softest clubs
Our ratings

| | |
| --- | --- |
| Reliability | 5.0 |
| Game selection | 4.8 |
| Bonuses and promotions | 4.5 |
| Casual players | 4.7 |
| Deposits and withdrawals | 4.5 |
| Convenience of the software | 4.0 |
PPPoker Review
PPPoker pioneered a class of mobile poker applications that gave online poker its "second youth" in the late 2010s.
Initially, it was a play money platform for playing with friends, where everyone can create a private club (as in PokerStars's Home Games), host cash tables or tournaments, and invite buddies.
Conceived for playing with virtual chips, PPPoker quickly became famous as a venue for real money private games. The chips got real denominations, and all the financial responsibility with players fell on agents' shoulders — the promoters and cashiers of the club.
Interesting fact: PPPoker itself has nothing to do with private games and is not responsible for them. This is crucial to understand in order to consciously assess the possible risks in the game.
Disclaimer: 
PPPoker is an online social gaming platform and does not provide any real money service;
Any monetary value indicated in this article is solely and exclusively endorsed by the respective club host.  
In this review, we will cover:
How PPPoker changed online poker?

How to choose an agent and not get caught by a scammer?

What is the advantage of playing in the app compared to regular rooms?

Does it worth taking a shot?
What is the difference between PPPoker and regular poker rooms?
In regions where online poker is restricted by local laws, the game is usually played in underground clubs and home games. The management of such sites is always associated with high costs and risks for their owners.
The rising of applications like PPPoker has massively switched players from underground to online. Why?
PPPoker offers both grinders and game hosts an experience as close to live as possible, but without much of its drawbacks. Recall its core — an underground gambling site that has moved to the Internet.
Some games are closed just for known players and cash payments without disclosing any personal data. No cash, no smoky basements, no police raids.
Players got a friendly mobile interface, no predatory regs, the ability to quickly transfer a few buy-ins to a familiar agent and start playing in familiar environments in a few minutes.
Entrepreneurs from Asia and America were among the first to transfer their clubs to the virtual platform.
The big ones began to form unions (like poker networks) like the usual Chico Poker, iPoker, and WPN. Top alliances unite thousands of players, and the total PPPoker traffic, according to our calculations, now surpasses partypoker.
But, let's talk about everything in order.
Clubs and Agents — How does PPPoker work?
There are hundreds of PPPoker clubs from all over the world.
Brazil, Mexico, United States, Russia, Singapore, and a large etcetera. Over the past 3 years, many of them have grown into large companies with games running 24/7, featuring action from low to high stakes.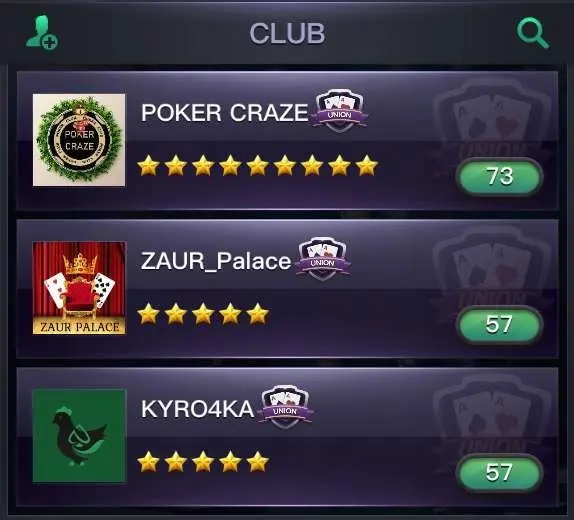 Key features of the PPPoker gaming field:
The ability of opponents is much, much lower than in regular rooms and is closed to live games.

All tables are arranged vertically, the client is tailored for mobile devices.

Third-party software (HUD) is available to display statistics in real-time.

Deposits and withdrawals are made through ana gent using cryptocurrencies and other payment processors through personal P2P transfers.
Naturally, in the absence of regulation and relationships built on trust, there have been and continue to be numerous cases of fraus from unscrupulous promoters.
We at Worldpokerdeals can recall at least five high-profile cases of agents disappearing with players' money.
In order not to become a victim of a scammer, it's crucial to be extremely scrupulous in choosing an agent. Large affiliates will be able to offer a comfortable service with financial insurance against possible major fraud.
Bonuses and promotions
As we wrote at the beginning of the review, PPPoker is not a centralized poker room but rather a platform in which private companies operate. Due to this, loyalty programs and promotions are held only within them.
Besides closed games, which can be accessed only with an invitation, PPP also has a general lobby (Global lobby tab) with play money games. Several prizes have been awarded on these "casual" tournaments":
Phones, tablets, and other gadgets.

Tickets for PPPoker live series in Europe and Brazil.

Satellites for tournament series, such as PPST.
Some hosts offer deposit bonuses to their players, but for the most part, rakeback is popular.
Bad beat jackpots
In many large PPPoker clubs, you can find jackpot tables. The mechanics of such promotions, which are well known to casino players, are traditionally liked by amateurs, adding excitement to the gray days of grinding. The jackpot is awarded for a significant bad beat and starts with four of a kind.
$1100 Bad Beat Jackpot — Four of a kind vs. Royal Flush.
1bb from each pot at such tables is deducted to feed the jackpot pool and accumulated until the next hit.
PPPoker rake
The rake in PPPoker is set by the host and is usually 5% capped at 3bb. However, in some cases, the administrator may set a higher commission.
A no-flop/no-drop system applies to charge rake. Thus, no fee is charged preflop.
PPPoker rakeback deal
Just like in traditional poker sites, rakeback is available to PPPoker players. Its percentage depends on the specific club and ranges from 10% to 50%.
For rakeback conditions in 25+ unions, contact our team:
Let's summarize
Members of private games have access to impressive rakeback deals of up to 50%. Given the transparent rake structure and extremely weak field, in our opinion, this is a very decent indicator. Casual players will also enjoy the bad beat promotions, satellites, and smartphone raffles.
However, due to the isolation of clubs and unions, the room does not hold large promotions, and a deposit bonus is not available.
Games and traffic
Average online 20-30 000 players
Best time to play 24/7
As of 2021, our setup has 5,000+ active tables available throughout the day in Asian, American, Indian, and Brazilian clubs.
The main disadvantage for grinders is the lack of a shared lobby of tables from different clubs. To find a suitable game, you will have to log in to each separately and monitor its traffic.
The largest unions in terms of cash traffic:
Pinoy Donks (Philippines).
Liga Suprema (Brazil).
PPPFish union (Australia).
It's important to mention that recently many clubs have switched from PPPoker to alternative Upoker and Pokerbros. This affects overall traffic, but the app is still top-rated in Brazil and many Asian countries.
Cash games: Hold'em, Omaha, 6+, 3-1 Hold'em, AoF
Hold'em and Omaha are the most popular games in almost all alliances.
| stakes | tables | stakes | tables |
| --- | --- | --- | --- |
| NL10$-50$ | 279 | PLO10$-50$ | 340 |
| NL50$-100$ | 58 | PLO50$-100$ | 81 |
| NL100$-300$ | 34 | PLO100$-300$ | 47 |
| NL300$-500$ | 19 | PLO300$-500$ | 28 |
| NL500$-1K$ | 8 | PLO500$-1K$ | 15 |
| NL1K$+ | 4 | PLO1K$+ | 10 |
About Omaha, besides the standard PLO4, its five-card version is popular. And in many clubs, it even surpasses the regular PLO in traffic. Chinese poker (OFC) is also quite active, especially in Asian clubs. The game is played at stakes from $0.1 to $10 per jackpot. 6+ Hold'em, surprisingly, is not very popular at PPP. Low-stakes action is barely seen.
PPPoker launched 3-1 Hold'em tables in late 2020, a unique format in which 3 cards are dealt preflop, and one must be discarded. All-in or Fold cash tables became available in 2021, following a trend across major poker sites.
PPPoker Tournaments: MTT, SnG, and Spin Up
If at the very beginning of its journey PPPoker was mainly about cash games and small SnGs, with the growth of the number of players, tournaments with significant guarantees ($50k, $100k, $200k, and even $500k) began to appear.
The most important alliances for MTT players:
PPPfish (Australia).
Liga Suprema (Latin America).
PPPoker hosts the PPST (PPPoker Super Tournament) series. Unlike private games, such festivals are available to players of all clubs.
To summarize
The total cash traffic at PPPoker can be compared to the top networks: games can be found at any stakes, and all games except for spins and fast-fold poker. Tournaments are also booming.

The main drawback is the need to search for tables separately in each club without a common lobby.
Softness of the field
The main and most potent argument in favor of playing at PPPoker is the soft lineups in most alliances. Unlike classic rooms, you can easily find tables with 3-4 amateurs. The primary audience is live poker players.
Of course, not all clubs are equally good. Hence, Asian unions suffer from a "registration," and Brazilian ones, on the contrary, are the most profitable.
Attitude towards PRO players
Trackers – no.
Auto-seating scripts – no.
Mining – no.
Bumhunt – no.
Most unions in PPPoker, like traditional poker networks, somehow keep an eye on their "ecology," that is, the ratio of amateurs to professionals. Clubs that bring only grinders are subject to fines and sometimes get excluded from unions.
Considering that Worldpokerdeals serves customers from Latin America, the USA, and Europe, we can accept casual players and regulars.
In the past, there were cases when PPPoker itself blocked winning grinders, but now the application management has left all control in the hands of the union owners.
The use of real-time statistics via hand converter was previously strictly prohibited since the application has its own built-in HUD, which can be bought in exchange of a "donation." Now the attitude towards this is softer.
To summarize, PPPoker is one of the juiciest sites in terms of the number of casual players at the tables, mainly due to the Brazilian alliances.
PPPoker software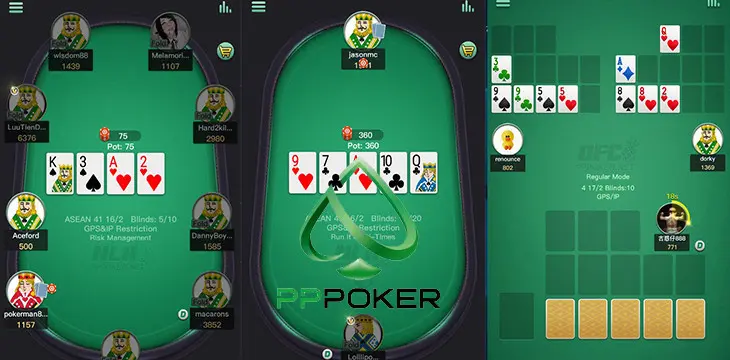 PPPoker client software was created under the influence of Chinese poker rooms. The main innovation was the vertical display of tables, which allows you to play with one hand.
Subsequently, the client has experienced several updates and is currently relatively stable.
Players can monitor personal statistics (cash and MTT) and the stats of opponents using a HUD. To do this, you need to purchase a black card at the in-app store, which will allow you to display VPIP, PFR, 3-bet, etc.
You can buy it for diamonds, which are something like the local currency. Diamonds themselves are bought in the same store for cash.
PPPoker on PC: Windows client vs. playing through emulators
PC players can choose from two options to grind:
Via the official Windows client.

Through an Android emulator.
Given that the latest version of the Windows client supports multi-tabling and simultaneous play in several clubs, we recommend using it.
PPPoker HUD
To use real-time statistics from Hold'em Manager, PokerTracker, DriveHUD, and Hand2Note, you can use the PPPoker HUD. This is a special hand converter — a piece of software that downloads hand history in a format that trackers understand.
Several converters are available to our players at special discounted prices.
PPPoker software is convenient and stable when playing from a mobile phone. On the contrary — players who want to grind from a PC will have to get used to a non-standard table layout and an interface sharpened for gadgets.
Reliability
Established – 2016.
License – no.
RNG certificate – Gaming Labs.
Identity verification – no.
Guarantee from WPD – yes.
PPPoker is a platform for playing with virtual chips. There is no gambling license for such poker rooms. All financial relations between the player and the host are based on mutual trust.
RNG (Random Number Generator) was audited by the independent Gaming Labs laboratory, which is acceptable.
Teamplay (collusion), unlike Chinese rooms, is not a common problem here. There is a global security service, and the most popular unions also have check game integrity with their own team.
From our experience, there were only a few complaints of collusion in 5 years of work, and in all cases, the perpetrators were punished with the confiscation of the funds.
An important advantage of playing with us is a full (in some cases — partial) guarantee against any force majeure with payments.
Although PPPoker is not a licensed poker room, today, it's possible to grind with a reasonable security degree, thanks to a conscious choice of clubs and the reputation of your affiliate.
However, you should always be aware of possible risks, especially when playing from little-known agents.
Deposits and withdrawals
Since PPPoker is not a poker room in the usual sense, all financial transactions are processed through agents. Above, we have already described how this system works.
The available wallets for deposits and cashouts depend on your agent. The most common payment method is cryptocurrencies.
| payments | Deposit | Cashout | Time |
| --- | --- | --- | --- |
| Bitcoin | from $100 | from $1 | up to 24 hours |
| Skrill | from $100 | from $100 | up to 24 hours |
In general, in-app transfers leave much to be desired, especially for players who can play at licensed poker rooms with wallets like Skrill, Neteller, and ecoPayz.
Summing up: pros and cons of playing PPPoker
For many players, the new gaming concept introduced by PPPoker clubs and agents can be a challenge at first, but after a while, many benefits arise:
Many games at a level of top rooms.

Casual players from the USA, Asia, and the Middle East.

Variety of formats and stakes.

High rakeback up to 50%.

PC client with multi-tabling capability.
On the other hand, a few cons can be identified when playing at PPPoker:
Unusual club system.

Lack of direct cashier.
PPPoker is the first club app that started the spread of mobile poker rooms. The games at PPP can be safely recommended to all live poker players looking for extra EV.
The app also suits regs who want to play with low variance and are ready to grind with a client optimized for phones.
Benefits of our affiliate service
Worldpokerdeals has many years of experience in the market of professional affiliate services for players worldwide. Our manager will provide you with the best service and deals in any poker room.
PPPoker players have access to:
Bankroll guarantee

Access to the softest PPPoker unions and clubs, including Brazil

Up to 50% rakeback

Support for players seven days a week

Fast and reliable withdrawals
Any more questions about playing PPPoker? Write with any questions. We are online seven days a week!
FAQ
✅ Can I play at PPPoker from the USA, United Kingdom, Australia, Canada, India?
✅ Is PPPoker legit or a scam?
✅ Can I play for free at PPPoker real money clubs?
✅ Why should I trust Worldpokerdeals?
✅ How many bonuses can I get when I register on PPPoker?
✅ What is the maximum rakeback I can get in a PPPoker?
✅ Is PPPoker safe?
✅ Who owns PPPoker?
✅ What is the rake at PPPoker?