Is PokerBros Rigged? Honest affiliate opinion
Is PokerBros Rigged? Honest affiliate opinion
One of the most common questions that poker affiliates get every day is whether a poker room is rigged or not. This is even more prevalent in club-based apps because those rooms aren't backed by large gambling holdings like PokerStars. This article will check in detail the PokerBros app and conclude if it's rigged or not.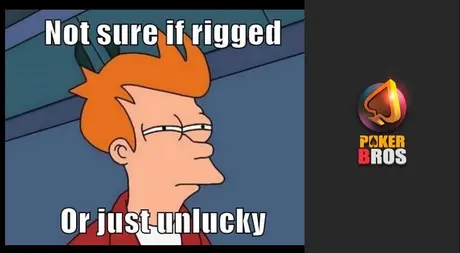 Disclaimer 1: PokerBros is an online social gaming platform and does not provide any real-money service.
Disclaimer 2: PokerBros is not a sponsor of or in any way involved with this promotional activity, nor does PokerBros endorse it.
Is PokerBros rigged?
Let's get into the matter. The short answer is: there is no single piece of evidence that PokerBros is rigged. We have several reasons to say this:
PokerBros is one of the few poker apps showing up-to-date RNG certificates from two recognized external companies;

Our players have massive results, and chips are returned around the clock;

PokerBros is only a play-money platform; the developers won't have a real benefit of rigging-up the app.
Since online poker launched over 20 years ago, there has always been a debate on whether is rigged or not.
A 2+2 thread on this has over 90k replies and was opened in 2008. There is no poker room free of this controversy, but most of the accusations are only heavy downswings.
PokerBros RNG
On the PokerBros website, there are three logos to RNG certificates, boosting the app's trustworthiness. Only two of them lead to a document, so we only consider valid this:
iTech Labs: certificate issued on December 31, 2019;

Gaming Labs: certificate issued on July 29, 2019, and valid until 2021.
Having an RNG certificate is crucial for a poker room because it proves that their shuffling algorithm is totally unpredictable.
Can people cheat at PokerBros?
People can cheat at any poker room. We are not trying to scare you, but unfortunately, it's a reality in the online poker industry.
The main difference lies in sites that care about cheating and those who don't care. And we can say that PokerBros takes the game fairness seriously.
Game Integrity Bros is a team composed of 14 industry experts that continuously monitor the games and use advanced tools to catch cheaters, bots, real-time assistance, etc.
According to a GBI representative, PokerBros has banned over 1,000 bot accounts until October 2020.
Can PokeBros be hacked?
The answer is similar to the last question. Virtually any software can be hacked, but when talking about online poker rooms, the critical thing is to download the gaming client from the official website and to keep your computer clean of viruses.
The certified RNG is also proof that games at PokerBros are not rigged, and the shuffling cannot be hacked.
Our players get:
Professional advice on choosing a club and installing software;
Free chips transfer between clubs;
Multilingual support seven days a week;
Funds fully guaranteed in case of any problem with the club;
Discount in HUD and hand converter;
Top deal.
Contact our team to get more details about our PokerBros unique deal: