PokerBros launches Mystery Bounty Tournaments
PokerBros launches Mystery Bounty Tournaments
Author
Vargoso
Published
11/26/2022
Updated
11/27/2022
The Mystery Bounty tournament format continues its trend across the online poker industry. After being launched in top rooms like GGPoker and 888Poker, such MTTs can also be hosted in one of the most popular poker apps — PokerBros. We will share all the details in this article.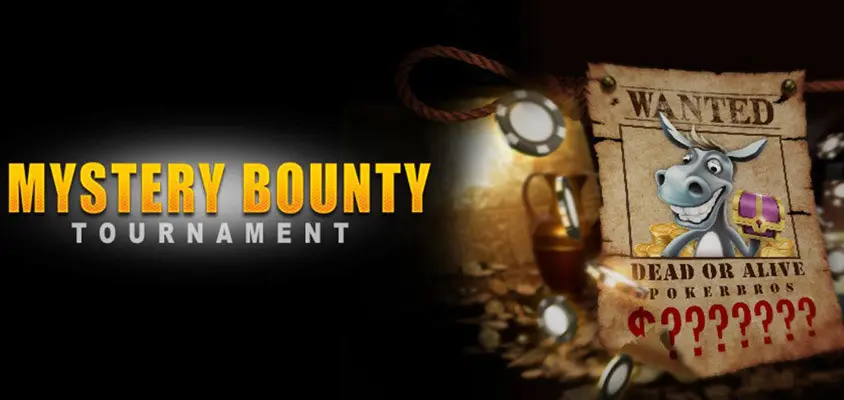 Mystery Bounty goes mobile
Mobile poker apps have been developing their tournament grids for a long time and have always tried to stay up to date with the latest novelties. Therefore, launching the most successful development in the MTT area was only a matter of time.
From November 2022, PokerBros club administrators can create Mystery Bounty tournaments.
You can find them in the lobby by a tag on the event plate. 
How are Mystery Bounty MTTs played?
The first phase (The Early Phase) runs like a regular tournament. Its duration is always longer than the late registration period when players can re-enter at least 3 levels of blinds.
The second phase (The Mystery Phase) means the start of random bounty payments for each knockout. From this moment, players will have access to the structure of the Mystery Bounty fund in the MTT lobby and the amount of the biggest payout.
Based on the calculations provided by the room, there are six payment levels. The minimum one has a 50% probability. The two biggest bounties drop only once, and the TOP one accounts for about 30% of the prizes for knocking out villains.
Mystery Bounty tournaments are here to stay, and PokerBros jumping into the hype appeals to poker fans, positively impacting the field.
Benefits of our affiliate service:
Top deal.
Free chips transfer between clubs;
Multilingual support seven days a week;
Chip guarantees
Discount in HUD and hand converter;
Contact our team to get more details about our PokerBros unique deal:
Telegram: wpd-support
Skype: wpd-support-skype
Email: [email protected]
WhatsApp: +905430740558
Stay tuned on our Telegram channel for more EV+ news
Review
Private clubs, rake stats, free hand histories, secret offers and more
Gambling industry news and insides, ratings of best poker rooms, bonuses, races and rakeback. The most undiscovered and fishy rooms of internet. Consulting and players' support. Working since 2013.
2013–2023. All rights reserved