Independent
| | |
| --- | --- |
| Bonus | Not available |
| Rakeback | n/a |
Characteristics

| | |
| --- | --- |
| Room type | Agent |
| License | Not required |
| Payments | |
| Platforms | |
Key facts
Best mobile platform
25+ unique clubs in our set
Chips guarantee
Ring games and MTTs around the clock
Personal support
HUD and multitabling
Our ratings

| | |
| --- | --- |
| Reliability | 4.0 |
| Game selection | 4.7 |
| Bonuses and promotions | 4.0 |
| Casual players | 5.0 |
| Deposits and withdrawals | 4.0 |
| Convenience of the software | 4.2 |
PokerBros review
PokerBros is a state-of-the-art club-based poker application launched in 2019, evolving after PPPoker and Upoker success. The most distinctive feature is its graphical design and many customization options available to the users. Thousands of players from different countries gather at the tables. The application is trending among citizens of the United States and Latin America.
The site has retained the basic principles by which all other clubs-based apps work: outwardly, it's only a platform that allows anyone to host an online poker game for "toy currency."
PokerBROS is an online social gaming platform and does not provide any real money service.

PokerBROS is not a sponsor of or in any way involved with this promotional activity, nor does PokerBROS endorse it.
We will cover in this review:
Is it safe to play at Poker Bros?
How to avoid becoming a victim of scammers?
Is it more beneficial to grind in the app than in traditional rooms?
Is Poker Bros the right site for me?
What is the difference between PokerBros and regular poker rooms?
All club-based apps operate under the same model: all games are held in private clubs and only available to invited players. From the exterior, it looks like a play-money game. For making chips transactions, everyone uses the service of private agents — promoters of a club. You don't need to verify your account, there are no common lobby tables, just a few regulars, and you can safely play with your friends and challenge your poker skills.
The second important factor is the focus on mobile gaming.
It's no secret that online poker fans prefer to join the tables in the comfort of their home, sitting in a coffee house or bar rather than at a PC. PokerBros has created a user-friendly interface for playing anywhere from a mobile, with one hand, a combination that has reached amateurs' hearts.
However, each app has taken different paths and focused on different markets. Here is a list of the main differences between PokerBros and other club-based poker apps:
PokerBros does not offer a PC client (more focus on mobile players)
PB is widely developing across the United States
Unique portfolio with Fixed Limit games
Now let's talk about agents and clubs.
PokerBros clubs and agents — what's the deal?
There are hundreds (if not thousands) of PokerBros clubs worldwide — Brazil, Mexico, USA, Russia, Singapore, etc. Over the past 2 years, many of them have evolved into large companies with games running 24/7, offering from the lowest to the highest stakes.
Each club is an independent small poker room.
As we mentioned at the beginning of this review, players must contact a PokerBros agent to access and handle chips.
Let's analyze how this works with an example:
After working with the customer, the agent loads the gaming account according to the agreed amount. When a client wants to stop playing, he contacts his middleman again, requests the desired amount, and then, chips are deducted
It is crucial to be extremely careful when choosing an agent and work only with trusted people.
Contact us to get more information about our agency and a complete list of 20+ unique alliances. We are online seven days a week!
Bonuses and promotions
A welcome bonus is usually not available because PokerBros is not a poker room in the literal sense, but only a private poker games platform (sort of poker community) on which private hosts operate clubs.
Non-real-money customers have a reward system with poker bonuses on-site, just line in any other casual app, with prizes in the form of gold chips for opening the app daily (Daily Tasks) and other fun activities.
These virtual coins can be spent participating in global play money tournaments, satellites for live events, and events where small gadgets are given away.
But let's go back to private clubs working with players.
Jackpot up to 50,000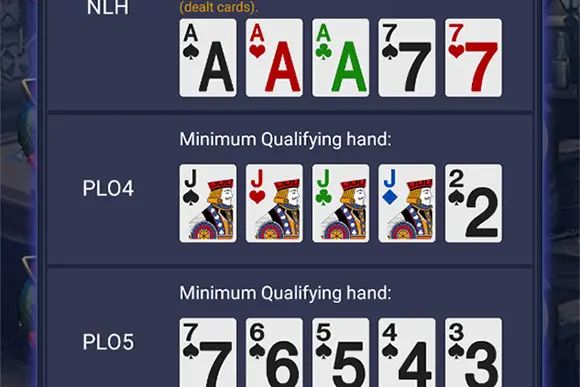 All ring tables across PokerBros clubs participate in the jackpot promotion; the prize pool can be seen above in the table. It is triggered if one of the players loses with a strong hand at a table with at least 4 seats occupied and a pot size of at least 10bb:
NLH — loss with a full house of aces+
PL4 — loss with four jacks+
PLO5 — loss with a straight flush+
The share of the jackpot paid to the winners depends on the stakes and ranges from 15% to 85%.
Games and traffic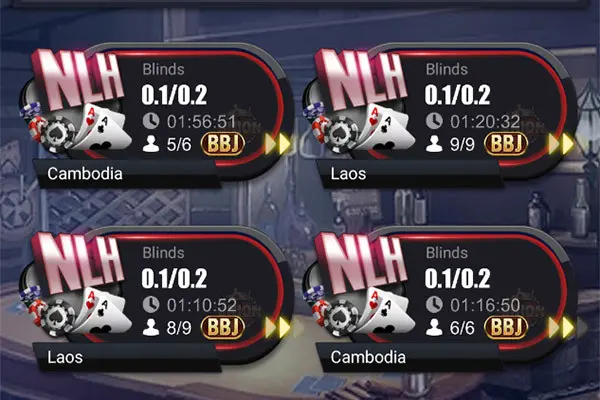 Average online 20-30000 players
Best time to play Evening in Central America
As of 2022, 20+ unique PokerBros alliances are available in our selection. There are hundreds of active ring tables and dozens of tournaments around the clock. The best and most beneficial time to play is in the evening (or even better — weekend evenings) in Central America. But this is not critical: you can find a good game at any time of the day.
The following formats are available:
Texas Holdem: most of the ring games at PokerBros are held in NLH at stakes from NL10 to NL1k; higher tables (NL2k—NL5k) are created occasionally.
Omaha: several PLO options from 10 to 1k with high stakes action up to PLO5k.
MTT: dozens of daily MTTs are played up to several tens of thousands of chips guaranteed.
OFC: there are also OFC tables with jackpots up to 20 and 6+ Hold 'em
Ring games: Hold'em, Omaha, OFC and Shortdeck 
Omaha and Hold 'em are, as usual, the most popular games at PokerBros. The approximate number of tables in our set is as follows:
| Stakes | Tables | Stakes | Tables |
| --- | --- | --- | --- |
| NL10-50 | 68 | PLO10-50 | 64 |
| NL50-100 | 45 | PLO50-100 | 42 |
| NL100-300 | 30 | PLO100-300 | 31 |
| NL300-500 | 21 | PLO300-500 | 25 |
| NL500-1K | 14 | PLO500-1K | 15 |
| NL1K+ | 9 | PLO1K+ | 12 |
Some interesting facts:
Besides the standard PLO4, its five-card version is also popular. In
many clubs, it even surpasses the regular Pot-Limit Omaha traffic.
Chinese Poker (OFC) is not very active, but you can find games up to 10 per jackpot in some clubs.
6+ is not trending. A rare action can be found occasionally at low stakes.
To decide on the best site to play at your stakes, contact our manager — we constantly monitor the game and tell you the fishiest options.
Tournaments: MTT, SNG
MTTs at PokerBros began to gain popularity along with the growth of the largest American unions: Diamond and Sapphire. They are united in a super-alliance and have a huge player database, which allows them to hold series with up to 500k guaranteed.
In addition to American unions, massive tournament series are also held in Brazilian clubs, and there are also small regular MTTs on almost every site.
To summarize:
Hundreds of ring tables are played daily at PokerBros in both Hold 'em and Omaha (4/5/H/L), and dozens of MTT events are held around the clock. Asian OFC and Short Deck are not very popular, but otherwise, the choice of the game allows us to give the highest rating to the room.
Softness of the field
We are regularly asked: "Why would anyone even play in these apps if there are normal rooms?
The answer is: because such soft lineups cannot be easily spotted in a regular room. With Worldpokerdeals attracting amateurs from the US, Europe, and Latin America, our players have access to the fishiest PokerBros unions.
The main market of the app remains in the United States, where thousands of players returned to online poker after Black Friday, thanks to the agent system.
The second most important country is Brazil, where the poker boom is now taking place after Asia.
Attitude towards PRO players
Trackers
Bumhunt
Auto-seating scripts
Preflop charts
Mining
In general, the attitude of most clubs towards regulars can be called loyal. Banning professional grinders is extremely rare.
At the same time, key American alliances are somewhat stricter, and an agent who does not monitor poker ecology (that is, the ratio of winning players to amateur) can be expelled for "poor performance."
We must say that in recent years, the rules of ecology have affected both large networks and mobile applications; the management seeks to protect their casual players: without them, games won't exist at all. The use of trackers is not welcome but is not strictly prohibited. We have not met any bans due to this and playing against weak opponents (bumhunting).
The rules don't mention anything about preflop chars, which means they are not prohibited. Mining is not allowed in any way, except for hands played by yourself.
To sum up:
Thanks to the agency system and the demand from many players, PokerBros managed to become one of the most popular online poker sites in a relatively short time.
In the meantime, the unusual software and the complex process of adding chips scare off most regulars; hence, the room remains one of the softest fields.
PokerBros software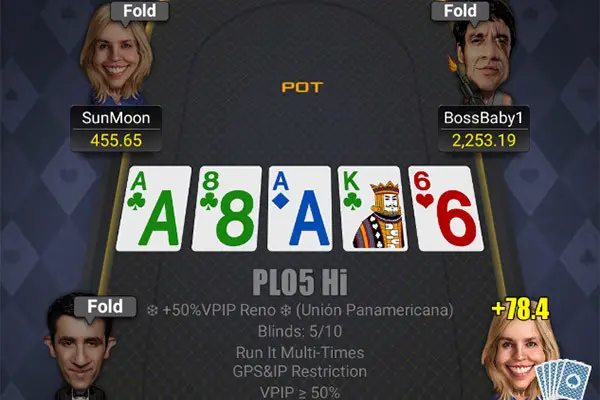 PokerBros software is the most advanced of all other mobile poker applications. It was created influenced by Chinese rooms, but many of the interface ideas have been revisited and improved. You can choose from 6 table themes, a bet slider function, and multi-tabling from 1 account to 4 tables.  Convenient backend for managing, setting up ring games, MTT, etc., also please club owners and agents.
PokerBros on PC
At the moment, there is no Windows or macOS native application for playing Poker Bros on a PC, so the only option is to use an Android emulator. We recommend downloading the latest version of LDPlayer. You will need a powerful PC (at least i7 with 16GB or 32GB RAM) to play at 4 tables.
However, Apple users with M1 computers (last generation) can play directly on their Macs without installing anything due to a new cross-platform compatibility feature.
PokerBros HUD
To display statistics from PokerTracker, Holdem Manager, Hand2Note, and DriveHUD, players use one of the hand converters available on the Internet. Our customers get a special discount for this piece of software.
Bottom line
The main drawback for players who are used to grind from a PC will be installing the Android app using an emulator and increased hardware requirements. Otherwise, the client is stable, modern, and flexible for customers and club owners.
Reliability
Year of foundation – 2019.
License – no.
RNG – Gaming Labs, BMM Test Labs, and iTech Labs.
Identity verification – no.
Guarantee from us – yes.
PokerBros is a platform for playing virtual chips, which means they need no gambling license
PokerBros RNG (Random Number Generator) has been tested by three independent laboratories: Gaming Labs, BMM Test Labs, and iTech Labs concluding it's 100% legit.
The problem of bots is common to the online poker industry, and PokerBros is a pioneer in fighting against cheating. The company has a security service, the Game Integrity Bros team, consisting of programmers and experienced players who use algorithms and manual controls to identify bots and block them.
Also, we at Worldpokerdeals are actively involved in the fight against fraudsters, and we also offer a chips guarantee for our players. Contact our manager to find out more information on what methods we use to protect the interests of our customers.
The lack of a gambling license is certainly a drawback in the reliability indicator of any room. On the other hand, we know that many rooms licensed in Curacao repeatedly violated the terms of the licenses, and the regulator ignored requests to it. However, a certified RNG, our cooperation with the security service and financial guarantees, makes up for this.
How can I load chips on PokerBros?
Since PokerBros operates on a P2P system, all play money chips movements are carried out through the club's agents, there is no in-app cashier. The available methods on your agent; the chip currency also changes. 
For example, with Worldpokerdeals the process is straightforward:
Reach our customer service via Skype, Telegram, WhatsApp, to get advice on the best PokerBros clubs
Follow the instructions to start playing fast
Why should you play poker at PokerBros?
Club-based apps are the future of the poker industry. Hence, playing at PokerBros is only natural for those wanting to jump into the hype, with the obvious benefits like enjoying boosted soft traffic. Here are some strong reasons to plat at PokerBros:
You like to play "on the move" with your phone
You have a trusted agent to process all your needs
You live in a "gray" country and cannot access major rooms
However, PokerBros app is not for everyone; for example, we don't recommend it for:
Players who value playing on licensed sites
Grinders need the best software
You don't like having to explore many independent clubs
Overall, you're missing EV by not playing at least a few tables at PokerBros.
Summary: pros and cons of playing at PokerBros
Pros:
One of the fishiest online poker fields.
Play against US and Latin American players.
The best mobile poker client.
Thousands of ring tables are available 24/7.
MTT with guarantees up to 500k.
Cons:
It is uncomfortable to play from a PC.
High hardware requirements.
HUD requires the purchase of a converter.
Play money chips
Poker Bros is perfect for poker fans and grinders who prefer to play during live series from a mobile phone in incredibly soft lineups. Not every professional will like it. Getting used to vertical tables and nuances of club-based apps can take time, but if you already play in mobile rooms with a PC, PokerBros is a "must-have" in your portfolio.
Benefits of our affiliate service
Worldpokerdeals has many years of experience in the market of professional affiliate services for players worldwide. Our manager will provide you with the best service and deals in any poker room.
Our players get:
Professional advice on choosing a club and installing software.
Free chips transfer between clubs.
Multilingual support seven days a week.
Chips are fully guaranteed in case of any problem with the club.
Discount in HUD and hand converter.
Top deal.
Contact our team to get more details about our PokerBros deal.
FAQ
✅ How to quickly get access to PokerBros?
✅ What devices can I install PokerBros on?
✅ Who owns PokerBros?
✅ Can I play PokerBros for free?
✅ Is PokerBros available in the United States?
✅ Is PokerBros legit or a scam?
✅ Do Poker Bros offer real money games?
✅ How to get started and start playing quickly?
✅ How to Contact PokerBros customer service?
✅ Can I play PokerBros on a desktop PC?
✅ Can I join multiple clubs?
✅ How can I purchase PokerBros diamonds?