Why is Omaha the most popular format in poker apps?
Why is Omaha the most popular format in poker apps?
Online poker players are used that 6-max NLH has long been the most popular game across top poker rooms. But now there is a whole group of sites with massive Omaha traffic, not only in its classic 4-card version. In this article, you will discover why PLO has become the most trending game in these apps.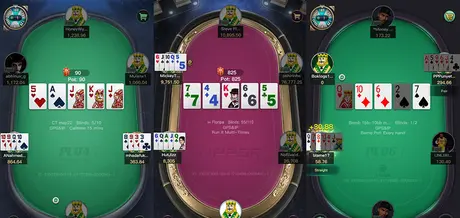 PLO and mobile poker apps
For over a year, a rumor has been that Omaha should eventually beat Hold'em as the most attractive poker game. And although the share of PLO tables in classic rooms is still several times smaller, this is already a reality in poker apps. Let's highlight some Omaha features:
Omaha is a much more diverse game (270,725 unique starting hand combinations).
The level of development of the strategy is much lower.
High variance.
And all these qualities are enhanced if we move from 4-card PLO to 5 and 6-card. 
Mobile poker rooms, attracting new players from "gray" markets, found a format well suited for their software and most of their customer database in Omaha.
PLO gave the "new guys" from Asia and America the opportunity to get enough action by playing from the phone, even on 1-2 tables. 
You cannot just play tight here. To win and beat the rake, you must play aggressively.
Casual players find spots with fun draws and "bloated" pots, and due to the high variance, they have much more chances to leave the table with a win simply because they "got there."
Traffic Features
Due to the above, it is unsurprising that Omaha now accounts for 50% to 70% of active tables in poker applications. We have analyzed the PLO traffic structure in the main PPPoker unions and concluded the following:
Of the three types of PLO, the most popular is the 5-card one. During the day, it accounts for over half of the tables with the largest range of bets: from $0.01/0.02 to $10/20.
In addition to the 6-max tables, PLO5 and PLO6 feature heads-up action. It often accounts for the most expensive games (up to $20/40); almost all games start from $0.1/0.2.
 The 6-card variant is played at the same betting levels and tends to surpass classic Omaha.
PLO5 is trending from $0,05/0,10 to $0,10/0,20. Over 50 tables are played on them during peak hours in 2-3 main alliances.
Let's recall that there are many PLO tables across all stakes and formats in the other two major poker applications: ClubGG and PokerBros.
Considering current trends in the development of online poker (the expansion in Asia and Latin America), Omaha will become more popular over time. Beginners should think about starting their PLO career right away, and experienced Hold'em players should allocate time to study it.
Reach us to get more information: